Beto O'Rourke Calls Sen. Chris Coons' Criticism of His AR-15 Buyback Policy 'Status Quo Politics'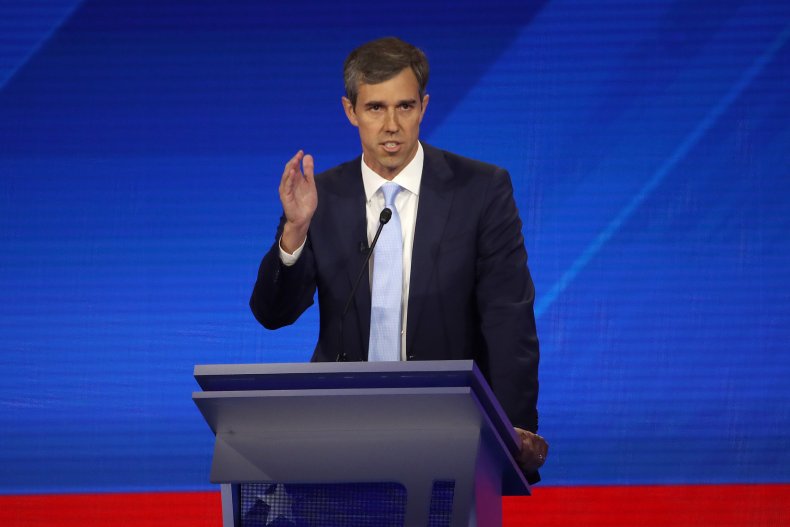 After his fellow Democrat Chris Coons expressed dismay over a proposal that would require gun owners to surrender all assault-style rifles, 2020 presidential candidate Beto O'Rourke dismissed Coons' concerns as "status quo politics."
O'Rourke made headlines when he reiterated the policy during the party's third presidential debate in Houston on Thursday, saying "Hell yes, we're going to take your AR-15, your AK-47."
"Much respect to Sen. Coons for leading the fight on background checks," O'Rourke tweeted Friday. "But the time for letting status quo politics determine how far we can go is over. If we agree that having millions of weapons of war on the streets is a bad idea, we have to do something about it."
O'Rourke has become a champion for mandatory buybacks of assault weapons, such as AR-15s, which have been used in many recent mass shootings, including one targeting his hometown of El Paso, Texas.
Coons appeared earlier Friday on CNN to disavow support for O'Rourke's proposal and the way he promoted it.
O'Rourke's debate comment was immediately seized upon by gun-rights promoters. In a post on the gun-rights forum AmmoLand, O'Rourke was viewed as having "finally told the truth" about what, the site alleged, Democrats largely believe but do not freely express.
For his part, Coons lamented how he feared O'Rourke's frankness might be construed by political opponents.
"That clip will be played for years at Second Amendment rallies with organizations that try to scare people by saying 'Democrats are coming for your guns,'" he said. "I am a gun owner. My sons and I have gone skeet shooting and hunting, and frankly I don't think having our presidential candidates, like Congressman O'Rourke did, say that we are trying to take people's guns against their will is a wise either policy or political move."
The public is largely conflicted about how the government should tackle the prevalence of assault weapons and their unique capacity to cause mass injury. A majority of Americans—56 percent—currently supports a complete ban on the future sale of assault weapons, according to a Monmouth University poll release this week. Although, a comparable majority—53 percent—opposes a program such as mandatory buybacks to impose a retroactive ban, the poll found.
The division here occurs mainly along lines of gun ownership. While most non-gun-owners support both future assault weapons sales and mandatory buybacks, few gun owners support both and outright ban and buyback program.