Dinesh D'Souza Calls Beto O'Rourke a 'Sicko' for Writing 'Murder Fiction' As a Teenager
Conservative author, commentator and filmmaker Dinesh D'Souza, who was pardoned last year by President Donald Trump, called presidential candidate Beto O'Rourke a "sicko" Monday following the revelation that he wrote "murder fiction" as a teenager. D'Souza shared a story written by O'Rourke, which was revealed in a report by Reuters on Friday, in which the Democrat describes running over two children in a car.
"This guy seems like a sicko, even by Democratic standards! Is this why he is the left's current favorite for the nomination?" D'Souza wrote.
Speaking to reporters after launching his campaign, O'Rourke said he regretted his past writing.
"Stuff I was part of as a teenager…not anything that I'm proud of today," he said. "And I mean, that's the long and short of it."
As an adult, D'Souza has made a number of controversial comments, which were not intended as fiction. Last year, he mocked student survivors of the school shooting in Parkland, Florida, that left 17 people dead. He has also attacked President Barack Obama as a "boy" from the "ghetto" and as a "grown-up Trayvon," a reference to black teen Trayvon Martin, who was shot and killed by neighborhood watch volunteer George Zimmerman in 2012. His latest film, released last year, compares the Democratic Party to Nazis.
In 2014, D'Souza pleaded guilty to campaign finance violations before being pardoned by Trump in a move that was widely seen as highly political. "He was treated very unfairly by our government!" Trump tweeted at the time.
O'Rourke is seen as one of the leading Democratic contenders challenging Trump in the 2020 election. His campaign announced on Monday that in the first 24 hours after declaring his candidacy last week he raised $6.1 million, topping all other Democrats in the race, including Senator Bernie Sanders.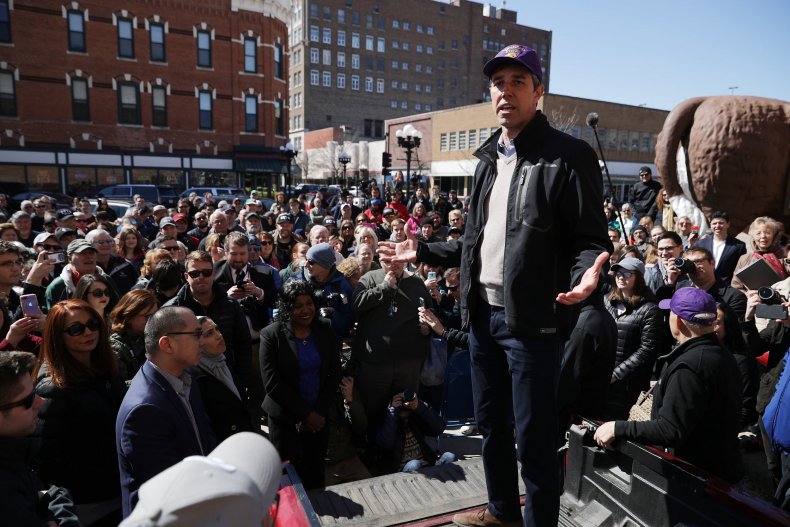 Still, the opening days of O'Rourke's campaign, spent in the early-caucus state of Iowa, were not without hiccups. Besides the resurfaced murder fiction, the failed Texas senatorial candidate apologized for jokingly saying his wife was raising their three children, "sometimes with my help."
"Not only will I not say that again, but I'll be more thoughtful going forward in the way that I talk about our marriage, and also the way in which I acknowledge the truth of the criticism that I have enjoyed white privilege," he said.
O'Rourke was arrested twice in his younger years, once for driving while intoxicated and once for burglary after jumping a fence.