Beto O'Rourke Is Still Polling In Bottom Tier of Candidates After His El Paso Response
Beto O'Rourke, El Paso native, three-term West Texas congressman and 2020 presidential candidate jumped into action following the Texas shooting by a white nationalist that killed 24 people this month.
O'Rourke suspended campaign travel in order to remain in his El Paso community. While other candidates campaigned in Iowa, O'Rourke comforted victims of the Walmart shooting, delivered a number of heavily-publicized speeches railing against President Donald Trump and white nationalism and made a number of media appearances condemning the incident.
Still, his actions were not enough to inspire Americans to think of him as a top presidential contender, according to a new Morning Consult poll.
O'Rourke's campaign team suspended fundraising emails and political ads right after the shooting, but still made sure to emphasize how electable the candidate was after his speeches. Senior members of his staff retweeted media that claimed O'Rourke was "finding his voice" in the wake of the tragedy and emphasized that he made surprise trips to memorials and delivered fervent speeches without teleprompters.
Yet the latest poll, which surveyed 17,000 registered Democratic voters over the last week, found O'Rourke's chances at the presidency stagnant and weak. The Texan had just three percent of the national vote share and was in a three-way tie for 9th place with New Jersey Senator Cory Booker and tech entrepreneur Andrew Yang. O'Rourke peaked, with about 8 percent of the vote in January, two months before he even officially announced his candidacy, but has steadily been declining in the polls since.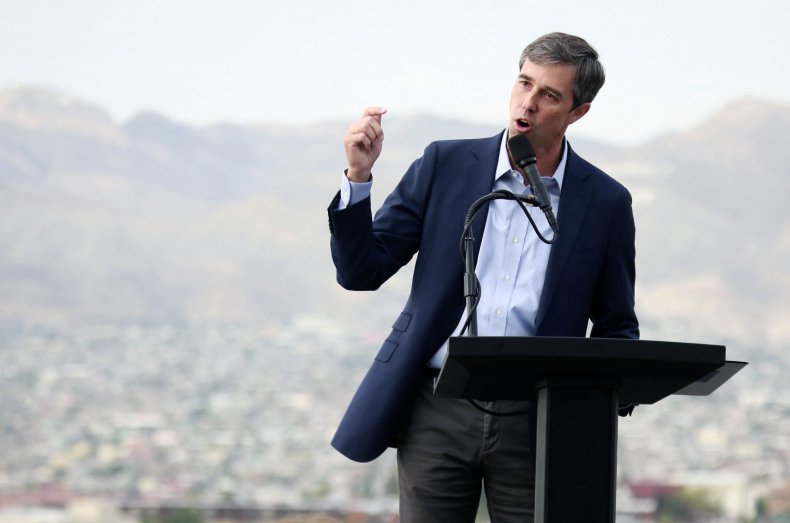 O'Rourke said the shootings renewed his determination to run for president. "I'm running for president," he told The New York Times on Friday when asked if he would consider a Senate bid instead. "This community holds so much for the rest of the country. Whether it's immigration, whether it's our safety, whether it's our connection to the rest of the world, whether it's the fact that we're on the frontline of so many issues that can and will define America."
He suggested that experiencing this shooting in his hometown, where the killer specifically targeted Hispanic people, made him uniquely fit to take on President Donald Trump. "At a time that the president is attacking this community, this part of the world, the U.S.-Mexico border, cities of immigrants, that's where I am," O'Rourke said. "That's where I live. That's where we're raising our family. I can meet him on this issue in very personal terms and from a place that no one else can."
His campaign has tried to "relaunch" multiple times, hoping to gain momentum and garner energy with some of the viral moments that made O'Rourke a nationally-known figure when he ran against Senator Ted Cruz in the 2018 midterm elections, but has so far failed to capture that energy and translate it into climbing poll numbers or fundraising.