Beto O'Rourke's Chances of Ousting Greg Abbott Are Getting Better
A new UT/Texas Politics Project poll shows Texas Democratic gubernatorial candidate Beto O'Rourke slowly cutting into incumbent Republican Governor Greg Abbott's lead without the Supreme Court's overturning of Roe v. Wade being factored into the data.
The poll of 1,200 registered Texans conducted between June 16 and 24, largely before the news of the Court overturning the Roe decision, showed O'Rourke, who lost his bid for the U.S. Senate in a 2018 election against current Republican Senator Ted Cruz, down 6 percentage points to Abbott. In April, Abbott was up 9 points, though that poll did not include Libertarian or Green Party candidates.
Abbott's lead now sits at 45 percent compared to O'Rourke's 39 percent, while two third-party candidates are each garnering about 2 percent or less. Approximately 10 percent of polled Texas voters remain undecided.
Only 15 percent of those surveyed supported a complete abortion ban while 37 percent supported a "trigger law" that would ban abortion in most instances. Texas' "trigger law" will take effect 30 days after the Supreme Court's June 24 decision to overturn Roe v. Wade, and will only allow abortions in cases of life-endangering distress or a risk of serious impairment.
"We will overcome this decision in Texas by winning political power," O'Rourke said in a tweet June 24, later saying in a video message that he would "always fight for a woman's freedom to make her own decisions about her own body, health care and future."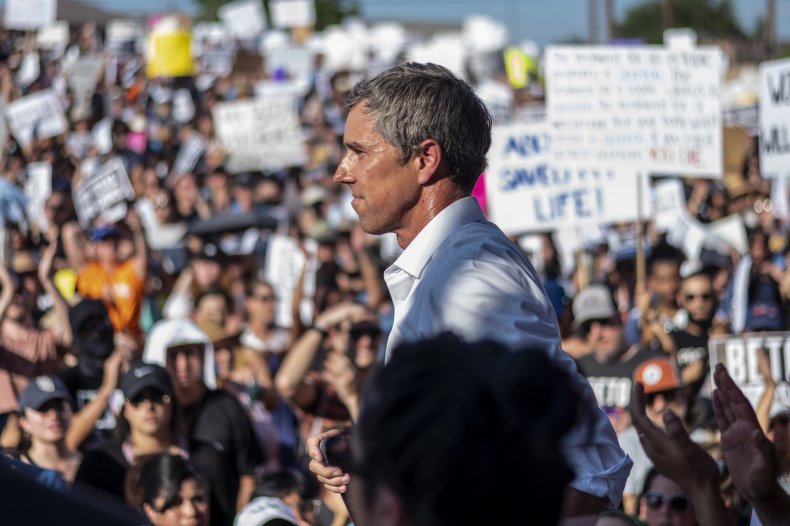 The abortion issue still trails economic turbulence in the minds of voters, at least in Texas—including 41 percent of respondents who expressed that inflation and the cost of gas are the biggest issues ahead of the midterm election. Of those polled, nearly seven in 10 said gas prices are having "a major impact," and six in 10 said the same about food prices.
The Texas and national economy were both met with disapproval from survey respondents, with 59 percent of those polled saying the state is "on the wrong track," which is the highest share of negative responses since the poll was first introduced in 2008.
In addition to 53 percent of respondents saying their personal economic situations are worse than they were a year ago, another 58 percent said the state's economy is also worse than it was last year. Numbers became drearier related to national economics, as 73 percent of Texans said the U.S. economy is worse than it was a year ago.
The poll, conducted after the mass shooting at Robb Elementary in Uvalde, Texas, found that a majority of Texans—about eight in 10 residents—support expanded background checks on all U.S. gun purchases, including at gun shows and in private sales.
But just 6 percent of Republicans overall believed gun laws to be "the most important factor in mass shootings."
Texas Senator John Cornyn, who played a pivotal role in the bipartisan gun bill that recently cleared the U.S. Senate, experienced a drastic drop in his job approval rating from all parties' constituents, especially among Republicans, of which 34 percent disapproved of the senator, double the amount who disapproved of him in April.
Reached for comment by Newsweek, O'Rourke's campaign said the poll indicates that Abbott's support is dwindling on key issues like the economy, abortion and gun control.