Beto O'Rourke Tells Texas Dem Debate Audience 'Hell Yes, We Are Going to Take Your AR-15'
Beto O'Rourke kicked off his participation in the third Democratic primary debate with the rage of a man who had seen death and had little left to fear from the living — even losing an election.
The El Paso, Texas native wasted little time before repeating his assertion that President Donald Trump is a white supremacist. He also called for reparations for the descendants of enslaved people, saying he would enact fellow Texan Sheila Jackson Lee's proposal to study how the redistribution of wealth should be carried out.
But O'Rourke's big moment came when the 10 candidates were asked about gun control. O'Rourke, who represented Texas' 16th Congressional District in the United States House of Representatives from 2013 until earlier this year. He narrowly lost a senate race to Republican incumbent Ted Cruz in 2018.
An ABC debate moderator asked O'Rourke whether he was still for mandatory buyback programs to get assault-style weapons out of communities. O'Rourke replied, "I am, if it's a weapon that was designed to kill people on a battlefield."
Heating up as he went, O'Rourke continued: "Hell yes, we're going to take your AR-15, your AK-47. You will not be able to use it against our fellow Americans any more."
O'Rourke went on to recount the story of a mother he met in Odessa, Texas whose daughter was murdered, allegedly by a disgruntled ex-oilfield worker who had been fired earlier in the day. The perpetrator went on a drive-by shooting rampage that left seven people dead and 20 others injured. The mother watched her daughter, 15-year-old Leilah Hernandez, bleed out over more than an hour. Ambulances could not reach Hernandez in time because the number of victims overwhelmed local emergency services.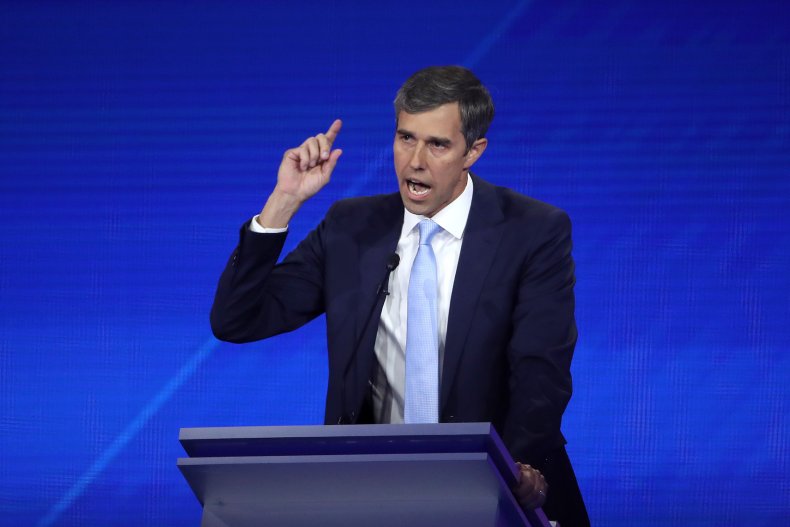 O'Rourke wasted no time after the killings in condemning Trump's dog-whistle racism for inciting violence against Latinx communities. The sole suspect in the El Paso shooting drove 10 hours to the border city and posted a xenophobic "manifesto" before opening fire in busy a Walmart. After his arrest, he allegedly told investigators he was targeting "Mexicans."
The crowd cheered for O'Rourke after his remarks, and fellow candidates including California Senator Kamala Harris and former mayor of San Antonio Julián Castro praised him for his actions in the wake of the Texas mass shootings.
At the end of the first half of the debate, some outlets were counting O'Rourke among the night's "winners" and he was up more than 1,500 additional Twitter followers.