Beto O'Rourke's Hands Captivate Twitter as 2020 Candidate Gives Impromptu Q&A in Iowa Coffee House
Hours after formally announcing his bid for the presidency in 2020, Democrat Beto O'Rourke showed up at a coffee house in Keokuk, Iowa, to give an impromptu question-and-answer session. Perhaps more so than the insights on his pitch to voters, though, what captivated many, at least on Twitter, was the talking he did with his hands.
"How long until someone makes a Twitter account for Beto's hands," wrote CBS News White House reporter Kathryn Watson.
"To whoever is going to do a Beto impression on SNL, know that he uses a LOT of hands …" added Washington Post reporter Eugene Scott.
Others jokingly suggested that O'Rourke, who was born Robert O'Rourke of Irish roots but now goes by his childhood nickname, had Italian ancestry, such was the level of his hand motions.
O'Rourke's everyman image, which, along with his hands, was on full display in Iowa Thursday morning, helped propel him close to a historic upset of Republican Ted Cruz in the 2018 midterms. Although O'Rourke, 46, fell short in his bid to take a Senate seat in Texas, speculation immediately spread wild that he would launch a bid for the highest office.
O'Rourke raised a Senate campaign record $80 million while running against Cruz and is seen as one of the front-runners for the Democratic nomination. To kick off his campaign he will be spending the next three days in Iowa, a critical early caucus state in the 2020 cycle and where several other candidates have already visited.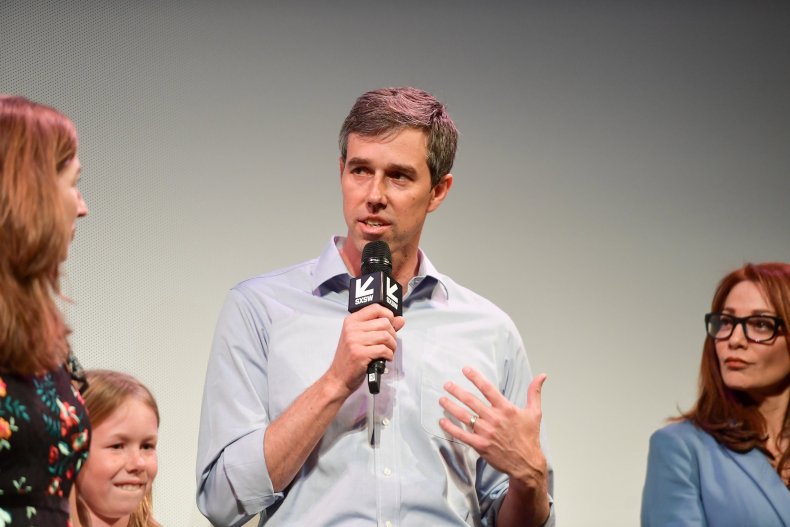 Speaking in Iowa, O'Rourke gave little specifics on his policies, in one case choosing to address the "spirit of the question" when asked to give his thoughts on the Green New Deal, a progressive proposal to combat climate change pushed by freshman Democrat Alexandria Ocasio-Cortez. O'Rourke did, though, say that the next 10 years would be critical in addressing climate change if future generations are not to find a number of cities uninhabitable.
He addressed President Donald Trump, too, although not in name, stating that we may soon have Democracy "in name only."