Beto O'Rourke Knocks Trump's Closeness to Putin, Kim in Campaign Kickoff: 'End These Love Affairs With Dictators'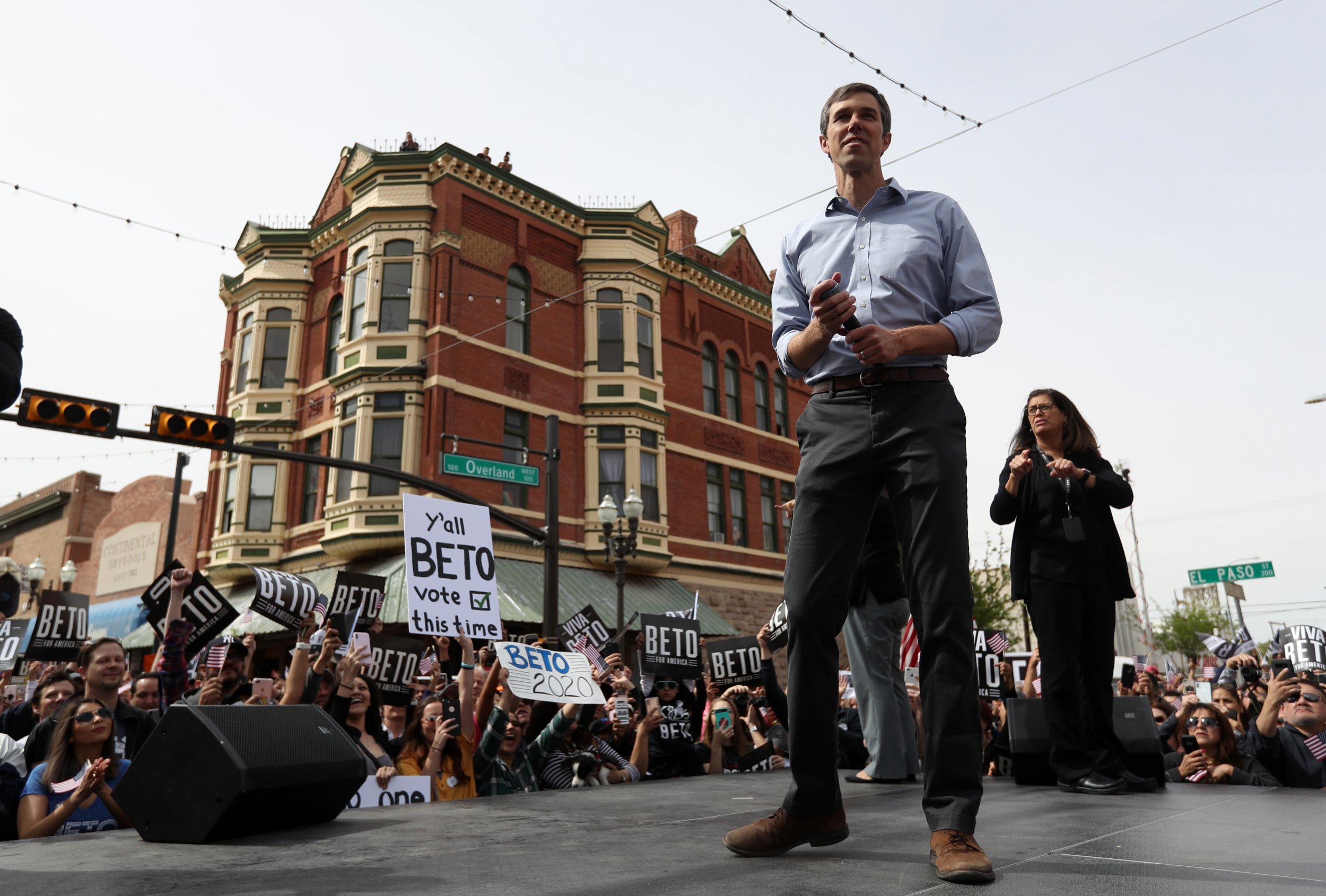 Beto O'Rourke, the former Texas congressman whose underdog attempt to unseat Senator Ted Cruz earned him national notoriety, officially kicked off his 2020 presidential campaign.
Speaking at a rally in his hometown of El Paso — the Texas border city he represented as both a city council member and then for three terms in Congress — the Democrat issued a wide-ranging speech that further cemented his positions on several policy issues, including immigration, health care, climate change, marijuana usage, voting rights and more.
NO "LOVE AFFAIRS WITH DICTATORS"
Without mentioning specific names, O'Rourke also took a swipe at President Donald Trump's relationships with controversial foreign leaders, like North Korean Dictator Kim Jong-Un and Russian President Vladimir Putin.
"Let's end these love affairs with dictators and strongmen all over the world," O'Rourke told his supporters.
Trump has failed to publicly confront Putin on his government's meddling in the 2016 U.S. election, and last week he abruptly withdrew new sanctions imposed by his own Treasury Department on North Korea because he "likes Chairman Kim and he doesn't think these sanctions will be necessary," according to White House press secretary Sarah Sanders.
During an interview with Fox News' Sean Hannity earlier this month after talks at a summit to reach an agreement on North Korea's nuclear disarmament were abruptly cut short, the president did not hide his fondness for the foreign dictator.
"The relationship is very good," Trump said of his connection to Kim. "He likes me. I like him... Some people say, 'Oh, you shouldn't like him.' I said, 'Why shouldn't I like him? I like him. We get along great. We'll see what happens.'"
CRIMINAL JUSTICE REFORM & MARIJUANA LAWS
O'Rourke also expanded on some of his policy stances, saying he wants to combat climate change, legalize marijuana and expunge all marijuana arrest records, install automatic voter registration, outlaw gerrymandering, have universal pre-kindergarten, end the wars in Iraq and Afghanistan and create a pathway to citizenship for undocumented immigrants.
"If we believe in justice for all in the face of the largest prison population per capita on this planet, one disproportionately comprised of people of color, we must do the following," O'Rourke said. "Not only end the federal prohibition on marijuana, not only expunge the arrest records of everyone arrested for possession of something that is legal in more than half the country, we must not only end cash bail and for-profit prisons in the United States of America, but we must also confront the legacy of certain communities who have been criminalized and kept down based on the color of their skin."
CLIMATE CHANGE & AGRICULTURE
O'Rourke also touched on climate change, saying America should offer more support to farmers in rural America.
"Let's open up technologies and markets to [farmers] to provide an incentive for capturing the carbon that we're currently emitting in the air," he said.
Last month, the Texas Democrat joined some of his fellow candidates in announcing his support for New York Congresswoman Alexandria Ocasio-Cortez's ambitious Green New Deal proposal, which seeks to eliminate greenhouse gas emissions by 2030 and implement major economic overhauls to create more jobs.
IMMIGRATION & DREAMERS
On immigration, O'Rourke hit at Trump's desired border wall along the U.S.-Mexico border, which led to the longest government shutdown in U.S. history and the president declaring a national emergency to bypass Congress and obtain additional funding not allocated in a bipartisan spending measure.
"We will find security, not through walls, not through militarization," O'Rourke said. "We will focus on the ports of entry that connect us to the rest of the world so we have an idea of who we want coming in here, to facilitate the trade and travel... We will treat every single American with the dignity and respect they are owed as Americans and as human beings."
He added that Republicans, Democrats and Independents have a "golden opportunity" to work on comprehensive immigration reform and create a pathway to citizenship for those who came to the country illegally as children.
"If we truly believe we are a country of immigrants and asylum seekers and refugees, the very premise of our strength, success and our security, let us free every single DREAMER from any fear of deportation," O'Rourke said, earning him cheers from the crowd.