Beto O'Rourke Ignores Trump's Attacks to 'Stay Focused on the Future'
Texas Democratic Senate candidate Beto O'Rourke said he didn't see the need to respond to attacks from President Donald Trump, saying he preferred to "stay focused on the future."
O'Rourke, who has presented a serious challenge to Republican Senator Ted Cruz, spoke in a Sunday interview with host Paula Faris on ABC News. Faris asked O'Rourke, a congressman from El Paso who has represented Texas's 16th Congressional District since 2013, about Trump's recent insults, which include the president calling him a "flake" and a "total lightweight."
"I don't know that it makes any sense to respond," O'Rourke said. "The bitterness, name-calling, partisanship…you can add more to it or you can stay focused on the future and why you did this in the first place."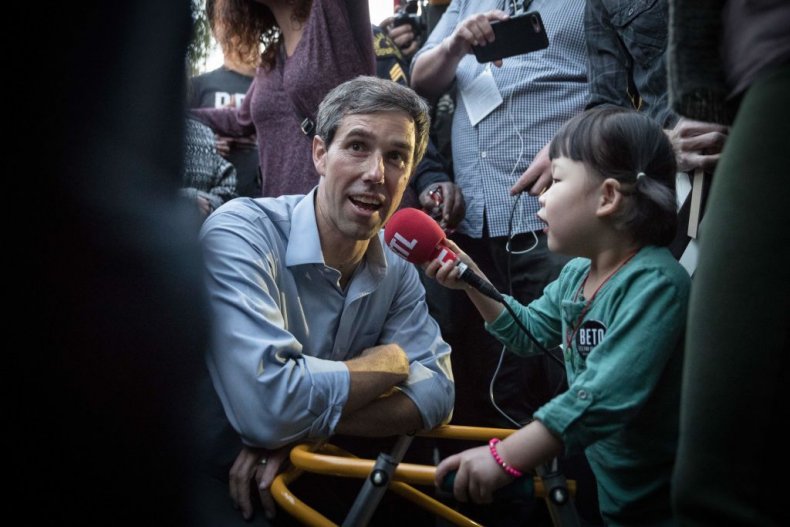 While Cruz is still polling several points ahead of O'Rourke in the closely watched Senate race, the progressive Democratic candidate has drawn national attention for his challenge to the Republican incumbent.Texas is considered a reliably red state, and has not elected a Democrat to statewide office since 1994.
Cruz also appeared on ABC News on Sunday. When Faris asked him whether he would consider Trump, who heads to Houston to campaign for the senator on Monday, as a "friend" or a "foe," Cruz avoided answering directly. He instead simply pointed out that Trump is "the president."
"I work with the president in delivering on our promises," he said.
In the 2016 presidential election, Cruz was initially seen as a favored Republican front-runner. During the primary race, Trump repeatedly criticized his opponent in the primary race, even coining the nickname "lyin' Ted," and also attacked the senator's wife and father directly. Cruz refused to endorse Trump at the 2016 Republican National Convention.
Since Trump took office, though, Cruz has become a fawning supporter. Many analysts and critics have pointed to the two men's previous rivalry as Trump heads to Texas to campaign on Cruz's behalf.
"What I told the president the week after the election, I said, 'Mr. President, I want to do everything humanly possible to roll up my sleeves and lead the fight in the Senate to deliver on our promises,'" Cruz told Harris on Sunday.
According to Cruz, Trump has fulfilled many campaign pledges, such as cutting taxes, cutting job-filling regulations, securing the border, confirming "strong constitutionalists" to the courts and rebuilding the military.
"We've done all of that," the Texas senator said.
Beto O'Rourke Ignores Trump's Attacks to 'Stay Focused on the Future' | U.S.