Beto O'Rourke: Author Tweets Fake Viral Claim That 'Illegals' Being Bussed to Polling Place to Vote for Texas Democrat
Author Larry Schweikart tweeted a false claim on Tuesday that two busloads of "illegals" with signs supporting Democratic Senate candidate Beto O'Rourke were spotted near the state's border, as first reported by Buzzfeed News. He also appeared to falsely suggest the undocumented voters were being paid.
The tweet read in full: "Hearing two busses near TX border stopped with 'Beto' signs, full of illegals, each had $100 and were headed to the polls."
As of about 5 p.m. ET on Tuesday, that post from Schweikart—who has more than 57,000 followers—had garnered more than 3,000 retweets.
Buzzfeed reported that it asked Schweikart about the post and he said he found the information in a headline of an article on a conservative aggregation site—but Buzzfeed found no such story. The author of A Patriot's History of the United States—a best-seller released in 2004—didn't seem bothered about spreading the false information.
"Well, it's just a report. Hey, fake news, right?" Schweikart told Buzzfeed. "I'm only countering what goes on on the other side. The New York Times has yet to retract one in a billion articles so, no, it wouldn't bother me [if the information is false]."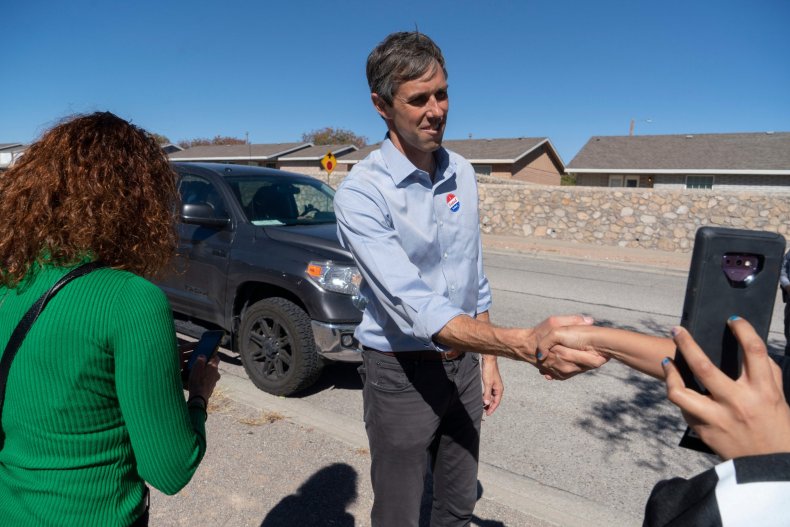 O'Rourke is in a surprisingly tight race against Republican Senator Ted Cruz. O'Rourke remains the underdog in a state where Republicans are all but assured a win in a race for a statewide position—but polling has suggested he has an outside shot at winning.
Averages showed the Democrat down by about 7 percentage points while some polls showed a deficit as low as 3 percentage points. While polls have never shown him leading, O'Rourke said that he was heartened by early indicators.
"If North Texas continues to turn out in the record numbers that we've seen, shattering every midterm total for as long as we've been looking at them, in some cases rivaling presidential voter turnout, then we're going to win this race," O'Rourke said late last week, via The Dallas Morning News. "The best thing I can do is continue to be with the people of North Texas, just as we have been for almost the last two years."