Beto O'Rourke's Lightning Round With Stephen Colbert: Democrat Chooses Ryan Gosling Over Ryan Reynolds, Star Wars Over Star Trek
Democratic presidential hopeful Beto O'Rourke has outlined his core pop culture beliefs, telling Late Show host Stephen Colbert that he prefers Ryan Gosling to Ryan Reynolds and Star Wars to Star Trek.
The Texas Democrat appeared on The Late Show Wednesday and spoke to Colbert about his 2020 run and the need for articles of impeachment to be brought against President Donald Trump. However, the former congressman also answered questions of critical importance on pop culture in a lightning round.
On the issue of Ryan Gosling v. Ryan Reynolds, O'Rourke opted for Gosling. On whether he preferred Star Wars to Star Trek, the El Paso politician said Star Wars. Also, he thought sharing passwords to streaming services was acceptable.
On the controversial question of whether Harry Potter should have ended up with Hermione instead of Ron, O'Rourke chose Potter and finally, when asked who he would eat if he were stranded on a desert Island with the other Democratic candidates, the politician dodged the question. "So, you want to talk about health care or immigration?" he asked Colbert.
O'Rourke, who has grabbed headlines calling for a comprehensive debate on Trump's impeachment, told Colbert he thought beginning the procedure against the president was important for the health of the country's democracy
"Impeachment is not about getting rid of the president," O'Rourke said. "It is about finding the facts, getting to the truth and ensuring there is accountability and justice for what happened to this democracy in 2016. A candidate for president who invited the participation of a foreign power, who, once the investigation began fired the principal investigator, James Comey, the head of the FBI, [and] tweeted in broad daylight to his attorney general to stop the investigation," the El Paso Democrat went on.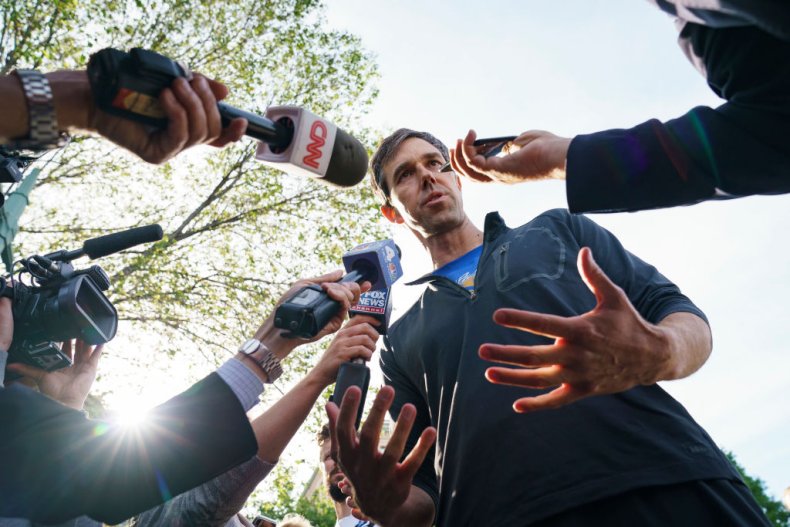 "For this democracy to persist there has to be justice. And if we set the precedent that some people are above the law or beyond the reach of the law by not impeaching this president, not getting to the facts or the truth I think that begins the end of this democracy," O'Rourke said. "So let's begin impeachment proceedings, get to the truth and hold people accountable," he added.
Prior to his appearance on The Late Show, O'Rourke outlined proposals to advance LGBT rights in the United States yesterday. According to Reuters, the 2020 hopeful said he was seeking to reverse what he described as "discriminatory policies," that had been pursued by the current administration.