Beto O'Rourke Medium Post Reveals He's Running for the White House—Literally
Beto O'Rourke is running...for his health.
In a Medium post perhaps meant to troll those speculating about his prospects for a 2020 presidential race, the El Paso congressman and defeated Texas Senate candidate chronicled a morning run through Washington, D.C., on Thursday.
The details of his run, however, could easily be a metaphor for an upcoming election.
"There were in some places no tracks, mine were the first footprints down in the new snow. At other points I'd see someone walking in front of me, once another runner (only the crazies come out today!)," he wrote.
O'Rourke went into detail on his seemingly symbolic run, and explained that his left knee had bothered him and reminded him of his family at home.
"My left knee started to hurt. It has been bothering me some. I notice it when I bend down or when I get up if I've been playing with the kids on the floor or kneeling to give Rosie some love. I thought about turning around once I got to the Washington monument," he wrote. A supporter from Massachusetts (where Senator Elizabeth Warren, also considering a presidential run, hails from), however, encouraged him to keep on going.
He then pointedly decided to run up the steps of the Lincoln Memorial on the D.C. Mall. President Abraham Lincoln also famously lost a Senate race before winning his presidential run.
"I walked over to the north wall and read Lincoln's second inaugural address. My body warm, blood flowing through me, moving my legs as I read, the words so present in a way that I can't describe or explain except that I'm so much more alive in the middle of a run, and so are the words I was reading," he wrote.
After being bolstered by Lincoln's message, O'Rourke found his knee no longer hurt. "Maybe it just needed to fully warm up," he said. A reference to his Senate race?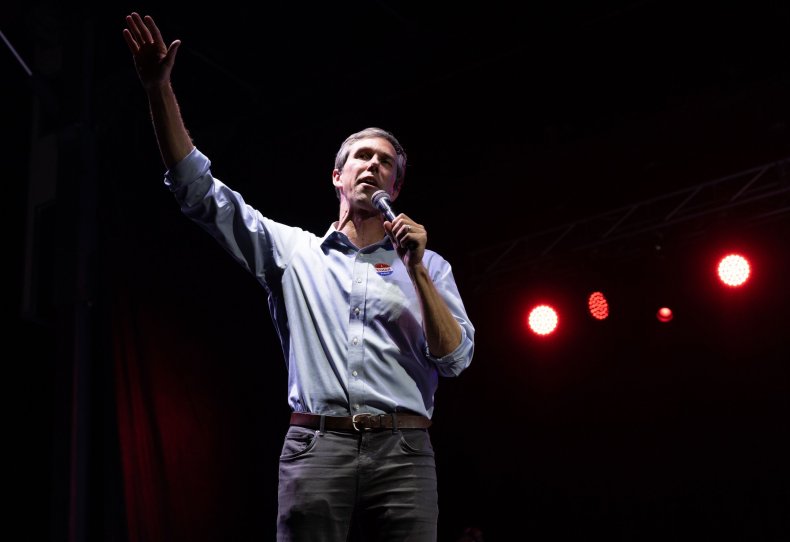 O'Rourke ended the run by explaining that he felt the sleet stinging his face but "wondered if the winds had changed too." The run took him from near the U.S. Capitol to closer to the White House.
Medium spokesperson Sandee Roston and O'Rourke for Texas's communications director confirmed to Newsweek that the post was from O'Rourke.
O'Rourke ran a historic race against Texas Senator Ted Cruz, breaking Senate fundraising records and coming within 2.5 points of Cruz in a state that hasn't elected a Democrat to statewide office in almost 25 years. O'Rourke has plenty of money left to mount another campaign, and speculation that he might consider a presidential run has become rampant.