Beto O'Rourke for President in 2020? Defeat to Ted Cruz Increases Odds of Run Against Donald Trump
Beto O'Rourke fell agonizingly short of becoming the first Democrat in a quarter of a century to win a statewide race in Texas but he may yet get a shot at an even bigger prize. O'Rourke, who was projected to lose to Republican incumbent Ted Cruz on Tuesday, had vowed that he would serve out his full six-year term in the Senate if victorious and would not run for president in 2020.
But a defeat frees him of those obligations. And given how close he got to unseating a Republican in the ruby-ed Lone Star State, he is sure to face loud calls from Democrats to run for the party's nomination for the White House. Indeed, those cries had begun even before the results in the race were final on Tuesday.
To do so, though, O'Rourke will have to have to go back on his word.
"I don't wanna do it. I will not do it," O'Rourke said when asked by CBS' 60 Minutes on Sunday whether he would run for president. "Amy and I are raisin' an 11-year-old, a 10-year-old and a 7-year-old. And we spent the better part of the last two years not with each other, missing birthdays and anniversaries and time together. And we—our family could not survive more of that. We, we need to be together.
Asked whether his decision was reversible, the 46-year-old doubled down and insisted that he would not be running, regardless of whether he won Tuesday.
"I'm saying that if elected to the Senate, I'll serve every day of that six-year term, that I'm not looking at 2020," he said. "And, and, in fact, am completely ruling that out, not going to do that."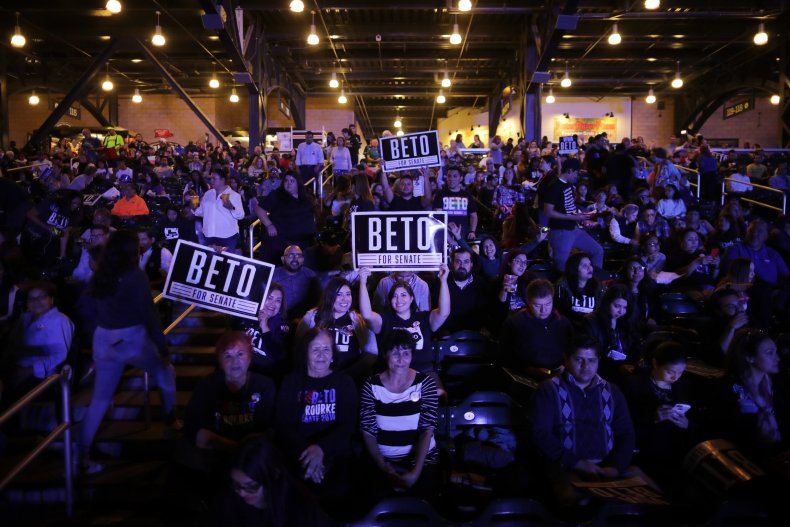 Giving his concession speech in El Paso Tuesday, however, O'Rourke suggested he may have a future run for president in his sights after all.
"We will see you down the road," he said.
It proved to be a mixed night for Democrats in the 2018 midterms. While the party was projected win back the House of Representatives for the first time in eight years there was not the hoped-for blue wave to carry them to complete control of Congress. As of 10:30 p.m. EST on Tuesday, Republicans were projected by the major networks to maintain their majority in the Senate.
Update: This story has been updated to include fresh comments from Beto O'Rourke on Tuesday night.