Beto O'Rourke is Not the Next Bernie Sanders, and He Never Wanted to Be
Beto O'Rourke hasn't officially declared that he's taking on a 2020 presidential run, but he's already a top contender, polling alongside former Vice President Joe Biden and Senator Bernie Sanders. As his national profile grows, however, so does the scrutiny around his policy positions.
A recent report, published by Newsweek, suggested that the three-term El Paso Congressman had voted with President Donald Trump and against Democrats on numerous occasions.
A spokesperson for O'Rourke told Newsweek that the report's conclusion was "vastly wrong."
"Beto voted against the Democratic party 6 percent of the time he was in Congress. That means he voted with the party 94 percent of the time!" Chris Evans, the director of communications for O'Rourke's failed Texas senatorial campaign, who is still working with the El Paso Congressman, wrote in an email to Newsweek. "The average House Democrat voted against the party 8 percent of the time, so Beto actually voted against the party less often than the average member of the party."
O'Rourke's 2018 Texas senatorial opponent, Ted Cruz, repeatedly called him a socialist and compared him to Vermont Senator Bernie Sanders in an effort to scare away moderate voters. But the tactic may have hurt O'Rourke in a way that was unexpected, as those on the far-left began to herald the congressman as their own progressive savior. His vocal support of legalizing marijuana and strong opposition to a border wall helped buoy those beliefs.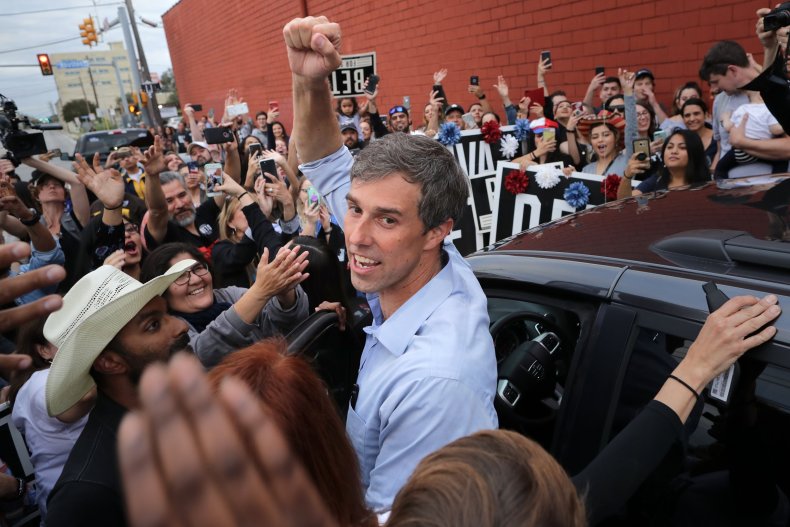 When asked by the press whether he considered himself to be a progressive last week, O'Rourke demurred and explained that he wasn't sure. Throughout his failed yet historic senatorial campaign against Cruz, he attempted to bridge the gap between Republicans and Democrats, taking a moderate stance on issues like gun control and healthcare, instead of defaulting to the platform of the far-left.
Still, a recent report by investigative journalist David Sirota found that during his six years in Congress, O'Rourke voted for some Republican-backed bills.
One in particular, co-sponsored by O'Rourke, sought to end the authority of Consumer Financial Protection Bureau (CFPB) to "pursue auto lenders whose policies harm consumers through unlawful discrimination" in 2015. Democrats argued that that authority allowed the CFPB to go after lenders who discriminated against African Americans. O'Rourke later, however, changed his stance and voted against the Congressional Review Act to end CFPB's regulation.
O'Rourke's legislative history also shows his support of the fossil fuel industry. He broke with his party to vote twice to lift a 40-year oil export ban and he voted down Democratic legislation to stop drilling in the eastern Gulf of Mexico.
"Look, Beto O'Rourke isn't a young Bernie Sanders. He's more like a young Joe Biden," Brad Bannon, a Democratic strategist told Newsweek. "It seems to be that he has always been Obama-esque. I don't think he's ever represented himself to be a progressive in the [Bernie] Sanders mode."
O'Rourke's potential 2020 run would be about his charisma, not ideology, said Bannon. "He sort of sees himself as a charismatic Bobby Kennedy type. He's never going to be the hero of the Sanders party," he explained. But my theory is that Democrats need to nominate someone who is acceptable to both wings of the party. I think Beto seems like he can be a unifying figure in the party."
O'Rourke counts moderate Democrats like Representative Joe Kennedy III as his closest friends in Congress and has made a point of taking long car rides with Republicans to try to find common ground. After meeting with Barack Obama, the former president remarked that O'Rourke was an "impressive young man who ran a terrific race in Texas," before comparing himself to the Congressman.
"What I liked most about his race was that it didn't feel constantly poll-tested," Obama said. "It felt as if he based his statements and his positions on what he believed. And that, you'd like to think, is normally how things work. Sadly it's not," he continued.
"The reality of a Beto candidacy is that he's someone that accommodates both wings of the party, and the reality is the Democrats need someone like Beto," said Bannon.