Beto O'Rourke Had the Largest Political Rally for a Candidate Since the 2016 Election: Report
Democratic U.S. Senate candidate Beto O'Rourke hosted the largest single-candidate political rally in the country at least since the 2016 presidential election, reported The Wall Street Journal.
O'Rourke's political rally was held Saturday night at an outdoor amphitheater in Austin, Texas, with country music singer Willie Nelson and other country music performers onstage. The campaign said that more than 50,000 people had RSVP'd to attend the concert, while actual attendance was estimated at about 55,000.
Representative O'Rourke, of El Paso, is in a heated U.S. Senate race with Republican incumbent Ted Cruz that has drawn national attention.
In August, President Donald Trump tweeted his support for his one-time foe in the presidential primary, whom he frequently called a liar, and whose father Trump once implied was involved in the assassination of President John F. Kennedy.
"I will be doing a major rally for Senator Ted Cruz in October. I'm picking the biggest stadium in Texas we can find. As you know, Ted has my complete and total Endorsement. His opponent is a disaster for Texas - weak on Second Amendment, Crime, Borders, Military, and Vets!"
So far, the Trump administration has made no official plans to hold a Ted Cruz rally in Texas.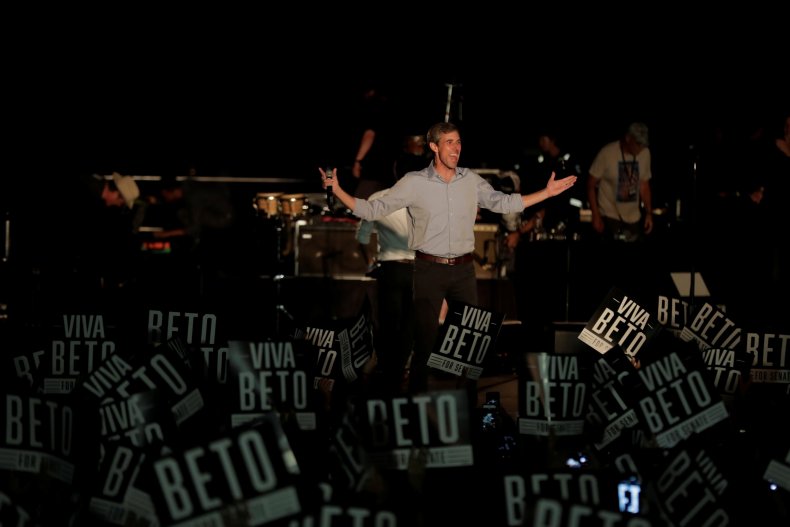 Several attendance benchmarks were set during the lengthy lead-up to the 2016 presidential election. Democratic candidate Hillary Clinton held the largest political rally on the evening before Election Day in Philadelphia. But Clinton's political rally featured a star-studded cast of supporters, including Bon Jovi, Bruce Springsteen and both Barack and Michelle Obama.
ABC News reported at the time that it was Clinton's largest campaign rally, with 33,000 attendees, although local estimates placed the crowd size closer to 40,000. Donald Trump's largest rally drew about 28,000 people in Mobile, Alabama.
O'Rourke joined Nelson onstage for several singing collaborations, including the country music legend's own "On the Road Again." Nelson also debuted a new Texas election-theme song, "Vote 'Em Out," and he urged the tens of thousands in attendance to follow suit on Election Day, November 6.
"This is what it must have felt like to be in Chicago when Obama was getting big," said O'Rourke supporter and concert attendee Nikki Kelley, in an interview with the Dallas News.