Beto O'Rourke Rips Ted Cruz for Being Seen Without Mask on Flight, Says Personal Liberty's 'Killing' People
Former Texas congressman Beto O'Rourke on Monday criticized Texas Senator Ted Cruz after the Republican lawmaker was photographed without a mask while onboard an American Airlines flight over the weekend.
O'Rourke, who was one of several Democrats running for president before suspending his campaign last fall, spoke out against the senator's appearance on the flight during an interview with CNN. O'Rourke drew a comparison between current American behavior toward masks and stay-at-home orders with that of people in London during World War II.
"What if, during the blitz in London in 1940 and 1941, some people had claimed personal liberty as a justification for leaving their lights turned on so that Nazi bombers could find their homes and communities?" O'Rourke said.
"What if our personal liberty here in Texas as an excuse for not wearing masks or not staying at home or not having stay-at-home orders is in fact infecting and making other people sick and killing our fellow human beings?" he continued, pointing to the photographs that have been circulating online of a mask-less Cruz onboard a plane as an example. "That's what's happening right now."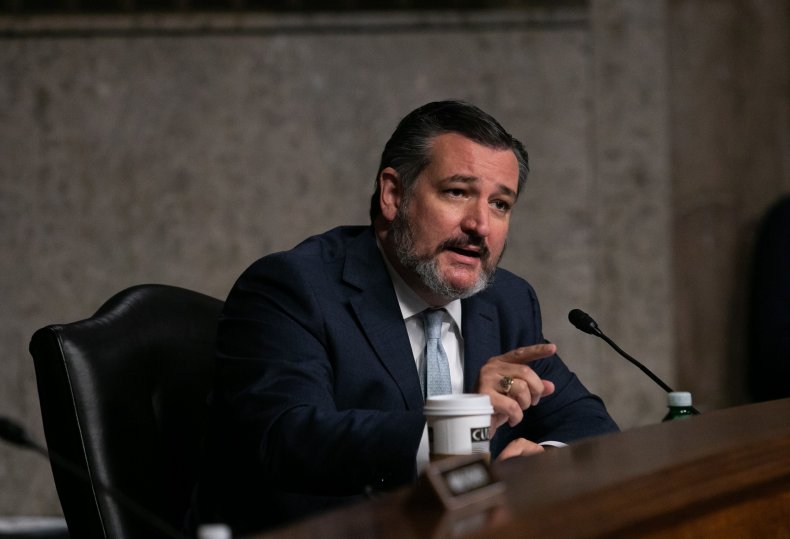 American Airlines currently requires all passengers except the very young and those who cannot wear a mask for health reasons to wear face coverings while onboard. The airline does provide exceptions for when passengers are eating or drinking but said individuals must put their face coverings back on once they are finished.
A Cruz spokesperson told Newsweek the senator had removed his mask to sip from the beverage he had while on the flight.
"To help promote safety, Senator Cruz wears a mask when traveling, and practices social distancing where possible," the spokesperson said. "Consistent with airline policy, he temporarily removes the mask while eating or drinking. On Sunday, during his flight he removed his mask to drink and put it back on afterward. We should all practice common sense measures to slow the spread of the virus.
"Sen. Cruz has repeatedly said since the start of the pandemic we need to follow the science, listen to public health experts, and take common sense steps to slow the spread of COVID-19 and reopen our economy. That includes wearing face masks, washing hands and social distancing where possible," the spokesperson added.
American Airlines told Newsweek it had reached out to Cruz regarding the incident onboard the plane.
"For the well-being of our customers and team members, we require face coverings to be worn onboard, and we expect our customers to comply with our policies when they choose to travel with us," the airline said. "As we do in all instances like these, we reviewed the details of the matter, and while our policy does not apply while eating or drinking, we have reached out to Sen. Cruz to affirm the importance of this policy as part of our commitment to protecting the health and safety of the traveling public."
Like many other states, Texas is currently experiencing a surge in new COVID-19 cases, with 264,313 total cases reported by Monday, July 13. Though face coverings have become a contentious political issue since the Centers for Disease Control and Prevention recommended Americans use them in early April, several health experts have said that wearing them can reduce the risk of spreading the virus further in settings where social distancing is not possible, such as on modes of public transportation like buses and planes.
In Texas, Governor Greg Abbott introduced a mask mandate earlier this month that requires residents in counties that have reported 20 or more COVID-19 cases to wear masks. In a statement announcing the new rule, Abbott said wearing masks was "proven to be one of the most effective ways we have to slow the spread of COVID-19."
According to O'Rourke, the personal freedoms cited by many who oppose wearing masks could be leading to higher infection rates.
"This is a moment for shared sacrifice and service in the struggle against COVID-19," O'Rourke told CNN. "All that is wanting right now is a leader: A leader in the White House and a leader here in Texas."
This story has been updated with comments from a spokesperson for Senator Ted Cruz.
Beto O'Rourke Rips Ted Cruz for Being Seen Without Mask on Flight, Says Personal Liberty's 'Killing' People | U.S.