Beto O'Rourke Declines To Comment on Donald Trump's 'Hand Movement' Critique, Makes Joke About Tinder On Campaign Trail
Democratic presidential candidate Beto O'Rourke cited several challenges rural communities face when it comes to internet access, specifically residents' ability to use the dating app Tinder, at a Thursday campaign event in Keokuk, Iowa.
"In Texas, we have a problem with broadband in rural communities," O'Rourke said. "You may have that in Iowa as well, where farmers and ranchers and producers literally cannot get online, where people cannot start businesses in their own town or finish their education after high school because they cannot get online.
"They can't go to Tinder and find a date tonight, to find that special person who's going to make the difference in their lives. I want to make sure every American has that opportunity."
The comment was met with laughter from the audience.
The "Tinder moment" wasn't the first time O'Rourke poked fun at himself Thursday, however. During the same Iowa campaign event, O'Rourke drew criticism from President Donald Trump for his "crazy" hand movements, according to a report from the New York Daily News.
"I think he's got a lot of hand movement," Trump told reporters Thursday in the Oval Office after O'Rourke officially announced his 2020 Presidential campaign. "I've never seen so much hand movement. I said, 'Is he crazy or is that just the way he acts?'"
Trump drew criticism on Twitter for the comment, with many users pointing out the hand gestures he makes during speaking engagements.
However, O'Rourke didn't expand on the issue in his response to Trump's critique.
"I have nothing to say to that. I think people want us to rise above the pettiness, the smallness," O'Rourke told CNN at a later Thursday campaign stop in Burlington, Iowa.
O'Rourke joins an ever-growing field of Democratic presidential candidates, including Sens. Elizabeth Warren, Cory Booker, Kamala Harris, Bernie Sanders and Amy Klobuchar, former Gov. John Hickenlooper, Gov. Jay Inslee, ex-San Antonio Mayor Julian Castro, Rep. Tulsi Gabbard, former Rep. John Delaney, author Marianne Williamson and former tech executive Andrew Yang.
The graphic below, provided by Statista, illustrates the current polling of Democratic voter support for the candidates.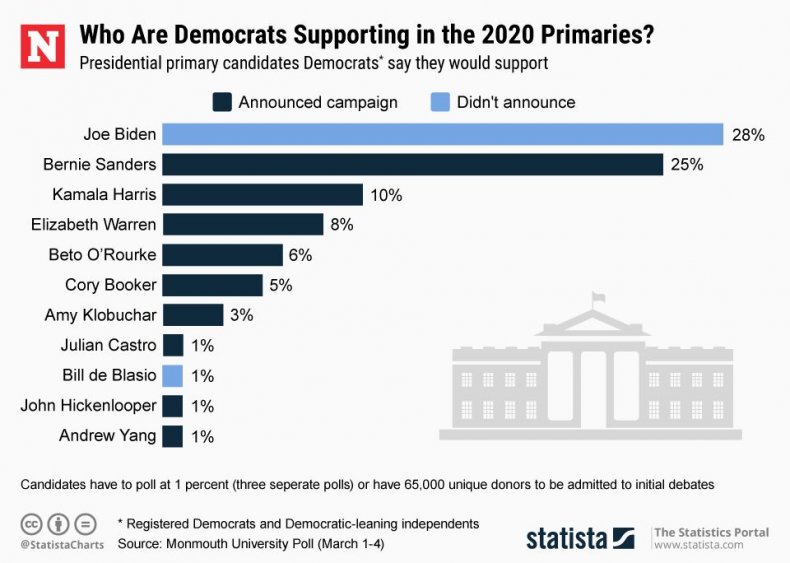 Also teasing at a 2020 presidential campaign is former Vice President Joe Biden, who met with former Georgia gubernatorial candidate Stacey Abrams on Thursday.
While Biden is favored for a presidential run, Associated Press reported that Abrams is in the midst of deciding whether to challenge Republican Sen. David Perdue for his seat or announce her own candidacy. If she chooses not to run or loses in the Senate or Democratic primary elections, AP reported Abrams could also be considered as a vice presidential running mate.
This article was updated with an infographic.