Beto O'Rourke Slams Donald Trump for Using 'Racist Terms' to 'Incite Fear and Paranoia' About Immigrants and Border Security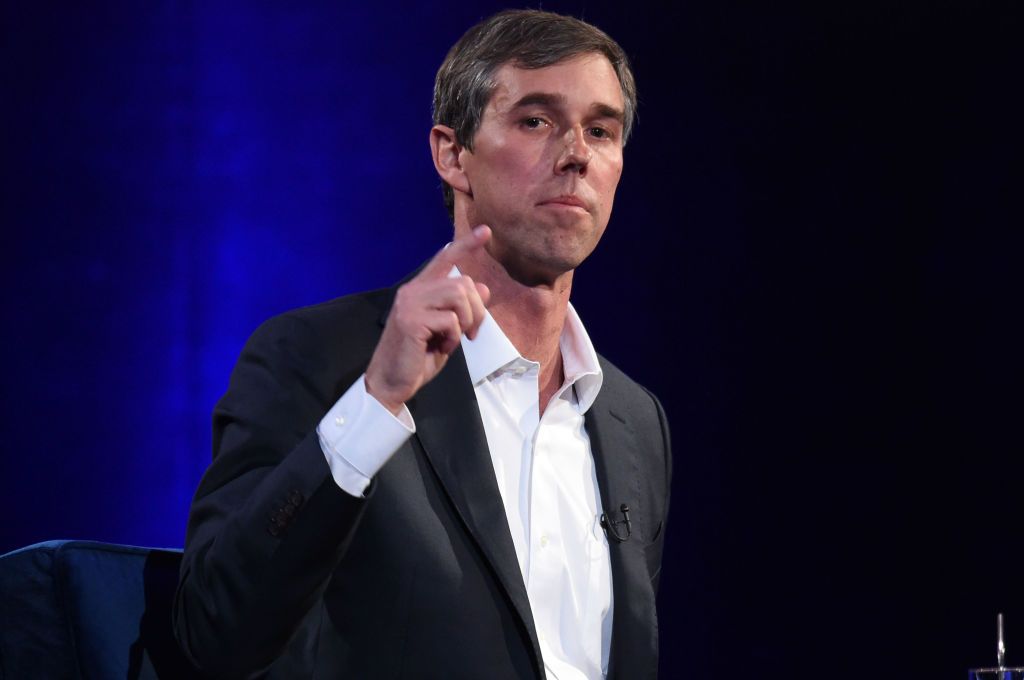 As President Donald Trump prepares for his first campaign rally of 2019 in El Paso, Texas, former Texas Rep. Beto O'Rourke slammed Trump's ongoing use of his hometown as an example of a successful border wall.
During Tuesday's State of the Union address, Trump highlighted the border city, along with San Diego, California, as examples of a lower crime rate since fencing was constructed along the U.S.-Mexico border.
"The border city of El Paso, Texas, used to have extremely high rates of violent crime — one of the highest in the country, and considered one of our Nation's most dangerous cities. Now, with a powerful barrier in place, El Paso is one of our safest cities," Trump said. "Simply put, walls work and walls save lives. So let's work together, compromise, and reach a deal that will truly make America safe."
According to the Washington Post, O'Rourke some local leaders have balked the president's words.
"I think he knows what he is doing. I think there has been shown over many years great political reward for those who exploit this by stoking fear and anxiety, by lying to people about immigrants and the nature of the border and the safety and security that we have here," O'Rourke told the Post. "Some people have used code words, some have come at it obliquely. He just full on, in the most racist terms, completely divorced from the truth or facts or reality or our experience here in El Paso, uses this to incite fear and paranoia and turn that to political gain."
It isn't the first time that O'Rourke, who lost a 2018 midterm Senate race to Republican incumbent Ted Cruz, has decried Trump's policies on immigration and the border wall. In January, the Democrat told the Post that he believes the border is already secure and that further investment and development would merely send more migrants to cross the border in desolate and dangerous areas where there is no barrier.
"You will ensure death. You and I, as Americans, have caused the deaths of others through these walls," O'Rourke said.
While Trump touted a decrease in crime in El Paso since the fence was constructed in 2006 and 2008. Statistics gathered by the El Paso Times indicated that the city has actually seen a rise in violent crimes since 2006. That year 2,640 violent crimes were reported, the lowest number in the 28 years of stats gathered by the newspaper. From 2007 to 2011, El Paso saw a 17% increase in violent crimes.
Like O'Rourke, others in El Paso are critical of Trump's statements, with some asking for an apology for the picture being painted by the president of the city.
"This is damaging from an economic development standpoint because it perpetuates the myth that we are a dangerous and lawless frontier. The fact of the matter is that El Paso and most of the cities on the U.S.-Mexico border boast among the safest crime statistics in the entire country," Jon Barela, chief executive of the Borderplex Alliance, told the Post.
Rep. Veronica Escobar, the Democrat elected to replace O'Rourke, told the Post that the wall has made no difference with regards to crime in El Paso.
"El Paso has been safe since the 1990s, has always been among the safest cities in America — a wall did not make any difference. Secondly, I believe he owes the community an apology. This misinformation is damaging and it's hurtful," Escobar said.
Escobar also recommended that during Trump's visit to El Paso on Monday for his campaign rally that the president speak to a family seeking asylum in the United States.
"I don't know that he's ever gotten a personal perspective from them, and that is key to really understanding what people are going through," Escobar told the Post.