Beto O'Rourke Blasts Joe Biden as a 'Return to the Past' in MSNBC Interview
2020 Democratic hopeful Beto O'Rourke slammed former Vice President Joe Biden's White House run as a "return to the past" and said that the Democratic Party has to "set a much higher mark."
"We cannot return to the past. We cannot simply be about defeating Donald Trump," O'Rourke told MSNBC's Willie Geist on Thursday morning. "We've got to bring everyone into this democracy to make sure that in the most ambitious, aspirational way possible we confront the greatest challenges that we've ever faced."
The Texas Democrat said that immigration, climate change and "healing our democracy" are some of the biggest issues facing the country that need to be addressed in the next presidential administration.
As O'Rourke continued to talk about his proposals, Geist interrupted to ask him if "Joe Biden is a return to the past?"
"He is," O'Rourke replied. "And that cannot be who we are going forward. We've got to be bigger, we've got to be bolder. We have to set a much higher mark and be relentless in pursuing that."
MSNBC's Morning Joe co-host Joe Scarborough tweeted shortly after O'Rourke's appearance on the network that he "has been doing well over the past month. As I said a few weeks back, do not take your eyes off of his candidacy. He can still win."
O'Rourke launched his 2020 presidential campaign in March, throwing his name into the crowded Democratic primary field with a cover story in Vanity Fair magazine. Despite rising to national stardom during his Senate race against Texas Republican Ted Cruz in the 2018 midterm elections, O'Rourke continued to slide down in the polls after announcing his White House bid.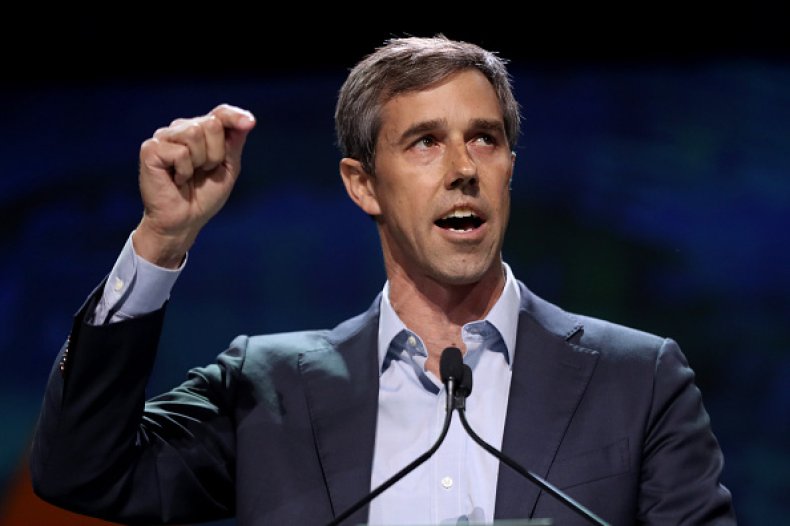 Last month, O'Rourke relaunched his struggling campaign and admitted that his Vanity Fair magazine announcement was a mistake. During an interview with the women of The View, O'Rourke said that the move reinforced "that perception of privilege."
"I have my work cut out for me to be a better person and ensure that I'm more mindful to the experiences that others have had," O'Rourke added when addressing the mistakes of his campaign.
But even with a campaign reboot, O'Rourke is still way behind Democratic primary front-runners like Biden, Bernie Sanders and Elizabeth Warren. A new Iowa Poll by The Des Moines Register/CNN/Mediacom showed that O'Rourke was backed by just 2 percent of likely Democratic caucus-goers. According to RealClearPolitics, O'Rourke has not eclipsed 5 percent in a national poll since April.
Biden, meanwhile, has been at the top of nearly every 2020 election poll by double digits. In a survey conducted by The Economist/YouGov, Biden had the most support (26 percent) among the crowded Democratic field. The next closest candidate in the poll was Warren, who had 16 percent support.