Beto O'Rourke Starts Campaign With $7M, but Will He Be Able to Keep Up With Greg Abbott?
The first set of fundraising numbers for Texas Governor Greg Abbott and Beto O'Rourke have been released.
O'Rourke announced Tuesday that he raised more than $7.2 million in the six weeks between November 15, 2021, the date he officially entered the gubernatorial race, and the end of the year. His team touted the haul as a "record-breaking amount."
"No Democratic campaign in the state's history has raised more money during the opening days of their race," the campaign said.
But experts wonder if it's enough to keep up with Abbott's fundraising machine as he seeks a third term in the traditionally red state.
"The question will be: Can that momentum be sustained?" Joe Williams, the president of Vanguard Field Strategies in Austin, told Newsweek. "Can he grow it beyond his core group of supporters that remember him from last time, and then how are they going to react to Abbott's numbers being revealed?"
O'Rourke gained nationwide recognition in the 2018 election cycle when he went up against Senator Ted Cruz, raising $80 million in that effort. While he lost to Cruz by roughly 3 percentage points, it was the closest a Texas Democrat has come to toppling a Republican U.S. senator since 1978.
Cal Jillson, a professor of political science at Southern Methodist University, told Newsweek that if O'Rourke can recapture the energy of the 2018 election, it may make for an exciting 2022 governor's race.
"You'd still want to bet on Abbott," Jillson said, "but it would be an interesting race to watch."
Abbott's campaign revealed Tuesday that he raised nearly $19 million in the last six months of 2021. The Republican governor entered the new year with a massive war chest of $65 million in cash on hand.
"The real question here is whether O'Rourke can keep up, can raise sufficient funds to run a full-blown campaign through the primaries and throughout the general election season," Jillson said.
O'Rourke is one of five Democrats running in the primary for the chance to take on Abbott in November's general election. Abbott will face seven other Republicans in a primary on March 1.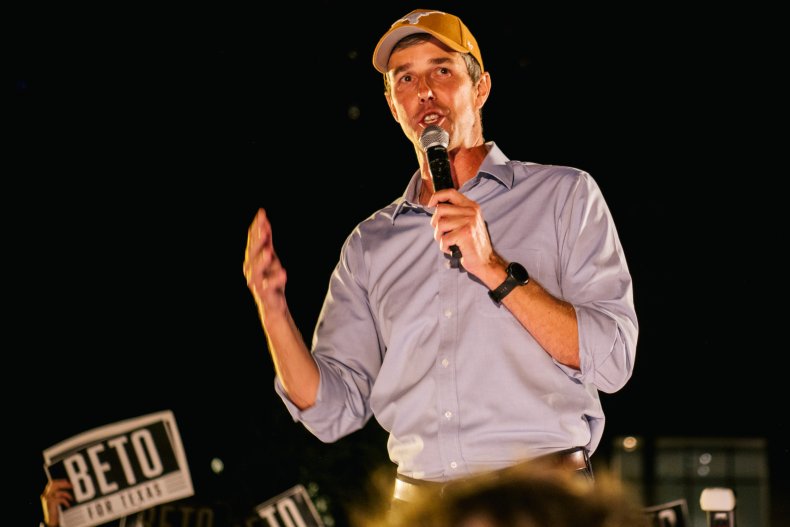 Polls have indicated Abbott is the front-runner of the pack. A Dallas Morning News survey from November showed voters backed Abbott over O'Rourke by 45 percent to 39 percent. A Quinnipiac University poll conducted last month had Abbott with an even wider lead of 15 percentage points.
On Tuesday, O'Rourke accused Abbott of being financed by wealthy elites.
"While Abbott is taking million-dollar checks from the CEOs who profited off of the grid collapse, we're receiving support from people all over Texas who want to ensure that our state finally leads in great jobs, world class schools and the ability to see a doctor," the Democrat said in a statement.
Meanwhile, Abbott said his fundraising haul shows how "excited" people are for his candidacy and will "help us secure the future of Texas and keep us on a path towards an even brighter future."