Donald Trump Jr. Claims Beto O'Rourke is Even Too Liberal for New York City
Donald Trump Jr. made a campaign stop in Texas on Wednesday to rally support for Senator Ted Cruz who is locked in a tight re-election battle with U.S. Representative Beto O'Rourke.
Cruz, who campaigned against President Donald Trump in the 2016 election, has had some difficulty proving to Texans, who voted for Trump over Hillary Clinton by a 9-point margin, that his relationship with the president is now solid.
A truck displaying a tweet from the 2016 Trump campaign—asking, ″Why would the people of Texas support Ted Cruz when he has accomplished absolutely nothing for them. He is another all talk, no action pol!"—has followed the senator's campaign around Texas.
During his first debate against O'Rourke, Cruz was asked if he had lost his dignity by supporting Trump after losing to him in the 2016 primary. At that time, Trump regularly called Cruz "Lyin' Ted" and ridiculed his wife and father.
But Trump Jr. attempted to set aside those instances of derisiveness on Wednesday.
"He's fought alongside of my father ever since on every major vote, for every policy piece—for everything," he said at a Wichita Falls rally with Cruz. "He put aside any of those differences, and he did what's right for you because that's his job and he is doing it."
Trump Jr. criticized O'Rourke, who has raised as much money as Cruz without accepting donations from PACs or corporations, for his liberal agenda.
Taking a line from Cruz's hits against O'Rourke, Trump Jr. wondered if the Democrat knew he was running in Texas and not a coastal state like New York or California. "I'm, like, Wow, that's a pretty extreme position, if you're Bill de Blasio," he said, referring to New York City's mayor.
Trump Jr. also joked about Supreme Court nominee Brett Kavanaugh, who has been publicly accused of sexual assault by at least three women. "I know that in this week in particular, you're not allowed to have a beer if you are conservative," he said, referring to Kavanaugh's drinking habits. "Now, if you are a liberal, you can do cocaine and you can be the president." President Barack Obama has admitted to trying cocaine in college.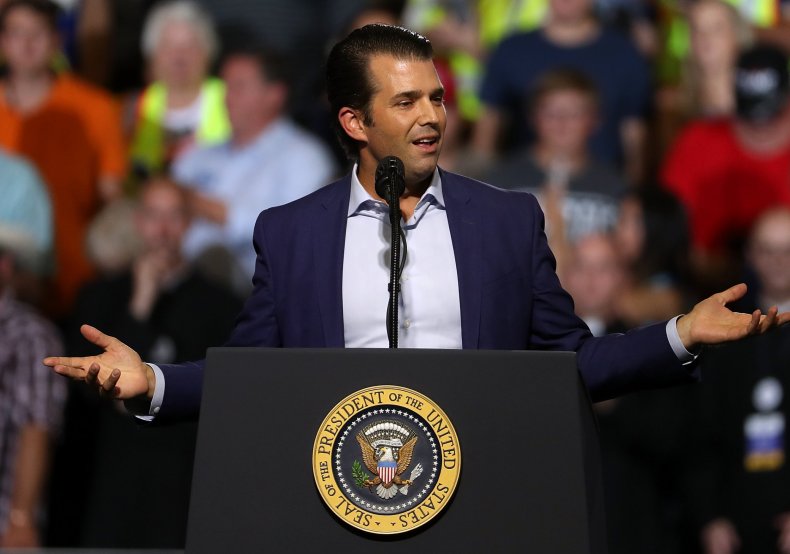 Trump Jr. told the rally that Democrats are "motivated by nothing other than hate" and said of the Kavanaugh nomination: "You think you saw dysfunction over the last two weeks in D.C.? You ain't seen nothing yet if you gave Nancy Pelosi the House of Representatives, if you gave Chuck Schumer the Senate. Let that be your motivation."
Vice President Mike Pence is expected to rally for Cruz next Monday and Donald Trump will visit Texas later in the month on behalf of the senator.
O'Rourke, meanwhile, visited the Tornillo immigrant detention center Wednesday. The facility holds migrant children who have been separated from their families as a result of Trump's controversial zero tolerance policy.