Beto O'Rourke Receives Second Major Texas Newspaper Endorsement for His Message of Unity After Bomb Threats
With less than two weeks until the midterm elections, Texas Senate hopeful Beto O'Rourke has won the endorsement of The Dallas Morning News, his second major newspaper endorsement in two weeks. The paper's editorial board, which published its decision the day after pipe bombs were mailed to several key Democratic figures and CNN, said O'Rourke's message of bipartisan unity was best for the state and the country right now.
"When, in the course of human events, a people become so divided among themselves that they can no longer engage in meaningful political discourse or even remain civil to one another, it is time to take bold steps forward," the paper's board wrote. "For this reason more than any other, we favor U.S. Representative Beto O'Rourke for U.S. Senate. The pivotal issue before our country is public leadership, and here we believe O'Rourke's tone aligns with what is required now. This inclusive and hopeful tone, along with O'Rourke's approach of starting with shared principles and working toward solutions, offset any policy differences we have with him."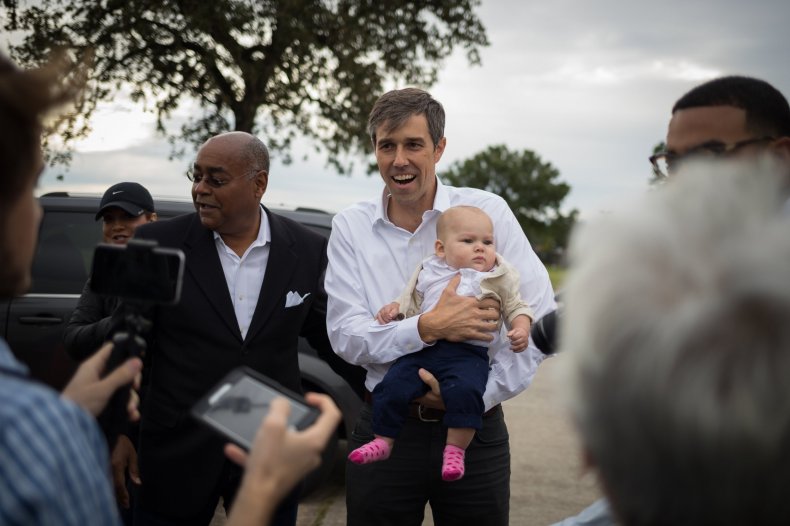 Texas Senator Ted Cruz has repeatedly called for civility and respect between parties and politicians as he campaigns for re-election, but his actions at times have betrayed those words.
After the attempted bombings on Wednesday, Cruz issued a statement condemning the acts of violence. "Political disagreements are fine, even healthy," he wrote. "But we should be civil and respect each other's humanity."
The night before, however, Cruz joked to a rally of Texans that he had a double occupancy jail cell he could lock Beto O'Rourke and Hillary Clinton in together. Their crimes went unnamed, as did the call for due process that he fought for when advocating for the confirmation of Supreme Court Justice Brett Kavanaugh.
Cruz also made missteps during his two debates against the Democratic congressman from El Paso. When asked to say something nice about his opponent, Cruz compared O'Rourke to Vermont Senator Bernie Sanders and repeatedly called him a socialist (O'Rourke has identified himself as a progressive, not a socialist).
While discussing his support for civility in politics during the second debate, Cruz ran out of time and then snapped at the moderator, Jason Whitely, to stop interrupting him.
Throughout the campaign, Cruz spread falsehoods about O'Rourke, repeating that O'Rourke supported the burning of the American flag and that he would legalize all narcotics, including heroin.
O'Rourke, for his part, also slung a few negative attacks against his opponent this month. During the second debate, the candidate drew upon Cruz's complicated relationship with the president. "Senator Cruz won't be honest with you," O'Rourke said. "He's dishonest. It's why the president called him 'Lyin' Ted' and it's why the nickname stuck. Because it's true."
He later told CNN that he regretted his words. "There have been untold dollars spent on TV ads that are lies, that are dishonest, trying to scare you about me," O'Rourke explained. "I decided that I can either spend the debate responding to every single dishonest thing that [Cruz] said, or I could make sure that everyone understood exactly what he's doing.
"It's not something that I feel totally comfortable with," O'Rourke said. "And perhaps in the heat of the moment, I took a step too far."
Last week, the Houston Chronicle, a paper that is typically conservative in its endorsements, although it did endorse Hillary Clinton for president in 2016, also came out for O'Rourke.
"With eyes clear but certainly not starry, we enthusiastically endorse Beto O'Rourke for U.S. Senate. The West Texas congressman's command of issues that matter to this state, his unaffected eloquence and his eagerness to reach out to all Texans make him one of the most impressive candidates this editorial board has encountered in many years," the board wrote in its endorsement. Despite the Clinton endorsement in the last presidetial race, the Chronicle usually throws its support to Republicans, endorsing George W. Bush, Mitt Romney and Ted Cruz himself in 2012. Early voting began on Monday in Texas. Cruz is currently polling about 5 points ahead of O'Rourke among likely voters.