Will Beto O'Rourke Beat Ted Cruz? Latest Polls, Fundraising Suggest Democrat Can Pull Off Texas Upset
With less than three months until the midterm elections, new poll data has Democratic Texas Senate hopeful Beto O'Rourke in a statistical tie with incumbent Ted Cruz.
An Emerson College e-poll conducted from August 22-25 had Cruz with 38 percent of the vote and O'Rourke with 37 percent. About 21 percent of voters were still undecided, but the poll found that Cruz's popularity is waning with independents—57 percent of them rated him as unfavorable.
An NBC/Marist poll last week placed O'Rourke within 4 points of Cruz.
A new report from the right-leaning Washington Examiner also found that Cruz, who preaches anti-establishment, Tea Party rhetoric, is worried about funding his campaign and has been reaching out to traditional Republican sources of support to ask for cash.
O'Rourke has raised more than $23 million, mostly from small donations and without corporate help. Cruz has raised about the same but lags in cash-on-hand.
Big-time Republican donors, however, have been staying out of the race. "It's just not on my radar screen," John Nau, a major donor in Houston, told the Washington Examiner. "I don't have an opinion on the U.S. Senate race one way or the other… Ted's going to win."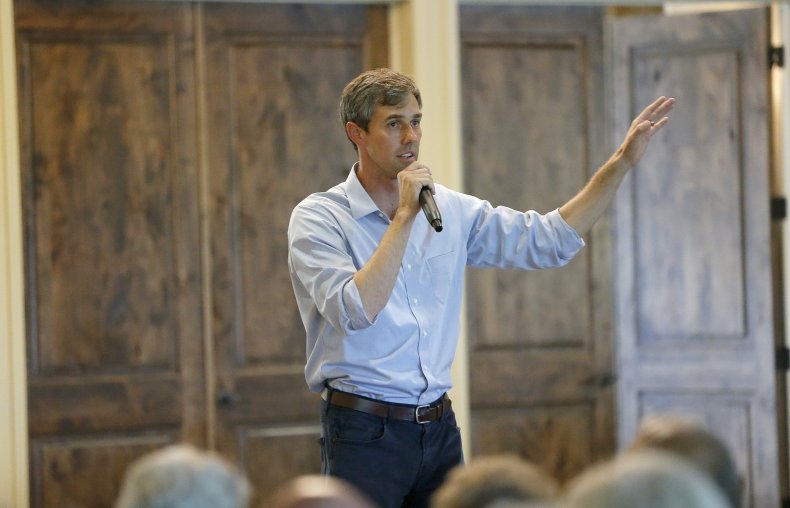 Still, O'Rourke is gaining in name recognition after a clip of the candidate discussing his support of NFL players kneeling during the national anthem to protest racial injustice went viral last week. "I can think of nothing more American than to peacefully stand up, or take a knee, for your rights. Anytime, anywhere, anyplace," he said. Celebrities like Ellen DeGeneres and Kevin Bacon shared the clip and pledged their support for the three-term representative.
Cruz, who has sided with President Donald Trump on the NFL kneeling issue, quickly released a campaign ad slamming O'Rourke for his views. "Nothing more American? Liberal Hollywood was thrilled," the ad stated. "But do Texans agree?" It then showed a clip of Marine Corps Sergeant Tim Lee, a retired combat veteran who lost his legs in Vietnam.
"I gave two legs for this country. I'm unable to stand, but I sure expect you to stand for me when that national anthem is being played," Lee said.
Cruz, whose full name is Rafael Edward Cruz, had previously released an ad slamming O'Rourke, whose full name is Robert O'Rourke, for going by the nickname of Beto.
Cruz challenged O'Rourke to face off in their first public debate Friday in Dallas but O'Rourke has since put the kibosh on the offer. "Friday in Dallas is not going to happen, but I'm convinced we will debate," O'Rourke said Monday, reported The Texas Tribune. "I'm convinced there will be a number of debates."
Cruz, who is regarded as an excellent debater, released a statement shooting back at his opponent. "[O'Rourke] begged for debates, but when Sen. Cruz invited him to five debates all across Texas, suddenly O'Rourke seemed to get scared," Cruz spokeswoman Emily Miller said, according to the Tribune. "Except for when he has to be in D.C. for his work in the Senate, Cruz is ready and excited to debate O'Rourke, including this Friday."
O'Rourke's team said they called off the debate because they couldn't agree on conditions. "We're working through those differences, and we're trying to introduce more of a collaborative style to the negotiations than he may be used to," O'Rourke said Monday. "And so we're confident that out of that, we're going to come to something good."