Beto O'Rourke vs. Ted Cruz Latest Polls: Democrat Underdog Shown With Lead For First Time in Texas Senate Race
A new poll has Democrat Beto O'Rourke slightly ahead of incumbent Ted Cruz in the closely watched November Texas Senate race.
The Reuters/Ipsos/UVA Center for Politics poll released Wednesday morning found that Representative Beto O'Rourke had a 2 percentage point lead over Republican Ted Cruz, which is still within the poll's margin of error. It is the first major poll to show O'Rourke with an advantage.
If successful, O'Rourke would be the first Democratic candidate to win a statewide Texas election since 1994.
"There's a possibility it could happen. I'm not saying probable. But it's possible," Larry Sabato, director of the UVA Center for Politics, told Reuters. Cruz's unsuccessful bid for president in 2016 hurt his standing with some Texas voters, said Sabato. "That damaged him with parts of the Texas electorate that he needs for re-election."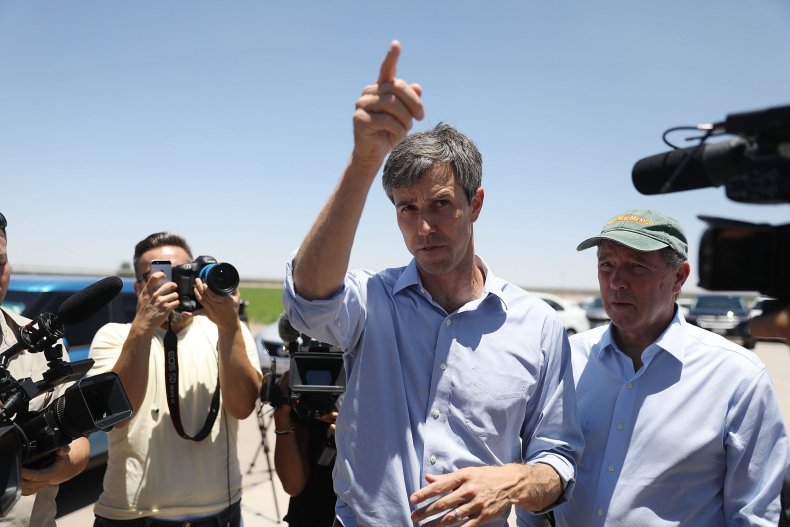 But the poll follows on the heels of a Quinnipiac poll released Tuesday that showed Cruz a full 9 points ahead of O'Rourke.
"The Texas U.S. Senate race between Senator Ted Cruz and Congressman Beto O'Rourke, and Democratic hopes for an upset win there, have boosted talk of a Senate takeover. These numbers may calm that talk," said Peter A. Brown, assistant director of the Quinnipiac University Poll, in a statement. "Congressman O'Rourke may be drawing big crowds and media attention, but Texas likely voters like Senator Cruz better."
The stark difference in the polling highlights how close the race is, and how difficult it is to accurately predict what the results might be in November. Nate Silver, editor-in-chief of FiveThirtyEight, put O'Rourke's odds of winning the election at one-in-three but added that it's unwise to make predictions based on individual polls.
O'Rourke and Cruz have raised nearly the same amount of money this cycle, though the Democrat turns down all donations from PACs and corporations. O'Rourke also currently has more cash on hand.
The two candidates will square off in a series of three debates beginning this week where they will discuss both domestic and foreign policy. Cruz is considered a skilled debater, but some analysts suggest that the high-profile events will boost O'Rourke's name recognition with Texas voters.
On Sunday, Cruz admitted to Fox News that the race was close. "We've got a race on our hands," he said. "If you're a wealthy liberal sitting in New York City or Massachusetts or San Francisco right now and you could defeat one Republican in the country, it'd be me, that's why the money is flowing in here."
Cruz was criticized this week for sending out a campaign mailer that resembled a court summons soliciting donations from Texas voters. "I've never seen this kind of mail from a campaign before, or even a legitimate organization. That should tell you something about Ted Cruz," said Democratic Texas state legislator Gene Wu.