Ted Cruz Could Be Defeated By Anti-Wall Democrat Beto O'Rourke in Texas Midterms, Poll Suggests
Texas Senator Ted Cruz and his 2018 Democratic challenger, El Paso Congressman Beto O'Rourke are neck-and-neck, according to the latest polling by Quinnipiac University, released Wednesday.
According to pollsters, the race is "too close to call," with 47 percent of voters opting for incumbent senator and 2016 presidential hopeful Cruz and 44 percent for O'Rourke. O'Rourke is projected to receive a larger percentage of female, black, Latino, young and independent voters, according to the poll.
"Democrats have had a target on Senator Ted Cruz's back, and they may be hitting the mark. Once expected to 'cruise' to reelection, the incumbent is in a tight race with Democratic U.S. Representative Beto O'Rourke," said Peter A. Brown, assistant director of the Quinnipiac Poll. "The key may well be independent voters. O'Rourke's 51-37 percent lead among that group is key to his standing today. But Texas remains a strong GOP state so O'Rourke will need the independent strength to pull the upset."
O'Rourke, once thought to be a longshot candidate, has begun outraising Cruz without accepting a single dollar of Super PAC or corporate money. O'Rourke raised more than double the amount of his opponent through the first three months of 2018. O'Rourke's campaign said it now has over $8 million on hand, narrowly behind Cruz's reported $8.2 million.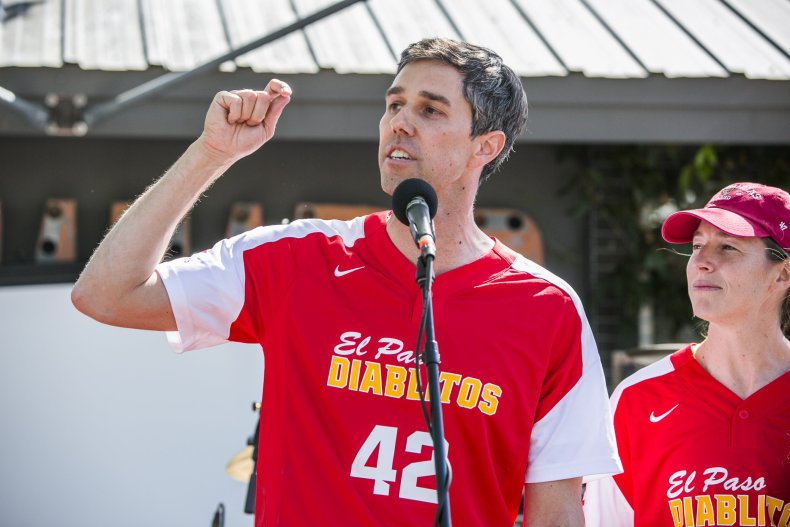 Texas has long been Democrat's white whale, with regular talk of a rising blue tide, but the state hasn't elected a Democrat to the Senate since 1988, and Trump won there in 2016 by 9 percentage points.
Still, Democratic turnout for last month's primaries was the highest it had been since 2002, and the growing Latino population has been slowly shifting Texas to the left. Latinos currently make up 28 percent of eligible voters in Texas.
Born Robert Francis O'Rourke, the Irish-American candidate, who goes by his childhood nickname of Beto, speaks fluent Spanish and comes from a congressional district that is 75 percent Hispanic. His campaign strategy consists of visiting all of Texas's 254 counties (he's visited 240 so far) and holding town halls with voters.
O'Rourke has spoken out repeatedly against President Trump's proposal for a border wall between the U.S. and Mexico. He's called the idea "racist" and said that walls won't increase the safety of border towns. Cruz, a supporter of the wall, has called for tripling border security and ending all paths to citizenship for undocumented immigrants.
Cruz, whose first name is Rafael, has poked fun at O'Rourke's nickname in a campaign radio jingle with lyrics like, "I remember reading stories, liberal Robert wanted to fit in, so he changed his name to Beto and hid it with a grin."