Ted Cruz Says 'That's Great' to Supporter Who Suggests Sending Beto O'Rourke 'Back to Ireland'
Texas Senator Ted Cruz laughed with and threw affirmations at a supporter who suggested at a Republican rally near Dallas that his Democratic opponent, Beto O'Rourke, should be sent back to Ireland.
Cruz was delivering his stump speech at the rally when the supporter loudly interrupted him. "Send him back to Ireland!" he yelled of O'Rourke, a fourth-generation Texan. Cruz laughed and said, "That's good," according to a report from The Dallas Morning News.
​O'Rourke is Irish-American. Stella O'Leary, president of Irish American Democrats, told Irish Central News that she was "surprised by the depth of his knowledge of Ireland and his fondness for his ancestral home. It's something one doesn't expect in a Texan, and he is the only Texas representative who actively engages with Irish American Democrats."
Cruz was born in Canada. His mother is a U.S. citizen, but his father is not. He is Irish on his mother's side.
Emily Miller, spokesperson for the Cruz campaign, told Newsweek that the senator "has a great sense of humor," in response to a request for comment. "Senator Cruz is in the Judiciary Committee hearing on confirmation of Judge Kavanaugh for the Supreme Court, so I can't ask him to comment on a joke yelled out at an event in Texas yesterday, but Cruz has a great sense of humor," she said.
Cruz also warned the crowd of nearly 700 on Monday about O'Rourke's "socialist views." He compared the progressive candidate, who does not identify as a socialist, to Vermont Senator Bernie Sanders. "Congressman Beto O'Rourke is running a hard left, liberal campaign," he said at the event in Collin County. "We saw it with Bernie Sanders in the 2016 election, where he ran as an open socialist and got a lot of energy and excitement on the extreme left. We saw this with Alexandria Ocasio-Cortez, the socialist who just won the Democratic primary up in New York."
Cruz said O'Rourke would "vote yes" to impeach President Donald Trump and would take a relaxed stance on immigration. He also referenced O'Rourke's support of NFL players who choose to take a knee during the national anthem to protest police brutality.
"Look, you can always protest. You have a First Amendment right to speak," he said. "But you can do it in a way that's not disrespectful to the flag and not disrespectful to the national anthem and our veterans."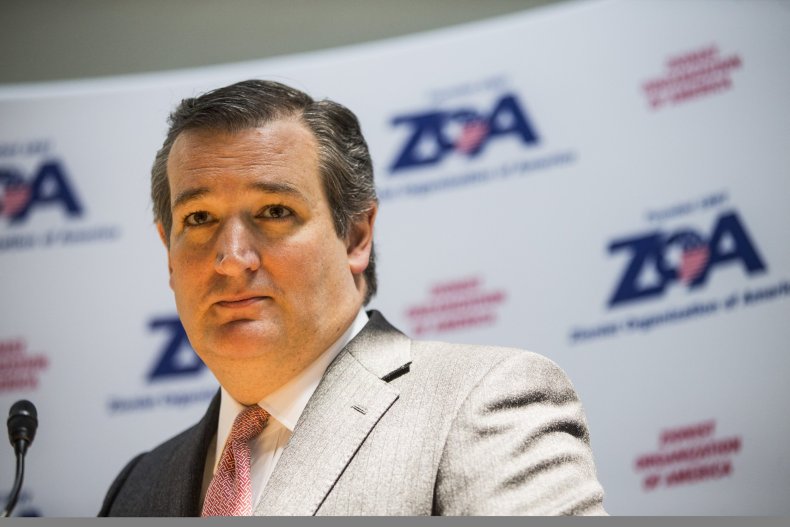 Recent polls have put Cruz within a margin of error of his Democratic opponent, and O'Rourke has more cash-on-hand than the well-connected Cruz.
"There are a lot of problems with recent polls. But at the end of the day, it's clear we have a race. And it's also clear there is a level of energy on the extreme left driven by rage and hatred for President Trump that's dangerous, and we're taking it seriously," explained Cruz.
President Donald Trump, whom Cruz campaigned against in the 2016 presidential election, will come to Texas in October in an attempt to bolster voter turnout. "I'm very glad President Trump is coming to Texas. I think we're going to have a terrific rally," Cruz said of the event. Still, Houston community organizer Antonio Arellano has raised nearly $10,000 to purchase giant billboards in Texas that display an anti-Cruz Trump tweet from 2016.
"Why would the people of Texas support Ted Cruz when he has accomplished absolutely nothing for them?" the tweet reads. "He is another all talk, no action pol!"
Cruz previously attacked O'Rourke for going by the nickname Beto instead of his given name, Robert. In a musical campaign commercial, the Cruz camp sings, "I remember reading stories liberal Robert wanted to fit in, so he changed his name to Beto and hid it with a grin." O'Rourke has had the nickname Beto since early childhood.
Cruz, whose first name is Rafael, goes by Ted.