Texas senatorial candidate and El Paso Congressman Beto O'Rourke brought in a staggering $6.7 million during the first quarter of 2018.
Cruz's campaign has not yet released its first quarter numbers, but according to FEC filings, O'Rourke had outraised him by $2.3 million to $800,000 during the first 45 days of 2018. Cruz still has more cash on hand, but O'Rourke is catching up, with $4.9 million to Cruz's $6 million.
"Campaigning in a grassroots fashion while raising more than $6.7 million from 141,000 contributions, we are the story of a campaign powered by people who are standing up to special interests, proving that we are more than a match and making it clear that Texans are willing to do exactly what our state and country need of us at this critical time," O'Rourke said in a statement.
O'Rourke's average donation is about $47, and he did not take PAC or corporate donations, according to his campaign. The fundraising total is more than any other Democratic Senate candidate nationwide, the campaigned added.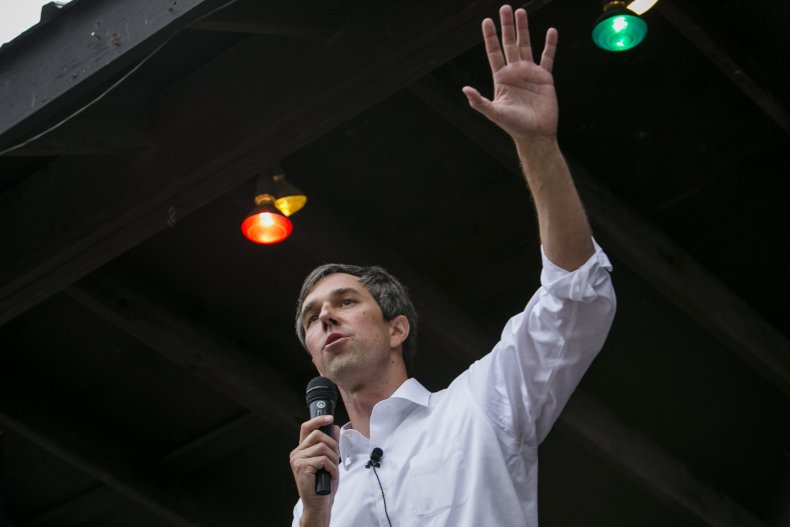 Democrats in Texas face an uphill battle: The state hasn't elected a Democrat to the Senate since 1988, and Trump won there in 2016 by 9 percentage points.
But Democratic turnout for last month's primaries was the highest its been since 2002, and Texas's growing Latino population has been shifting the Lone Star State to the left. Hispanics make up 28 percent of eligible voters in Texas and O'Rourke is hoping they'll lead him to victory.
Born Robert Francis O'Rourke, the Irish-American candidate goes by his childhood nickname of Beto, short for Roberto. He speaks fluent Spanish and regularly jaunts from El Paso to Juarez for lunch or a drink. His congressional district is 75 percent Hispanic, and he openly opposes Trump's border wall. States that border Mexico have "never been more secure," he says. Cruz, meanwhile, has called for tripling border security and ending all paths to citizenship for undocumented immigrants.
Cruz, whose first name is Rafael, has also poked fun at O'Rourke's nickname in a campaign radio jingle with lyrics like, "I remember reading stories, liberal Robert wanted to fit in, so he changed his name to Beto and hid it with a grin."