Texas Senate Race 2018 Polls: Beto O'Rourke Closing on Ted Cruz in Final Stretch of Midterm Election Campaign
With just over a week until midterm elections, Democratic Congressman Beto O'Rourke of El Paso is catching up in the polls to his Texas senatorial opponent Ted Cruz.
A Quinnipiac University Poll released Monday found that Cruz was leading O'Rourke by five points, with 3 percent of Texan voters still undecided. Previous polls revealed a 9-percent gap between the two.
"With a week to go, Texas U.S. Senator Ted Cruz remains in front, with a slim lead over U.S. Representative Beto O'Rourke," said Peter Brown, assistant director of the Quinnipiac University Poll. "O'Rourke is within striking distance, but time is running out in a race that Democrats have hoped would deliver an upset victory that would be key to a Senate takeover."
O'Rourke leads in Independent voters 56 to 40 percent and with Democratic voters 96 to 2 percent, but Cruz still wins the majority of the male vote, said Brown. "Senator Cruz is ahead due to his winning the 'gender gap.' He wins men 56 to 39 percent, while Representative O'Rourke can manage only a 52 to 45 percent edge among women," he explained.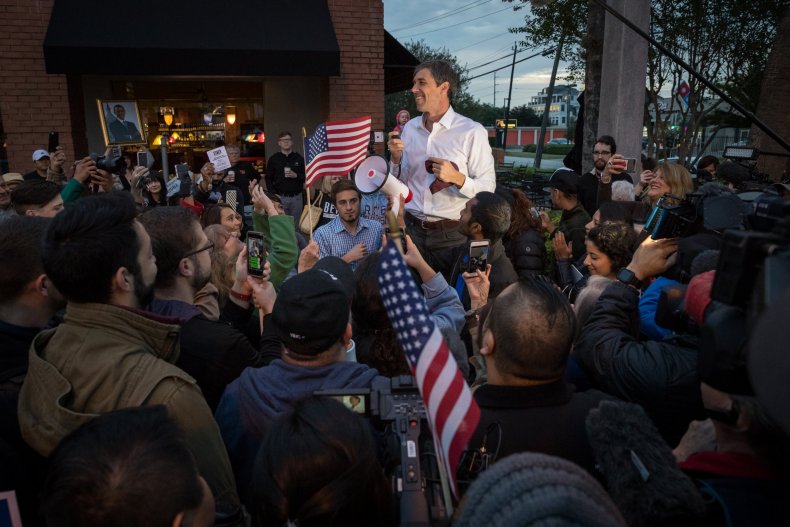 O'Rourke has raised a record-breaking $38 million in 3 months, without taking any money from political action committees or corporations. He currently leads in midterm spending on Facebook ads, where he's outspent Cruz by about $5 million.
Early voting began in Texas last Monday, and turnout has already surpassed 2014 numbers and is approaching 2016 presidential election year numbers.
O'Rourke said in the past that his voters, first-time voters and recent citizens didn't often show up in poll numbers.
"We need to see record turnout," O'Rourke told CBS News last week. "They've just become a citizen, they're 40 years old, they've never voted in an election in their lifetime, but they're voting now. They only vote in presidential years, they're voting in a midterm for the first time. A lot of those folks are not reflected in the polls, but they're reflected at the polling site. And that's what's most important. That's how we win."
Cruz, meanwhile, also said he was bolstered by early voter turnout. "I am very encouraged by the early voting numbers," he reporters at a campaign stop outside of Houston. "I have always said if Texans show up and vote, we are going to have a very good election. Texans are showing up to vote."
If successful, O'Rourke would be the first Democratic candidate since Bob Krueger to win a statewide election in Texas in over a quarter of a century.