Beto O'Rourke Dubs Texas Abortion Bill 'Worst Anti-Women's Health Care Law' in U.S.
Beto O'Rourke has said that Texas' new strict abortion legislation has created a "system of legalized harassment" of women and those who might help them undertake the procedure.
The former Democratic presidential primary contender, O'Rourke, who represented Texas' 16th congressional district in the U.S. House of Representatives until 2019, expressed his concerns about the passage of Senate Bill 8, which bans abortions after the detection of a fetal heartbeat.
Abortion groups and celebrities have joined a chorus of outrage after the U.S. Supreme Court decided not to block the strictest abortion prohibitions in the country which effectively ban the procedure for women who are more than six weeks pregnant.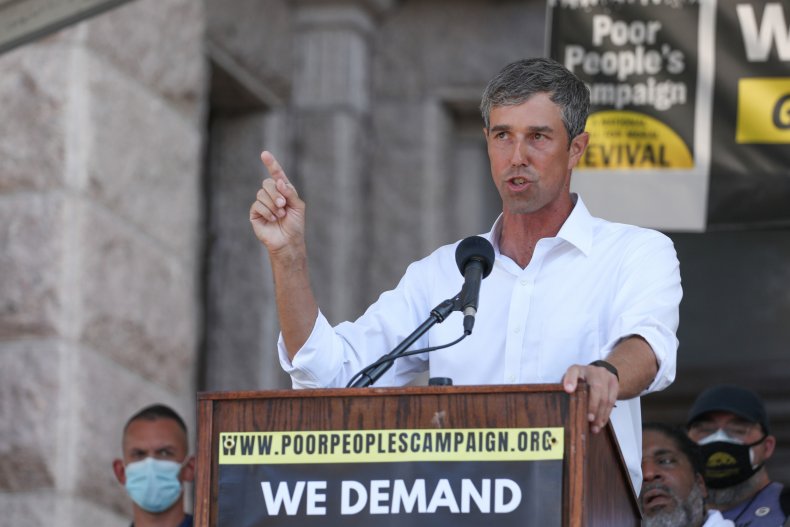 "In a state that leads the country and much of the developed world in the rate of maternal mortality—because it was already so hard for women to get healthcare, family planning help or to see a doctor of any kind at all — nearly no one will be able to get a safe, legal abortion," he said in an email to his supporters.
He said that the law meant that Texas "has created a system of legalized harassment with the passage of the worst anti-women's health care law in the country."
He also referred to the part of the law which makes it illegal to "aid or abet" an abortion, leading to potential convictions and fines for not only medical workers, but those who drove the women to the procedure.
O'Rourke said that this "literally places a $10,000 bounty on anyone who supports a woman trying to exercise her basic right to control her own health and decide her own future."
His message, whose first line read, "a tough week for Texas," condemned the state's "radical, out of control Republican government" and also took aim at the "anti-voter elections bill" which passed the Texas legislature on Tuesday.
The bill has been criticized by Democrats and voting rights activists for making it more difficult for some Texans to vote.
On Thursday he launched a tool allowing people to register to vote at home by deploying volunteers to their houses when requested.
In his appeal for donations to his political action committee, Powered By People, O'Rourke also condemned the change to the state's gun law that came into effect on September 1 which permits people to carry a handgun without a license.
"The only way to change these laws and the terrible trajectory we're on is to change the people in power," his email said.
In response, Texas Republican Party Chairman Matt Rinaldi told Newsweek in a statement, "It's no surprise Beto and his PAC keep losing elections when 80 percent of Texans support voter ID.
"The Texas Republican legislature is delivering on their promises for common sense legislation," the statement added.
There has been much speculation in recent months over whether O'Rourke will run against Texas Governor Greg Abbott in 2022, with Politico reporting this week that the Democratic party establishment is waiting on whether he will announce a bid.
Update 09/05/2021 4:43 a.m. ET: This article has been updated to include a response from the Texas Republican Party.