Watch: Beto O'Rourke-Supporter, a 77-Year-Old Woman With Oxygen Tank, Get Emotional in Explaining Why She Voted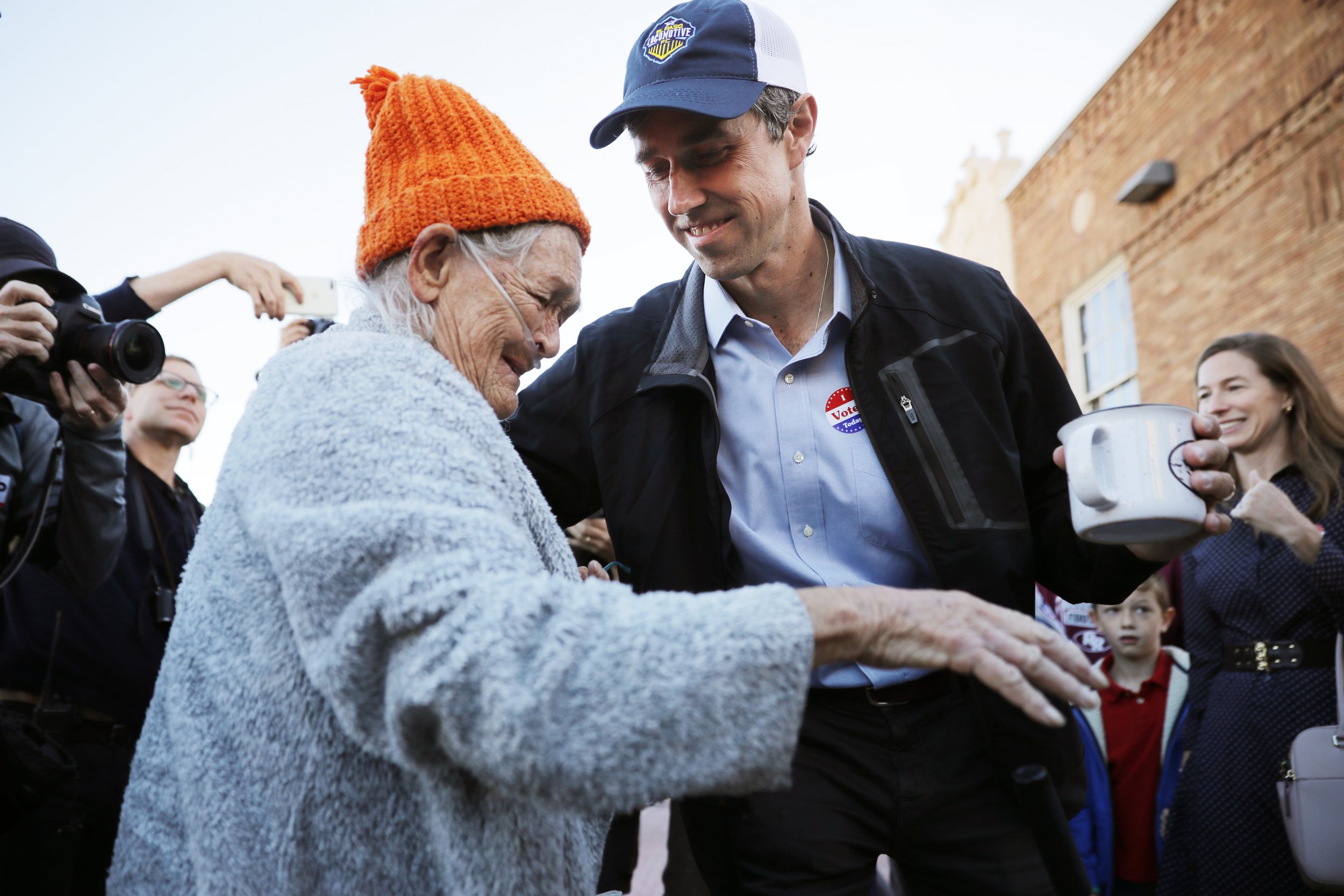 Beto O'Rourke has been credited with inspiring young voters across Texas as he seeks to become the first Democrat to win a statewide race in the state in almost a quarter of a century. But on Tuesday, the television cameras caught up with a 77-year-old woman who explained why she had made the trip to the polls, with her oxygen tank in tow, on Tuesday morning, in order to cast a ballot for the Democrat.
Pamela Aguirre was asked by MSNBC reporter Garrett Haake why she became so emotional after casting her ballot in O Rourke's El Paso district and managing to briefly meet O'Rourke on Election Day.
"Because I wasn't expecting it," Aguirre said after revealing her "Beto for Senate" T-shirt as tears trickled down her face. "And because we think he's pretty important. And we're honored that he was here."
Aguirre continued, explaining what it was about O'Rourke that made his candidacy so important.
"He represents everything that Donald Trump isn't," she said. "I give him a lot of credit for standing up and saying what he thinks and for being willing to represent so many people who are like-minded. It means a lot. We're just so proud.
Asked what it would mean to see O'Rourke defeat Republican incumbent Ted Cruz, Aguirre responded: "Everything, just everything."
"We want him to win. It will mean so much," she added. "It will mean that, by gosh, we all still have a chance to have a decent country and decent values with decent relationships with other people."
Polls have shown Cruz with a consistent lead over O'Rourke. But there have been indications that the race has tightened in the final days of the campaign. An Emerson College poll conducted last week gave Cruz only a 3-point lead over his Democratic challenger.
Republicans' concerns about the seat were significant enough for Cruz to enlist the help of President Donald Trump, who held a large rally for Cruz last month. Cruz has embraced Trump despite the president mocking the attractiveness of Cruz's wife and suggesting his father had been involved in the assassination of John F. Kennedy.
In his final message to voters on Monday, O'Rourke returned to El Paso, which he has represented in Congress since 2013.
"This community defines the positive story of immigration," O'Rourke said, as reported by The Dallas Morning News. "From Chihuahuita to the Segundo Barrio to Sunset Heights, where we live, we are a city of immigrants. We are made far stronger, we're more successful, than we would have been without their presence. So we will continue to do what we have always done, be a nation of immigrants, refugees and asylum seekers."