Beto O'Rourke Boost: Texas Youth Vote Soars 500 Percent Ahead of Midterm Election Against Ted Cruz
Early voting data from Texas shows a 508 percent growth in the youth vote since 2014, which is likely good news for Democratic Senate hopeful Beto O'Rourke.
With just one week until the midterm elections, polls indicate that the El Paso congressman and Texas senatorial candidate has a 5-point gap to bridge in order to catch his competitor, incumbent Senator Ted Cruz. But O'Rourke has long insisted that a large chunk of his supporters, Texans under 30 and Hispanic voters, don't show up in those polling numbers. New data from Target Smart, a political data firm, would appear to back his claims.
In a recent interview, O'Rourke told CBS News that a large turnout would help him because his voters had "just become a citizen, they're 40 years old, they've never voted in an election in their lifetime, but they're voting now. They only vote in presidential years, they're voting in a midterm for the first time. A lot of those folks are not reflected in the polls, but they're reflected at the polling site. And that's what's most important. That's how we win."
In an analysis of early voting numbers, Target Smart found that more than 200,000 people have already voted for the first time in Texas and the number of Hispanic voters has increased by more than 200 percent since 2014. Polls have been open since last Monday.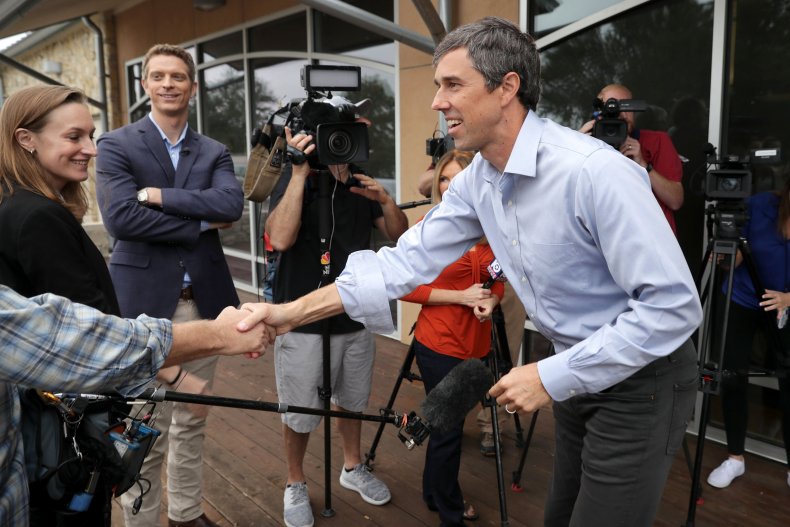 Turnout for white voters, meanwhile, has increased by 165 percent since 2014, and voters over the age of 65 have increased by 96 percent.
Women are so far outvoting men, but that's not unusual in the state of Texas. Unmarried individuals, however, have increased turnout by 219 percent, typically a good sign for Democrats.
A poll released Monday by the Institute of Politics at Harvard's Kennedy School of Government found that 40 percent of Americans between 18 and 29 years old will vote this November. That's almost double the highest rate of midterm election youth turnout, which stood at 21 percent in 1986 and 1994, according to Census data.
O'Rourke said Monday that from the turnout numbers he's seen, "we are far outpacing the 2014 midterm election, and we're not that far behind the 2016 presidential election levels. People are standing up to be counted at this defining moment of truth, and I'm so grateful to be a part of it."
Cruz has indicated that he also welcomes increased voter turnout in Texas. "I've got to say, it's encouraging," he told members of the press after voting on Sunday. "We're seeing enormous turnout all over the state, and that's a very good sign."