Beto O'Rourke Was Threatened by Pipe Bomb Suspect: 'Hug Your Loved Ones Every Time You Leave Home'
Democratic Congressman Beto O'Rourke of Texas, who is currently challenging incumbent Republican Senator Ted Cruz, was reportedly targeted by Cesar Sayoc, the man investigators believe is responsible for a series of 14 pipe bombs sent to prominent Democrats and Trump critics last week.
O'Rourke's campaign spokesman, Chris Evans, told The Dallas Morning News on Wednesday that Sayoc first sent several threatening Facebook messages to O'Rourke in April.
"We received a threat via Facebook from that individual in April, a threat toward Beto, and we immediately reported it to the [U.S.] Capitol police," Evans said. "Then we turned over the message and the information and the threat to the FBI in July."
Evans said the FBI began using dogs and agents to search the mail received by O'Rourke's campaign office in El Paso on October 25, the day prior to the arrest of Sayoc in Florida.
Multiple news outlets have reported Sayoc had a "hit list" of more than 100 potential targets he intended to mail additional pipe bombs to. The list, consisting of other politicians and media outlets, reportedly named an editor at The New York Times. It was unknown whether O'Rourke was included on the list.
"No one said 'you are on a list,' but there was immediately a presence including [FBI] agents and dogs who were at the office even as recent as today," Evans said Wednesday.
The O'Rourke campaign could not immediately be reached by Newsweek on Wednesday.
The messages from Sayoc to O'Rourke, which were provided to The Dallas Morning News, reportedly included pictures of O'Rourke with his wife and children with the message "hug your loved ones everytime [sic] you leave home. See you soon."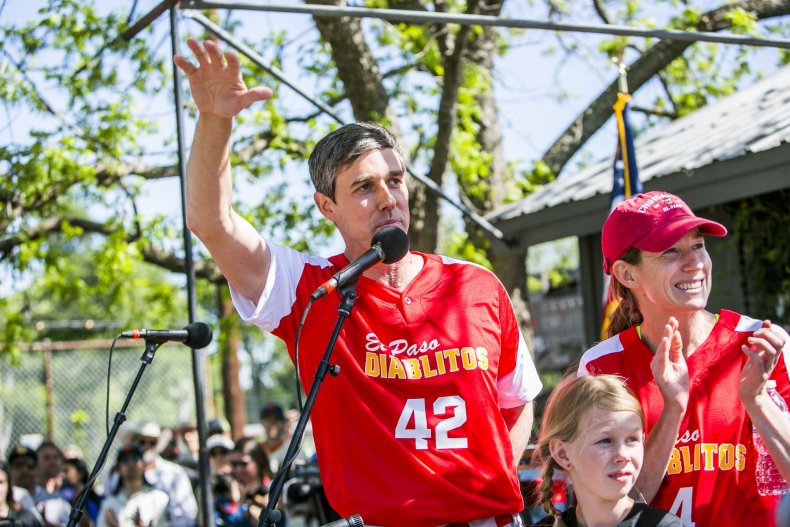 Speaking at a campaign stop on Wednesday in Austin, O'Rourke said he still felt safe in light of the threats, according to The Dallas Morning News.
Following Sayoc's arrest last week, a third package addressed to CNN believed to be from Sayoc was discovered at a mailing facility in Atlanta, Georgia, on Monday. Authorities had previously warned there could be additional packages still moving through the mail that were sent by Sayoc prior to his arrest.
The Texas state capitol building was evacuated on Tuesday after a suspicious package addressed to Democratic State Representative Poncho Nevárez was received, according to The Dallas Morning News. Nevárez had also been contacted by Sayoc and his addresses were reportedly on Sayoc's list, according to Nevárez's conversation with the FBI on Tuesday.
Update: This story has been updated to include information on O'Rourke's comment, the hit list and the evacuation of the Texas state capitol.
Beto O'Rourke Was Threatened by Pipe Bomb Suspect: 'Hug Your Loved Ones Every Time You Leave Home' | U.S.