With Beto Trailing Abbott a Month Out, Supporters Mount Final Charge
Democrats and activists in Texas are unveiling their final organizing, messaging, and get out the vote efforts in Texas after the lone debate between Beto O'Rourke and Governor Greg Abbott failed to change the contours of the race.
Democrats like former Texas candidate for U.S. Senate Cristina Tzintzún Ramirez argue that O'Rourke won the debate — in the eyes of those who saw it.
But many in Texas were not watching the debate at 7 p.m. on a Friday night.
O'Rourke has also consistently trailed Abbott throughout the race, with recent polls showing him down seven to eight points. That only adds to the sense of urgency for Democratic organizers and advocates, who see a Texas where the rules are stacked against them unless O'Rourke is able to come from behind and win.
Mi Familia Vota, a national grassroots organization, unveiled a new ¡Basta Abbott! ad campaign tied to the debate, which said Abbott abandoned Texans "during the storm that killed 246 people in Texas, many of them Latinos."
The ad has run on CNN, Fox News, and Spectrum News in Austin, as well as in the Rio Grande Valley.
Mi Familia Vota Executive Director Hector Sanchez Barba told Newsweek that an Abbott win would bring more of the same.
"It would be a continuation of his extremist policies," Sanchez Barba said, blaming him not just for the deaths during the freeze, but also deaths that came from mass shootings during his terms, like the Uvalde mass shooting in May that left 21 dead, including 19 children.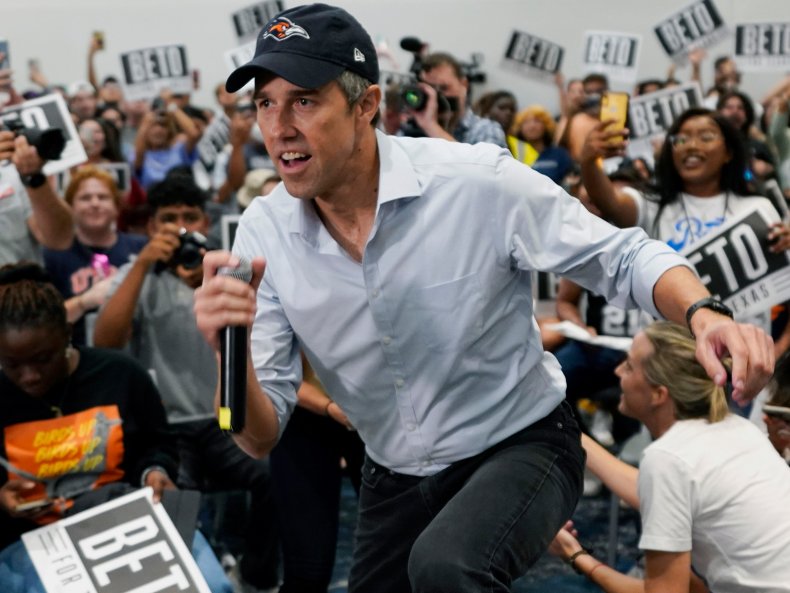 In the last month before the election on November 8, Mario Carrillo, the Austin-based campaigns manager for immigration advocacy organization America's Voice, said his group is continuing to focus on the "stunts" and "cruelty" from Abbott aimed at migrants coming to the border, many of whom have been flown to liberal-led cities in the northeast.
"The urgency is real for families like mine," Carrillo said, citing the case of his wife, who is a recipient of the Deferred Action for Childhood Arrivals (DACA) program, which was targeted by the Trump administration and remains in legal limbo.
"We've been waiting two years for our case to move forward," he said, "which is critical for my wife and for her job."
Carrillo said that sense of urgency extends to his young daughter. He has publicly and privately worried about raising a daughter in a state with extreme laws and punishments around abortion, after the Texas abortion law signed by Abbott that made abortion a felony.
Organized labor is also pulling together to support O'Rourke.
Out in the field, in local communities, the Texas AFL-CIO is "stepping it up and building to a crescendo" in the final month, president Rick Levy told Newsweek. The influential union is reaching out to as many members as possible by phone, and has a goal of knocking on 52,000 doors from now to election day. They also have programs for online engagement and mailings, as well as an active super PAC.
While his organizers are hearing about gun violence and jobs at the doors, abortion has become a mainstay of discussions with voters, Levy said.
"We've been surprised by how reproductive rights has risen to the top in these conversations," he said.
Ed Espinoza, the president of Progress Texas, said his group helped shape 2,000 stories by reporters last year and thousands more this year. Their sprint to November is focused on taking all the research they've accumulated on Abbott over the last decade and making sure people know about it.
Espinoza said he's not concerned about the state of the polls at this juncture in the race.
"Down seven for a Democrat in Texas is not that bad," he said, noting that O'Rourke was down 10 points at this point in 2018, then down seven on election day before losing by 2.5 points when the final results were tallied.
The final Real Clear Politics average polling margin between O'Rourke and Senator Ted Cruz was 6.8 points. Abbott currently leads O'Rourke by an average of 8 points.
"If we go by a similar metric he is still within striking distance," Espinoza said. "The people he needs to win over normally don't vote in midterm elections."
He feels the dynamic on issues between the two candidates favors O'Rourke.
"People are plenty worked up over abortion and lack of action on guns, while Abbott is going to focus on border stunts," Espinoza said. "I don't know how many people he wins over with that — the people that like that have been voting in Texas elections for years."
Progressive activists in the state have a lot riding on the race, and are hoping O'Rourke can again capture late energy and attention. But if he is to win, he will need to outperform the polls by an even greater margin than he did in 2018.
"In Texas, changing the state is not easy," Carrillo said. "But the one who has come closest in 2018 is Beto."
"I commend him for putting his name forward," he added, "but he has a tough road ahead of him."