Legislators Are Trying to Block Devos' Rule on Student Loan Forgiveness—Here's What You Need to Know
The House of Representatives will vote on a resolution that could stop Education Secretary Betsy DeVos' borrower defense rule from going into effect, and supporters of the measure say it's time for legislators to choose a side.
"Senators will now have a chance to go on the record: Are you with the students or the predatory industry that defrauded them with worthless degrees and a lifetime of debt?" Senator Dick Durbin said in a statement introducing the resolution in September.
Joint resolutions operate largely the same way as bills do, and if the measure isn't blocked in Congress or by presidential veto, it will bar DeVos' rule from going into effect on July 1. DeVos' regulation would alter the requirements for students filing claims and how relief is rewarded, changes that critics see as raising the bar for students' claims in an effort to benefit colleges.
On Monday, the Democratic-majority House's Committee on Rules voted in favor of the House considering the resolution against DeVos' rule. Votes fell along party lines, with eight Democrats voting in favor and three Republicans opposing.
The resolution is now headed to a full vote in the House, which is expected to take place on Thursday, according to Politico. Here's what you need to know ahead of the vote.
What Is Borrower Defense?
The borrower defense policy allows students who were defrauded by their higher education institutions to receive federal student loan relief. But its regulation, including who is eligible and how relief is rewarded, is left up to the current administration.
Although it's been on the books for more than 20 years, it was rarely used until 2015 when Corinthian Colleges Inc., a for-profit college, collapsed. An investigation determined the school misrepresented job placement rates, and in 2016, the Department of Education under President Barack Obama said Corinthian students were eligible for loan forgiveness.
How Is DeVos' Rule Different From Obama's?
The rules set forth under the Obama administration allowed students to receive relief as a group when there is a widespread misrepresentation, as was determined in the Corinthian case. Under DeVos' rule, all students are required to file their own claims.
Students who didn't enroll in another institution when their school closed were also eligible for automatic discharge of their loans under Obama. If DeVos' plan goes into effect, students will choose between filing a loan discharge application or accepting a teach-out opportunity to complete their program.
The new regulations would extend the closed school discharge window from 120 days to 180 days, according to the Department of Education.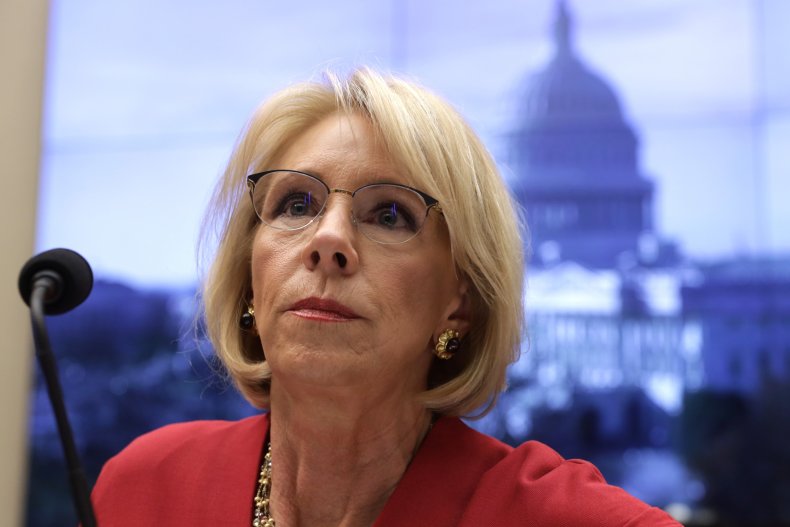 Obama-era regulations also prohibited schools from requiring students to sign pre-dispute arbitration agreements and class-action waivers that would prevent them from filing a lawsuit against the school. DeVos' Education Department will allow schools to use the agreements and waivers as long as there are "plain-language disclosures" to students and this is part of entrance counseling.
Relief for all students under DeVos will be determined on a tiered scale by comparing the applicant's income to those in comparable programs. The plan also establishes a statute of limitations on filing claims to three years from the date they were last enrolled in the school, either because they graduated or withdrew.
How Are Students Affected by the Change?
In a September statement, Representative Susie Lee, a Nevada Democrat, said the DeVos rule makes the process "unnecessarily difficult and burdensome" for students to receive their entitled relief.
Representative Suzanne Bonamici, a Democrat from Oregon, also criticized DeVos' methodology of calculating relief during a House Education Committee hearing on December 12. She claimed that just because people are earning money doesn't negate the possibility their school defrauded them.
By eliminating group claims and automatic relief to certain students and increasing standards for claims, critics said, it's possible fewer students will have their student debt forgiven.
What About Taxpayers?
DeVos and her supporters defend the proposed changes for being a more just policy than Obama's. In a statement, DeVos said her changes treat students fairly while not "furiously giving away taxpayer money" to people who either aren't eligible or who submit a false claim.
"I understand that some of you here want blanket forgiveness for everyone who raises their claim, but that's not right," DeVos told legislators at the House Education Committee hearing in December.
Angela Morabito, a spokesperson for the Department of Education, told Newsweek that DeVos' rule would save taxpayers billions of dollars.
"The rule corrects the overreach of the prior administration, gives students and borrowers the relief that they're owed, and restores fairness and due process, saving taxpayers $11.1 billion over 10 years," Morabito said.
What Happens Now?
While it has a good chance of passing the House, given the heavy Democratic majority, the resolution may hit a snag in the Senate.
To pass in the Senate, 51 legislators would have to vote in favor of the resolution, meaning at least four Republicans would have to sign on to the bill. More than 30 senators joined Durbin in introducing the resolution in September, none of whom were Republican.
"When this resolution comes to the Senate for a vote, my Republican colleagues will have a choice: stand with defrauded student borrowers trying to remake their lives for themselves and their families or join with Betsy DeVos to deny these borrowers the relief that they desperately need," Durbin told Newsweek.
If the resolution makes it through all the necessary votes and gets President Donald Trump's approval, it would overturn DeVos' rule and return the regulation of the policy to how it was under Obama. However, getting Trump's seal of approval is unlikely. On Monday, the White House released a statement of policy that says Trump's advisers would recommend that he veto the measure.
If the resolution doesn't pass both chambers and gets the go-ahead from Trump, DeVos' rule would apply to all federal student loans made on or after July 1, 2020.
This article has been updated with comment from Senator Dick Durbin.
Correction: An earlier version of this story mistakenly said that there was a three-year limit to filing claims since enrolling. The statute of limitations begins after students graduate or withdraw.