Betsy DeVos Heckled During HBCU Commencement Speech at Bethune-Cookman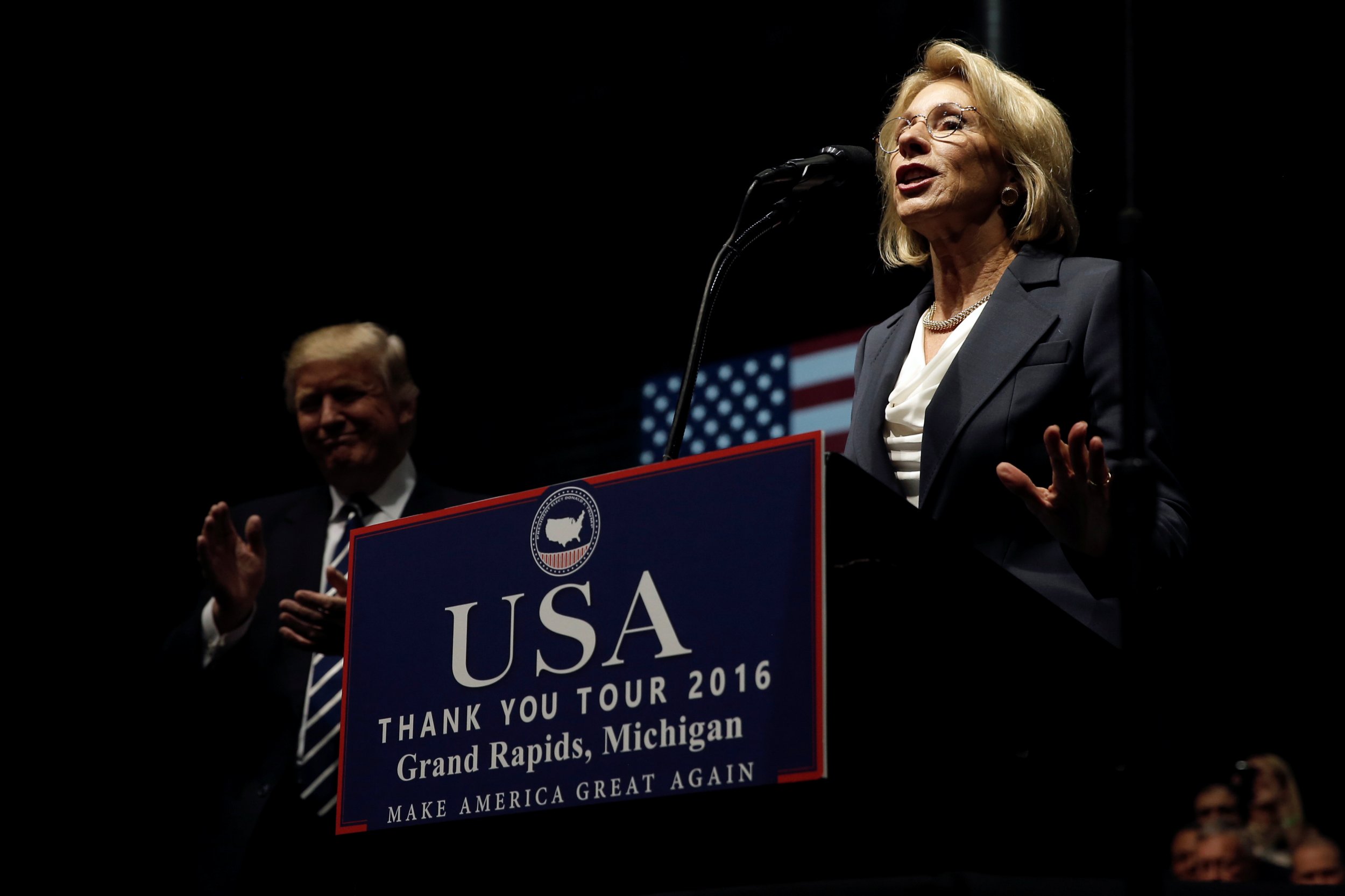 Education Secretary Betsy DeVos had to speak over boos and talk to students' backs Wednesday at Bethune-Cookman University's commencement in Daytona Beach, Florida.
Reporters on scene provided live updates from DeVos' speech, which was met with cries of "Go home!" and included an admonishment from the school's president, according to Business Insider.
The controversy over her appearance has been brewing for days. Bethune-Cookman falls into the category of historically black colleges and universities, or HBCUs, of which there are about 100 in the U.S. DeVos has previously said HBCUs are "real pioneers when it comes to school choice," when in reality black students in the past did not have many options for higher education. Her boss, President Donald Trump, also recently suggested that funding for HBCUs is unconstitutional before walking back his comments.
On Wednesday, DeVos was heckled as she said she planned to visit the grave of the school's founder, Mary McLeod Bethune. University president Edison O. Jackson tried to calm the protesters down, threatening to withhold their degrees and instead send the certificates in the mail, but the backlash continued, according to the Chronicle of Higher Education.
"While we will undoubtedly disagree at times, I hope we can do so respectfully. Let's choose to hear each other out," DeVos said in a clip shared online. "I want to reaffirm this administration's commitment to and support for HBCUs and the students they serve. Please know this: We support you, and we will continue to support you ... I am at the table fighting on your behalf."
The secretary ran through some of the White House's efforts to back HBCUs so far, including its support of year-round Pell Grants aimed at providing aid for students with financial need. But many attendees Wednesday had already made up their minds about DeVos, whose appearance was condemned by the Florida chapter of the NAACP "based on her horrible public education record impacting blacks and minorities in Florida and around the country," as Politico reported.
On Wednesday, BuzzFeed reported that, while protesters gathered outside, some students stood up and turned around so DeVos had to speak to their backs. More than 8,000 people had previously signed a Change.org petition demanding her speech be stopped.
"Having DeVos speak at the commencement ceremony is an insult to the BCU graduating class, students, alumni, family, friends and Dr. Mary McLeod Bethune's legacy," the petition read. "Bethune-Cookman University doesn't need a photo op from the Trump administration, we need action done by this administration for all HBCUs."