Betsy DeVos: Education Secretary's Biggest Controversies, From Grizzlies and Guns to Vandalized Yachts
Betsy DeVos has become something of a household name since taking on the role of Secretary of Education in the Trump administration last year.
DeVos, a former businesswoman with a very limited background in education or government policy, was nominated by Donald Trump, who called her "a brilliant and passionate education advocate." But her Senate confirmation revealed otherwise, and two Republican lawmakers said they couldn't support DeVos. In the end, the vote was tied, and Vice President Mike Pence had to cast the deciding vote.
But DeVos has sparked controversy time and again, on issues from her education policy to her family's boating history among many others. Here are some of the most talked about headlines DeVos has made during her time in the Trump administration.
Schools, Guns and Grizzlies
Before even officially beginning her role as education secretary, DeVos told lawmakers during her confirmation hearing that guns should be allowed in schools "to protect from potential grizzlies." DeVos made the comment when asked whether she believed guns had any place in or around schools. She made the remark when referencing an earlier comment by Republican Senator Mike Enzi, who said that in an elementary school in Wyoming they put up a fence around the school to protect children from wildfire. The term "potential grizzlies" went viral on social media.
Rollbacks on Protective Guidelines for Campus Sexual Assault Victims
In September of 2017, DeVos announced that she would be rolling back Obama-era policies that provided guidelines for protecting sexual assault victims on college campuses across the country. In the announcement, she said that while all victims have to be taken seriously, "every student accused of sexual misconduct must know that guilt is not predetermined."
Advocates for the change said that the Obama-era guidelines may have led people to be falsely accused, as the rules lowered the standard of proof universities needed to charge students. But DeVos was largely met with criticism, as survivors of sexual assault said the policy will make it even more difficult for victims to come forward. The administration was later sued for rolling back on the legislation.
DeVos' $40 Million Family Yacht Vandalized
Earlier this summer, a Devos family yacht worth around $40 million was vandalized when someone untied the vessel from a harbor in Ohio. The result was somewhere between $5,000 and $10,000 in damages. Then, it was discovered that the family yacht was registered in the Cayman Islands to avoid millions of dollars in taxes.
The incident immediately sparked controversy as the education secretary had just announced a proposal to cut student loan relief by $13 billion. The proposal would make it much more difficult for students who are defrauded by their colleges to get their federal loans erased.
DeVos Allegedly Thinks Black Students Can't Understand Her Policies
In a new tell-all book by former White House aid Omarosa Manigault Newman, the education secretary allegedly once said that African American students lack the "capacity to understand" her policy agenda.
Manigault Newman referenced a specific incident where DeVos was booed while giving an address to a historically black college. After being booed, DeVos told her that the students couldn't understand what she was trying to accomplish. Manigault Newman inferred that what DeVos meant was that "those black students were too stupid to understand her agenda." Manigault Newman further slammed DeVos in the book, writing that she is "woefully inadequate and not equipped for her job."
Education Department press secretary Liz Hill told Newsweek that the claims were not true and that Manigault Newman is "peddling lies for profit."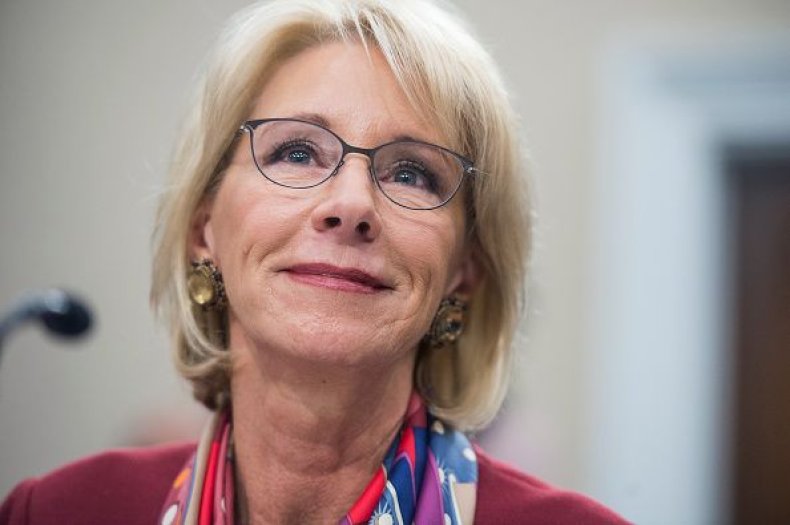 DeVos Won't Look at Role of Guns in School Safety Commission
Tasked with keeping students safe, DeVos was put in charge of a federal school safety commission created in the aftermath of the school shooting that killed 17 people in Parkland, Florida. But DeVos said that the commission won't be looking at the role guns in school-related violence.
"That is not part of the commission's charge per se," she told the Senate subcommittee overseeing education spending.
Her comment was met with immediate backlash. Survivors of the shooting at Marjory Stoneman Douglas High School in Parkland, Florida, slammed DeVos in an interview with MSNBC. They said that they "can't respect that she couldn't even look at one of the leading causes of death in schools" and "if our secretary of education fails to recognize the role that guns play in our schools, she doesn't represent the students of America."
Black Colleges As "Pioneers" Of School Choice
DeVos is a prominent school choice activist, and during her tenure as education secretary has continued to advocate for charter schools and programs that allow parents to use vouchers to send their children to private schools. Then, she said that black colleges were "pioneers" of school choice.
"Historically black colleges and universities are real pioneers when it comes to school choice," DeVos said in a statement after a White House listening session with college presidents. "They are living proof that when more options are provided to students, they are afforded greater access and greater quality. Their success has shown that more options help students flourish."
DeVos completely neglected the fact that these universities were only created because African American students were excluded from other institutions of higher education based on their race.
Rollback on Rights For LGBQT Students
In 2017 the Department of Education and the Department of Justice rescinded Obama-era guidelines that allowed transgender students to use the bathrooms aligned with their gender identity. DeVos argued that LGBTQ students were still protected by laws like Title IX, but transgender advocates viewed the move as a step backward.
Later that year, an internal memo obtained by The New York Times showed that the department was scaling back on its investigations into civil rights violations at public schools and colleges around the country.