Betsy DeVos Criticizes America's Education System, Claims Incoming FBI Agents Don't 'Really Know' What Happened on 9/11
Department of Education Secretary Betsy DeVos claimed the state of America's education system was so substandard that a future generation of law enforcement officials lacked knowledge about one of the most significant events in the nation's history.
"I recently had a revealing conversation with FBI Director [Christopher] Wray. He told me that many incoming FBI agents are so young, they don't really know what happened on September 11, 2001," DeVos said, according to prepared remarks from the Department of Education. "'Some people did something,' we've heard it said."
The education secretary shared the anecdote while accepting an award at the Independent Women's Forum (IWF), a conservative non-profit organization, annual gala on Wednesday night. She used her speech to highlight problems she saw in the education system, including a lack of proficiency in reading, math and U.S. history, and the solution, which she claimed is her Education Freedom Scholarships proposal.
DeVos, a champion of school choice, a term used to describe the ability for students to use public funds to obtain an education somewhere other than their geographically-assigned institution, criticized the current lottery system. When an institution, such as a charter school, has too many applicants, names are entered into a random drawing and those who are selected are granted a place at the school.
"Their parents are devastated when their child's number isn't called, and they have no power to do anything about it," DeVos said. "They are forced to stay in the school that doesn't work."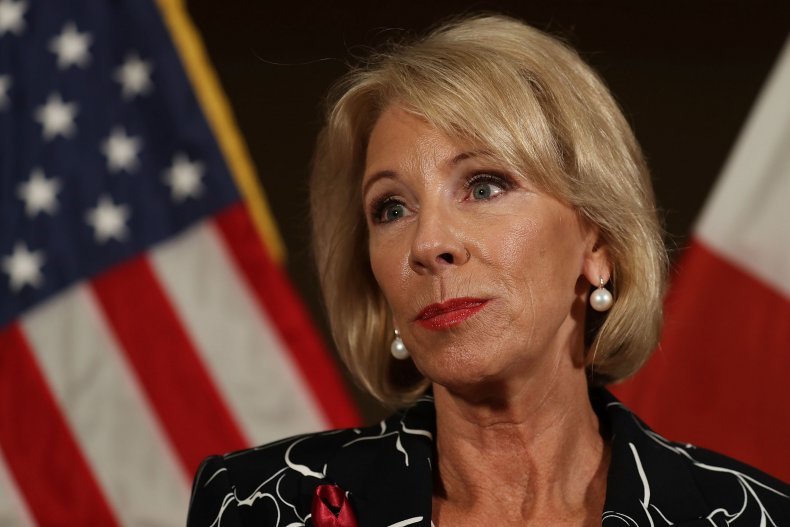 Several cities, including San Francisco and Washington, D.C., use a similar lottery system for public schools. The system has parents list their children's top schools in the jurisdiction and an algorithm places the student, theoretically giving preference to those who have an older sibling already enrolled at a particular school.
In 2019, only 23 percent of high school seniors were considered at or above proficient in math, according to the National Assesment of Educational Progress (NAEP). Only 36 percent were at or above proficient in reading. The report from the history exam has not yet been released.
DeVos claimed the current system of students being educated, at times, in failing schools is responsible for why students are unable to read or do math proficiently and lack an understanding of American history. An example of the real-world impact of educational failures, she said, was people applying to work at the FBI, a national security organization, without sufficient knowledge of one of the biggest domestic terror events in America's history.
A 2017 analysis from the University of Wisconsin of State High School Social Studies Academic Standards found 26 states specifically included the 9/11 attacks in their teaching standards.
"It's past time for something different. It's past time for something better in education. The thing that makes America great: freedom," DeVos said, according to the Department of Education.
That "something better," she said was the Education Freedom Scholarships proposal. The proposal would create a $5 billion annual federal tax credit for businesses and individuals who donate to scholarship granting organizations. Those scholarships could then be used to pay for a private, independent or faith-based school education, as well as tutoring, after school programs and other education-related expenses.
DeVos credited the proposal for connecting dollars to students and not a "system" and concluded her remarks with the assertation that students and their families should determine "how and where" they learn.