Betsy DeVos Is a Danger to Transgender Children
On March 17, our daughter Ellie turned seven. She's an artist, a friend, loves a good pun and tells the same knock-knock joke over and over (and over). She is also transgender. Each day she gleefully waves goodbye to me as she walks into school with her gaggle of first grade friends. For her, school is a place where she's found love and support from friends, teachers, and community.
Unlike others in her situation, Ellie gets to enjoy the full protection of living in Boston, in one of the few states that have explicitly affirmed the rights of transgender students. Ellie doesn't have to worry about which bathroom she can use, or whether a staff member will call her an old name. Thousands of students like her don't have that luxury. For many, their identity is used to define and separate them in school buildings or public spaces—creating an environment rich for bullying by staff and students alike.
GLSEN's National Student Climate Survey shows the adverse outcomes for students who feel stuck in those situations. Conversely, when students are affirmed at home and school, we've seen positive results—students flourishing. Because of this, our family has shared our story to all who would listen. No student or parent should live in fear that their child will experience harassment, discrimination or worse. We advocate that all children deserve to have a safe school where they are valued as part of their community.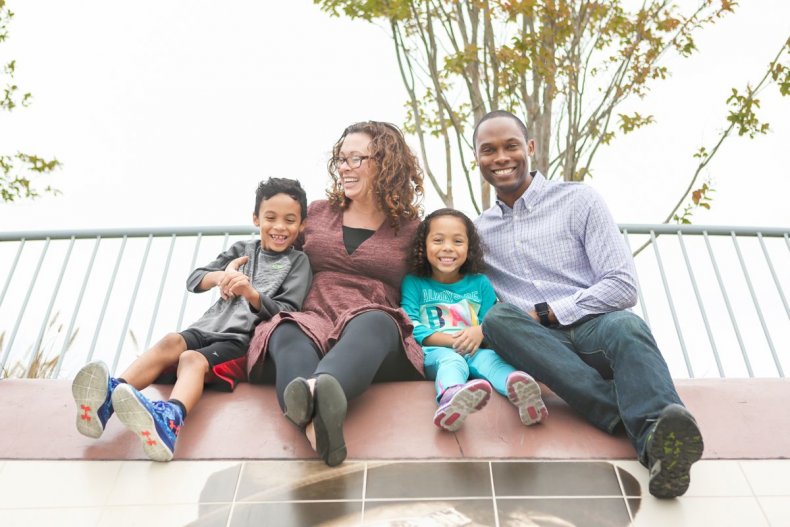 In February 2017, when Trump's administration overturned Title IX guidance that outlined school districts' legal obligation to protect transgender students from discrimination, thousands of families like ours felt uncertainty and fear for the safety and security of our children. Our family joined thousands across the nation protesting this political move that would jeopardize trans youth.
Shortly afterwards, our family was provided the opportunity, through GLSEN, Equality Michigan and The National Center for Transgender Equality, to have a small meeting absent of press with Secretary of Education Betsy DeVos, urging her to take action to protect vulnerable transgender students from discrimination.
Until now, I've kept most details of this meeting close to my chest, instead focusing on policies, not DeVos as a leader. However, her actions and the actions of the department under her leadership have compelled me to speak out again—about this meeting and the danger she poses as the head of the Department of Education.
On March 8, 2017, my family, along with two others, entered the Department of Education meeting space; a long table separated the families from the education secretary and her team. Ellie sat at the end of the table, drawing her comic characters, giggling when she tried out new fist-bumps with those in the room. As any kindergartner would be in such a situation, she was disinterested in those in the room and focused on her task at hand—perfecting her Sonic the Hedgehog drawing. She answered the secretary's questions and in doing so, led DeVos to draw parallels between Ellie and her own 6-year-old granddaughter.
As my husband and I looked Secretary DeVos in the eye and told our daughter's story, we tried to be a voice for families who could not be in that room. Those families who do not have the same kind of support and safety that our community had provided us with. We pressed her about the importance of safe schools for all children and the damage—the lives that would be lost—if her department didn't make a statement in support of trans youth, or at least publicly share the Department of Education Model District Policy.
Each family took turns telling their stories as DeVos sat quietly, speaking very little in return.
As the meeting concluded and we thanked the secretary for her time, she asked Ellie for a hug. Ellie told her no, but said that she'd give her a fist-bump—to which Ellie pulled a favorite prank—changing the fist to a 'squirrel' and running it up the arm of the surprised secretary. In that moment, as a mother, an educator, and an eternal optimist, I hoped that this meeting would create the human connection that would move the secretary to reconsider her actions. I hoped that putting a face—our family's face—to the issue would be the catalyst she needed to stand and do what was best for trans youth.
Time would tell.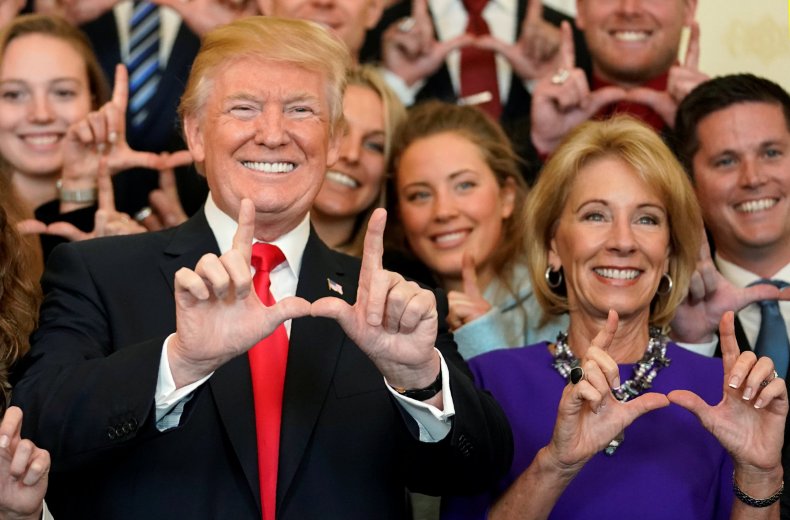 Well, we've given it time and what the last year has demonstrated is that not only didn't DeVos hear us, she took direct actions to further marginalize my child and thousands like her. Her actions have actively placed thousands of transgender students like my daughter at a greater risk of discrimination while she refuses to enforce the law and investigate Title IX complaints.
As a career educator who spent 15 years teaching in D.C. public schools, I know what it means to build a school culture where all students can thrive. I also know that this country is filled with brilliant educators doing the same each day. Based on DeVos's actions and policies, it is clear her definition of education for all students doesn't actually mean all students. Her policies and actions have shown a blatant disregard for the safety and value of transgender students, students with disabilities, and students of color.
The Department of Education under the leadership of DeVos has made a conscious decision to abandon their legal and ethical obligation to protect our daughter and directly puts all marginalized students at risk. Due to the actions of the department under DeVos's leadership, many are confused and unclear about what they should do to support transgender students. Without guidance, and the power of the education department's Office for Civil Rights stripped away, what are families, teachers, and school leaders to do to protect our nation's most vulnerable? Who are we supposed to look to for help?
As Ellie enters her eighth year, we will continue to be by her side, ensuring she gets to focus on what matters to her—playdates, swim practice, and drawing Sonic the Hedgehog characters. I'm encouraged, and inspired, by the number of young people across the country demanding our nation's leaders make school safety a top priority, including making those spaces safe for those most vulnerable. Our family will continue to stand with them all. I have no intention of keeping quiet, and will continue advocating for her and all marginalized students trapped under this department's unethical actions.
Vanessa Ford is an educator, advocate and mother to two children, one of whom is transgender. She is on the Board of the National Center for Transgender Equality.