Betsy DeVos has Failed to Have any Positive Impact on Public Education in America | Opinion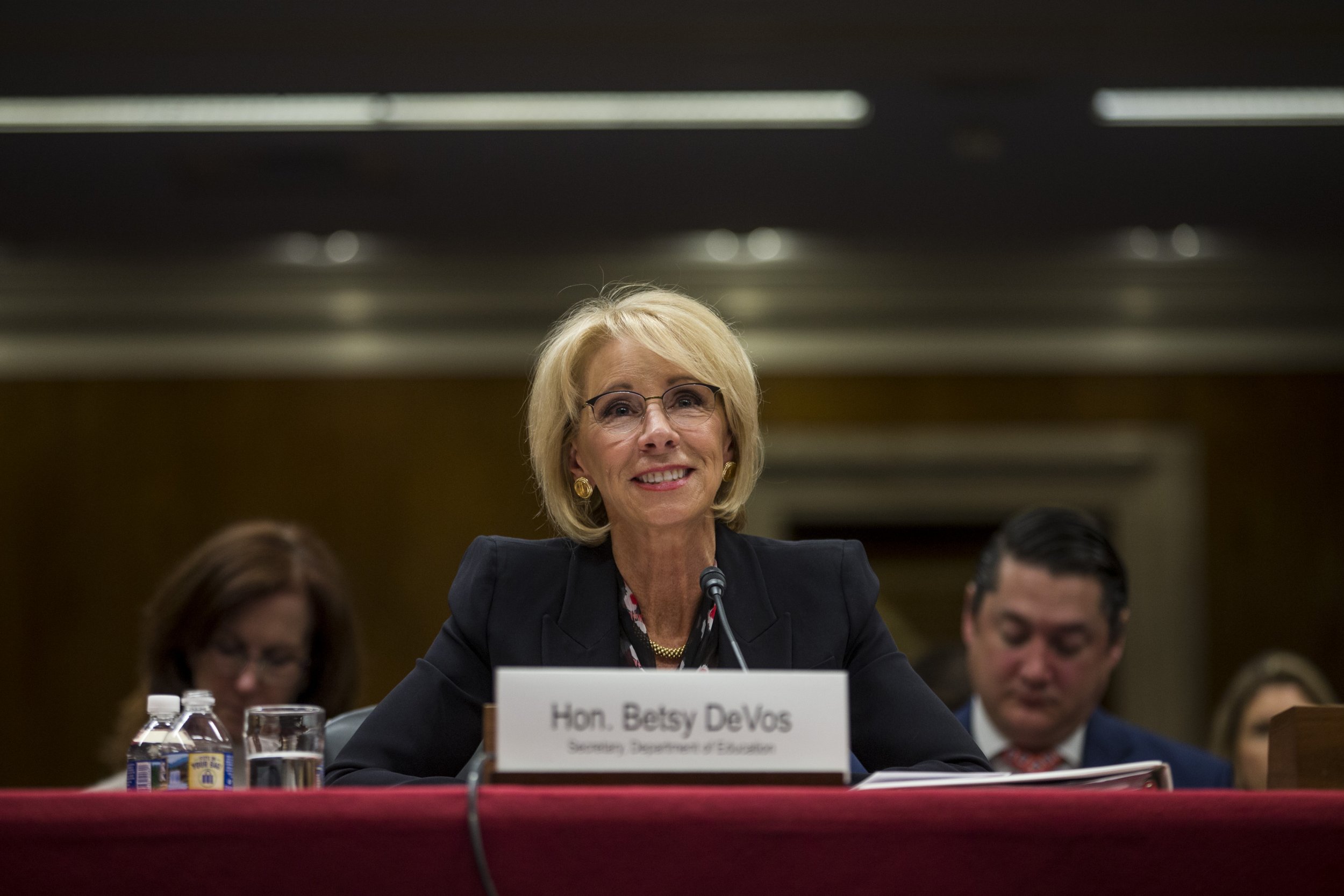 It's Groundhog Day at the Department of Education. To the surprise of no one, Education Secretary Betsy DeVos' testimony to Congress this week—and over the past month—has demonstrated her tone-deafness toward the realities facing our public education system. Her solution? Promote narrow-minded policy that focuses on diverting taxpayer funds from public schools to advance a school choice agenda.
In her zealous, two-year pursuit of expanding charters and vouchers for private (even religious) schools, to the exclusion of policies that might build stronger public schools, Secretary DeVos has failed to have any positive impact on public education in America. Given her apparent disdain for public schools, maybe educators should be glad she is so ineffective.
The DeVos legacy is best represented by repeated, failed attempts to roll back policies, regulations, and even initiatives like the Special Olympics, designed to support all children; especially investments in low-income and minority students who lag behind their white, more affluent peers and are disproportionately punished or sent to special education classrooms.
Although Secretary DeVos claims her focus on vouchers and school choice will pave the way for widespread, positive outcomes for students, she does so in the absence of consistent, persuasive evidence. Our recent, longitudinal study represents just one piece of research showing that low-income students do not benefit any more from attending private school than if they were to enroll in their neighborhood school.
Why are Secretary DeVos and the Trump Administration so convinced that public schools represent a dead end, when in fact any school, if designed and implemented well, can afford each and every student a pathway to success in school, work, and life?
Rather, they are determined to implement a policy agenda that will fail to yield discernible impacts for our nation's youth. One only needs to look at the two hallmarks of her recent budget proposal, framed under the guise of promoting educational freedom; a $60 million boost to the U.S. Charter Schools program and a $5 billion plan that enables individuals and corporate entities to receive a 100 percent tax credit for donations that support private-school vouchers for low-income students.
In reality, these are thinly-veiled efforts to siphon taxpayer dollars from public schools—even though there is zero support for the notion that private or parochial schooling is superior to public education.
There are countless examples of exemplary charter schools, private schools, and public schools across our nation that place a focus on high standards, leverage the power of community partnerships, and transform opportunities for our youth. They should co-exist and not supplant public schools, providing a basis for informing a broader system that strives to close opportunity gaps and position our students for success. And when charters and private schools take public dollars of any form, they should be held to the same accountability standards for assessing student learning.
Instead, Secretary DeVos is propelling an ideologically-driven agenda that is far from "putting our students first," the central tenet of her latest budget proposal.
Yet, as the Secretary approaches the two-year mark in her tenure, she still has time to elevate—rather than continually seek to de-fund—evidence-based policies in afterschool, K-12 literacy instruction, and social-emotional learning that actually assure student success.
She can catalyze and spread the reach of promising innovations in assessment, social-emotional learning, as well as teacher recruitment and retention that states and school divisions are spearheading as they implement the Every Student Succeeds Act.
And Secretary DeVos might even think about addressing conditions that have brought the teaching profession to a breaking point, leaving a shortage of 110,000 teachers—and unmatched turnover among our novice educators. And the statistics are just as grim for our prospective teachers, with enrollment in education programs dropping by 35 percent between 2009 and 2014. Educators are now striking across the country, a by-product of a profession that is unjustly under duress, underpaid, and tasked with more and more duties beyond the classroom. Is it just coincidence that someone so beholden to the ideology of a "market-based" alternative to public schools would sit by passively and watch as trends erode the workforce?
Rather, the Department is inert, even as the field hemorrhages talent. Instead of ignoring the challenge at hand, Secretary DeVos should initiate the charge, encouraging states to use new federal flexibility in an effort to provide supports, resources, and incentives that can stem the loss of effective educators.
Secretary DeVos could convene universities, traditional and alternative teacher preparation programs, and states to design and execute a bold and strategic workforce strategy that prompts our most talented undergraduates to pursue teaching. The Department can look to solutions that are unfolding in the state level, ranging from increased teacher pay for hard-to-teach subjects, streamlined pathways to licensure, ongoing mentoring and specialized supports for our novice teachers, and competence-based credentialing, to name just a few.
And she can even bring Republicans in to the fold by tying funds to accountability measures for states, ensuring these resources are serving their core purpose: recruiting and retaining great teachers.
This is an agenda that puts students first. If Secretary DeVos is serious about all the students she took an oath to serve, she must preserve, not unravel, the promise of public education.
Her legacy as Secretary, and of America's public schools, will depend on it.
Robert C. Pianta is the dean of the University of Virginia School of Education and Human Development.
The views expressed in this article are the author's own.​​​​​