Betsy DeVos' First Year: Education Experts Grade Trump Pick on Her Promises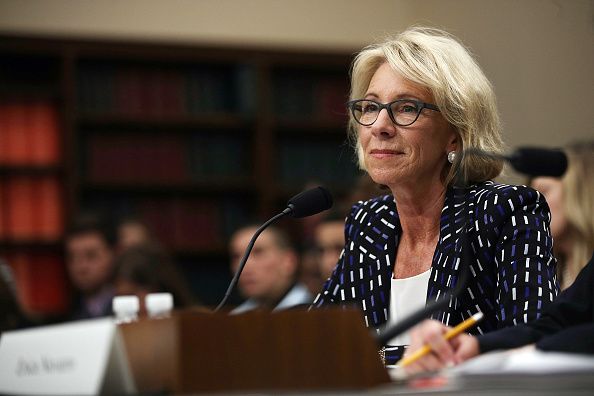 A year after squeaking through a Senate vote to be named education secretary, Betsy DeVos has been handed her first report cards. And the verdict, as delivered Thursday to the Education Department by advocacy groups and school community members, marked her performance as a resounding failure.
"Privatizing is not the answer to public education," read one letter, stamped with an "F" in the corner. "We need an education secretary who will strongly strive for equity in terms of race and disability," read another.
More than 80,000 report cards, written by students, parents, educators and others, offered "comments from the field, from people who are working their hearts and souls out to educate our young people," Randi Weingarten, president of the American Federation of Teachers (AFT), told Newsweek. Ninety percent of these cards handed the education secretary a failing grade.
The close to 100 protesters in attendance could not deliver the report cards directly to DeVos because the doors were locked. Education Department spokeswoman Liz Hill told Newsweek that the department would "be happy to accept" the feedback via a representative.
The report cards will still be delivered "by whatever means we can," an AFT spokesman told Newsweek Friday morning.
Criticism has marred DeVos's first year. The billionaire philanthropist and school choice advocate assumed her position as education secretary with no prior public school experience, garnering widespread scrutiny. A historic tie-breaking Senate vote from Vice President Mike Pence was necessary to approve her for the job.
Her subsequent agenda has generated similar pushback, particularly her call to expand school choice (access to charter, private and nontraditional school options), despite the fact that 90 percent of K-12 students in the U.S are enrolled in public schools. Other priorities included tackling student loan forgiveness, offering year-round access to Pell Grants, ending Common Core State Standards and shrinking the federal government's role in education. DeVos also promised to protect students' civil rights and combat discrimination.
Education policy experts evaluating some of these goals told Newsweek that, overall, DeVos fell short of the reforms she wanted. They also pointed to disconnect between her rhetoric and actions as she's rolled back a slew of civil rights-linked federal guidance and policies.
"She hasn't necessarily had the political will to push through her agenda," David Kirkland, executive director of New York University's Metropolitan Center for Research on Equity and the Transformation of Schools, told Newsweek. "Her ideas, at least around the idea of expanded school choice, [aren't] very popular...with the American people."
Expanding School Choice
Since day one, DeVos has advocated for charter schools and private school vouchers, which distribute public funds to parents to finance some or all of their children's private school tuition. She backed President Donald Trump's call for a $20 billion school voucher plan, as well as his proposed 2018 budget, released in May, which contained a more than $9 million cut to the Education Department and a $1.4 billion addition for school choice program funding.
But a year in, the education secretary has yet to introduce a major school choice initiative. Congress struck down school choice funding attempts, forcing the department to consider possible competitive grant programs.
"She's really interested in bringing the private school sector into public discussion...but there was no large reform plan that worked to do that," said Priscilla Wohlstetter, a distinguished research professor at Columbia University's Teachers College. "I haven't seen large numbers of legislation or laws that are trying to bring the private sector closer to being able to access public funds."
In fact, DeVos's vocabulary as of late has strayed away from "school choice" in favor of "gentler" terminology, such as "personalized learning," "innovation," "blended learning" and "finding solutions" together, Politico reported Wednesday.
The GOP tax bill's passage in December did provide a victory for school choice: a House-proposed $10,000 per child in annual tax-free 529 plan withdrawals. They can go toward private school tuition from elementary school onward, beginning this year.
"It's good that there has been some movement [on school choice], but we remain hopeful Congress and the administration will pursue bolder initiatives," such as a federal K-12 tax credit that could benefit more low-income families, John Schilling, president of American Federation for Children, said in an email to Newsweek. DeVos formerly served as chairwoman of the AFC before becoming education secretary.
Rick Hess, education policy studies director at the American Enterprise Institute, admitted that DeVos's 2017 ambitions for school choice fell short, but noted that attacks on her qualifications, paired with having to work with a splintered Congress, impeded her progress. DeVos is still waiting on Congress to confirm top Education Department positions, such as deputy secretary, general counsel and assistant secretary of elementary and secondary education.
"A year ago, her critics made it sound like the world was going to end if she was confirmed," Hess said, adding that "even a reasonable performance on her part was going to exceed expectations."
Demise of Federal Interference—and Common Core
She may be only one year in, but DeVos said it "would be fine with me to have myself worked out of a job."
The education secretary has been adamant about empowering state and local governments following decades of "valiant efforts to improve education" at the federal level that "have not worked as hoped," she said at a January conference. The department is putting some of that energy into 2015's Every Student Succeeds Act (ESSA), which allows states to flesh out their own education programs. The department also repealed annual federal yearly progress reports in lieu of state-designed accountability systems for identifying and supporting struggling schools.
DeVos had approved at least 33 states' ESSA plans as of mid-January, though the Education Department did send back plans to a few states, such as Delaware, with requests for more "ambitious" student achievement goals. In doing this, DeVos is striking a balance between state power and federal guidance, Hess said.
Some policy experts note that DeVos has inaccurately equated ESSA's rise to the demise of Common Core, an education initiative launched in 2009 in at least 46 states. It developed standards for K-12 learning, along with college and career readiness, which addresses what students are expected to know upon high school graduation. While Common Core, like ESSA, gives states power, there were initial grant incentives for participating, which some critics deemed manipulative.
Following the Obama administration, DeVos told Fox News anchor Bill Hemmer in April, there "isn't really any Common Core anymore." And about nine months later, she announced that "Common Core is dead" at the Education Department.
Indeed, as states submitted their ESSA plans last year, the words "Common Core"—which have become a "political lightning rod"—were largely absent, Wohlstetter said. But that doesn't mean Common Core isn't "alive and well," she added.
As of September, Common Core was present to "some extent" in at least 36 states, according to Education Week. Wohlstetter said she's seen pieces of Common Core's college- and career-readiness framework present in most states' ESSA plans.
"'Common Core' has now been changed into 'higher standards' or 'rigorous standards' for college and career readiness," she said. "And virtually every state buys into that now."
Students' Civil Rights, Preventing Discrimination
When the Anti-Defamation League indirectly asked DeVos last year for her stance on equality, she affirmed that she would "ensure civil rights of all students are protected."
Yet within weeks she had backed Trump's retracted protections for transgender students to use the bathroom of their choice, deeming the issue "best solved at the state and local level." The decision dealt a crushing blow to the LGBT community, said Ian Thompson, an American Civil Liberties Union legislative representative who focuses on LGBT issues.
"In the blink of an eye, what had been a powerful ally became an adversary," said Thompson, noting that while such a rollback doesn't change any laws, it "sent a very harmful and chilling message to these students."
In June, the Education Department announced that it would begin scaling back civil rights investigations at the nation's public schools and universities—including requirements for investigators to identify systemic issues—amid "skyrocketed" processing times and a heavy case backlog.
In September, DeVos retracted Obama-era Title IX guidelines for schools that set the lowest standard of evidence for sexual assault cases, saying such guidance disregarded the due process rights of the accused. The following month, the department rolled back 72 special education policy documents it had labeled as "outdated, unnecessary or ineffective." The rescinded guidance did not affect services provided to students with disabilities, according to The Washington Post.
Groups such as Families Advocating for Campus Equality (FACE) have applauded DeVos's consideration of due process rights. Various others reacted to the Title IX guideline retractions with outrage and lawsuits, claiming the action produced a "chilling effect" on survivors coming forward.
FACE Co-president Cynthia Garrett told Newsweek that DeVos's measures "balance the rights of all students affected by these matters."
"There is no plan...to deprive sexual assault victims of their civil rights or other protections," she said in an emailed statement. "Protecting victims and ensuring fair procedures are not mutually exclusive goals."
Allegations that DeVos is not upholding the rights of students are "hurtful," the education secretary told reporters on Wednesday. She added that her interim guidance for handling sexual misconduct cases is not an attempt to stop victims from "coming forward and telling their story."
The department continues to seek "public input on a new regulation that aims to protect all students from sexual misconduct and also ensure the due process rights of all parties involved are protected," Hill, the department's spokeswoman, said in an emailed statement.
Experts like Liz King, a senior policy analyst with the Leadership Conference on Civil and Human Rights, believe DeVos's decision to rescind policies dealing with students' civil rights represents a "failure" of her "legal and moral obligations to protect students from discrimination."
King told Newsweek she remains unconvinced by DeVos's words.
"She has done too much to make students and families feel unsafe in school and to feel as though the Department of Education will not do its job to follow the law and protect them," she said. "This is not a conversation about what she feels or what she believes. This is a conversation about what her actions have shown us."