Betsy DeVos Forgives Around 4,000 Student Loans While Federal Lawsuits Continue
Over 1,500 students who attended two for-profit colleges that closed last year will be eligible to have their student loans forgiven, said Betsy DeVos, Secretary of the U.S. Department of Education, according to The Hill.
Anyone who went to the Art Institute of Colorado (AIC) and the Illinois Institute of Art (IIA) will have their student loans canceled out. Students who enrolled in 24 other schools owned by parent company, the Dream Center Education Holdings (DCEH), can also have their loans canceled if they enrolled in those colleges after June 29, 2018. That could mean the cancellation of around 4,000 loans for more than 1,500 students.
Students who attended the AIC and the IIA will also have their eligibility for Pell Grants reinstated, according to Education Dive.
"The Department is committed to holding institutions and accreditors accountable to the students they serve," said DeVos in a statement. "In this instance, students were failed and deserve to be made whole. By canceling these students' loans and restoring their Pell eligibility, as well as extending the closed school discharge period, we hope that these impacted students will now have the tools and resources they need to complete their education."
In the wake of DCEH closing its doors in December 2018, students from AIC and IIA filed a federal lawsuit asking the Department of Education to cancel loans for nearly the entire year. Both schools had lost their accreditation status and should not have been able to procure federal student aid for their students. However, the schools managed to remain open and keep their lack of accreditation a secret.
Any degrees earned during the time delineated in the lawsuit were marked as non-accredited. Because of this, "students have been harmed as they seek transfer credit and employment elsewhere."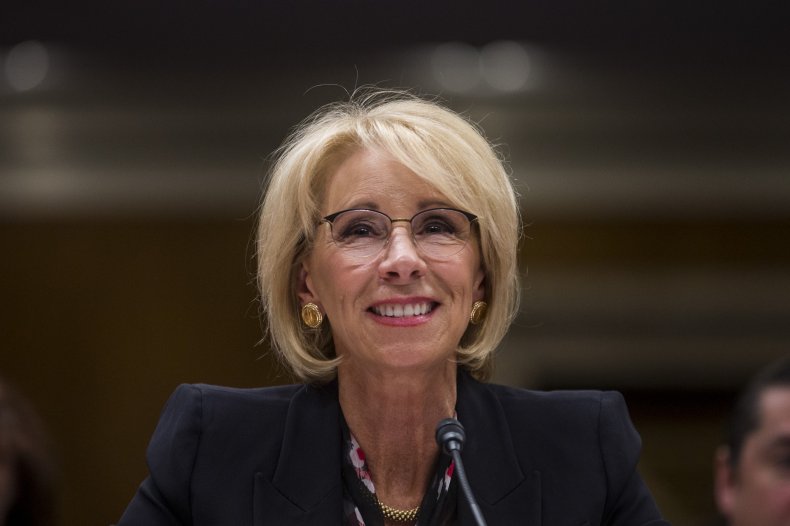 Another lawsuit centered on for-profit colleges cost DeVos a $100,000 fine for continuing to pursue debt collection proceedings against former students at Corinthian Colleges, Inc. after being ordered by a judge to stop, according to the Los Angeles Times.
Corinthian Colleges filed for bankruptcy in 2015. Students at the failed schools were told their loans would be voided and refunded if they filled out a form.
But in 2017, some former students filed a lawsuit alleging the government had stopped discharging the loans. Debt collection attempts by the Department of Education extended to the seizure of wages and tax refunds.
Earnings data from the Social Security Administration was used to deny some students debt relief from the Corinthian Colleges shutdown in a plan Magistrate Judge Sallie Kim of the Federal District Court of San Francisco found violated the federal Privacy Act, according to The New York Times.
That plan was partially devised by Steven J. Menashi who was, at the time, Betsy DeVos's general counsel. Menashi is now a candidate to become a judge for the Second Circuit United States Court of Appeals.
Menashi wrote the data could about for-profit schools could be used to examine the earning potential of their students. This was accomplished by comparing their salaries to the pay rates of students in similar programs.
Students claimed that data should only have been used to hold for-profit schools accountable and for no other purpose. Whether students did well in their chosen fields was irrelevant.
"As we've seen time and time again," said legal director for Harvard University's Project on Predatory Student Lending Eileen Connor, "the only way for students to get a fair shake is not from the Department of Education, it's through the courts. Menashi has shown that in his view there is no role for the federal courts in reviewing, much less checking, executive action. This is a dangerous perspective for someone who could potentially hold a lifelong appointment to the federal appeals court."