The Betsy DeVos Hearing: Guns, Charter Schools and Grizzlies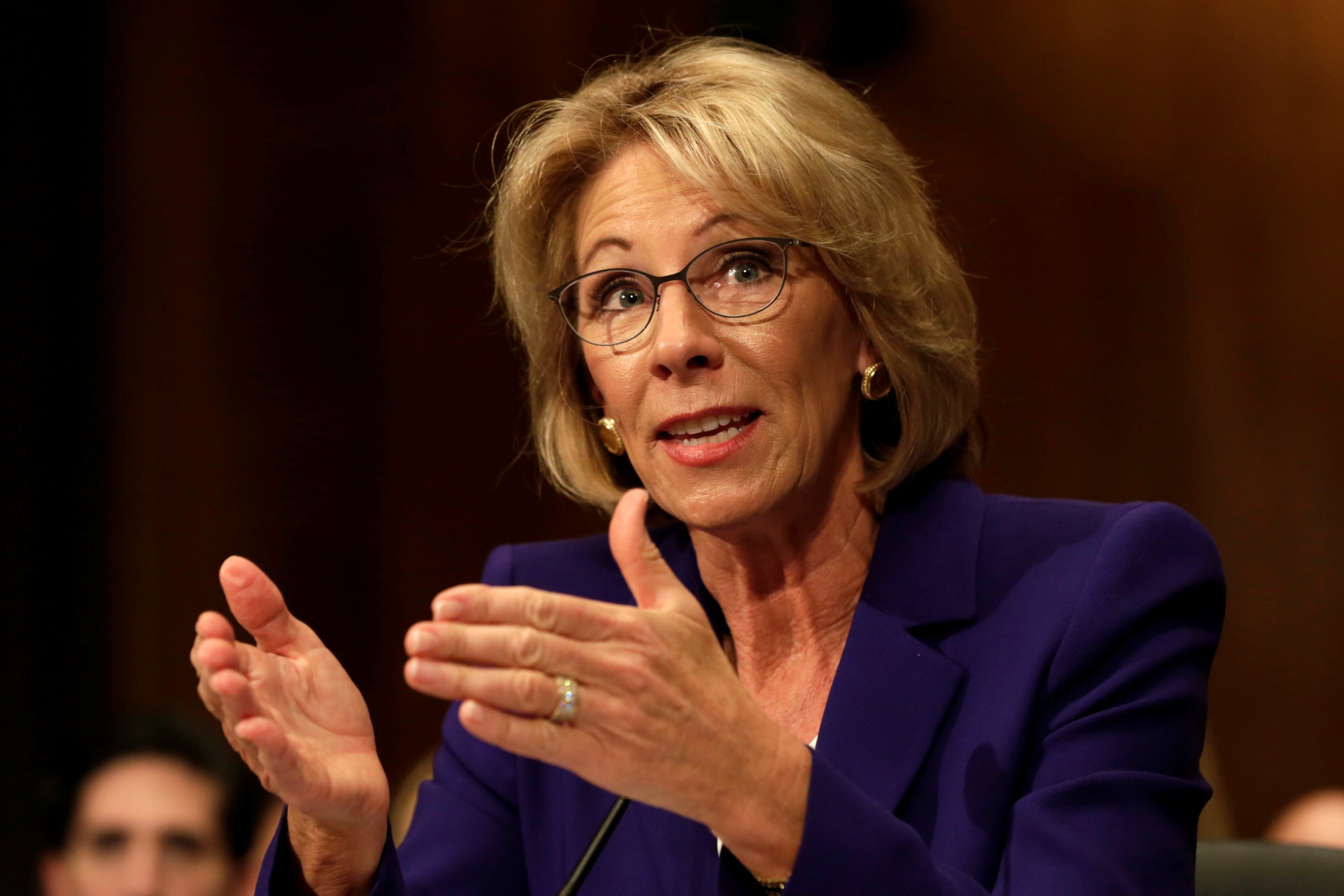 Projecting optimism and competence while downplaying past ideological affiliations, Betsy DeVos argued before the U.S. Senate Committee on Health, Education, Labor and Pensions on Tuesday that she will be a capable and fair custodian of the nation's schools as the federal education secretary. Calling herself a "crusader for parents and students," DeVos returned frequently in her remarks to school choice, an issue she has championed in her native Michigan. She also sought to reassure the committee's Democratic members, with limited success, that neither her Christian faith nor her family's vast wealth would factor into the decisions she'll be expected to make on behalf of millions of children.
Liberals have been acutely suspicious of DeVos. They view her and her husband, Amway heir Dick DeVos, as right-wing activists masquerading as education reformers and philanthropists. Indeed, members of the DeVos family have donated to conservative causes, including anti-LGBTQ initiatives, and have profited in investments in educational companies. She has also been portrayed as both a profiteer and religious zealot, with Lily Eskelsen García of the National Education Association, for example, calling her "dangerously unqualified." That sentiment has been echoed by many of the nation's largest teachers unions.
Related: Betsy DeVos Is Coming for Your Public Schools
DeVos was introduced to the committee by Republican Senator Tim Scott of South Carolina and former Connecticut Senator Joseph Lieberman, a centrist Democrat who has frequently bucked his party. His presence was clearly meant to convey hopes of a bipartisan consensus that is generally the stuff of myth. "Betsy is ready to take on this assignment," Lieberman said, "and do it very well."
Yet the hopes of finding such a consensus quickly proved untenable. The hearing reflected the stark partisanship of Capitol Hill, as well as a profound Democratic suspicion of Trump's cabinet, full as it is of billionaires like DeVos. The committee's Republican members, led by chair Lamar Alexander of Tennessee, praised DeVos as a champion of school choice, ignoring her long record of choice advocacy—a policy that has has not improved education in Michigan, and in fact ravaged Detroit's schools. He also attempted to align her with education reformers, including Presidents Bill Clinton and Barack Obama. This was creative, if unconvincing.
The committee's Democratic members, meanwhile, frequently complained that there would not be a second hearing for DeVos. "This committee is trying to protect this nominee from scrutiny," complained Chris Murphy of Connecticut. Her incomplete ethics filings earned frequent mention; as The New York Times recently pointed out in a harsh editorial, DeVos and her husband may have investments in as many as 250 companies, including some in education.
The hearing, which lasted nearly four hours, careered between a variety of topics, with little clarity about what DeVos plans to do with an agency that oversees all of the nation's educational institutions and has a budget of $69 billion. In particular, there was no discussion of how she plans to implement President-elect Donald Trump's proposed $20 billion school choice plan. Nor did she say what she would do regarding the federal Common Core standards, a favorite target of Republicans. One minute, under questioning from Wyoming's Mike Enzi, a Republican, she was discussing a "grizzly bear fence" at a school in Wapiti. Just a little later, she was admitting to Bernie Sanders of Vermont that her family may have donated as much as $200 million to various Republican causes over the years.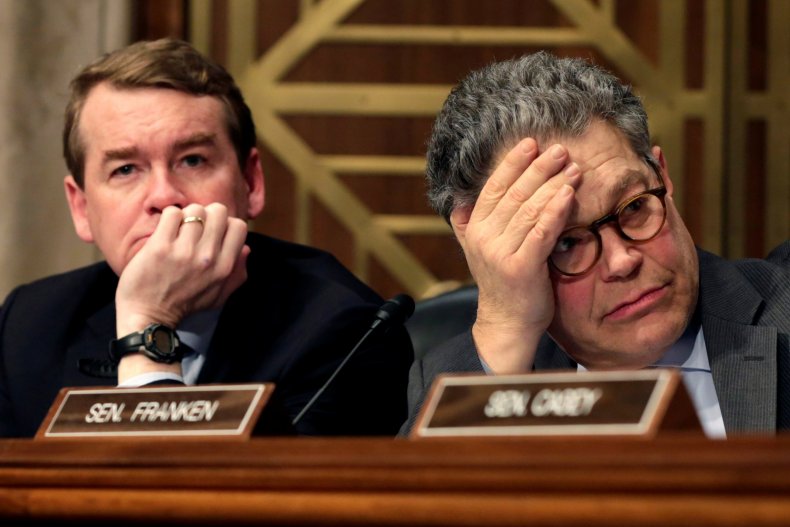 The exchange with the socialist from Vermont was among the most heated of the evening. He pressed her on his tuition-free plan for public colleges and universities. "There's nothing in life that's truly free," she shot back.
While Republicans for the most part used their allotted five-minute questioning periods to praise DeVos or ask questions that didn't challenge the nominee, Democrats tried to portray her as both inexperienced and inflexibly ideological. In one devastating exchange, Murphy forced DeVos to admit that she would, in theory, support guns in schools. The question rattled DeVos, who referenced the schools of rural Wyoming and the "potential grizzlies" who may, presumably, need to be taken out with an AR-15 so that math class can continue. Murphy, who once filibustered for 15 hours in favor of gun control, looked disgusted. He invited her to speak about guns in schools in Connecticut, where a gunman killed 20 schoolchildren with an assault rifle in the 2012 Sandy Hook massacre.
Privatization was a frequent theme in the hearing, at least when Democrats had the floor. "Can you commit to us tonight that you will not work to privatize public school?" asked Senator Patty Murray of Washington, the committee's ranking Democratic member. As was frequently the case throughout the evening, DeVos deployed her considerable political skills to avoid being pinned down, answering Murray by saying that "not all schools are working for the students that are assigned to them." Many believe she will be friendly to for-profit charters, religious academies, online schools and for-profit colleges of the sort that President Obama brought under close scrutiny.
She offered few details on how she would deal with the sexual assault crisis on college campuses, or safeguard the kinds of protections afforded to transgender students under the Obama administration, frequently acknowledging Democrats' concerns without actually committing to their policy goals.
The questioning from Elizabeth Warren was especially intense. One of Trump's most ferocious critics, the Massachusetts Senator got DeVos to admit she has no experience with college financial aid. The nominee dodged promising that she would enforce the Gainful Employment Rule, adopted by the Education Department in 2015. It ensures that colleges are not able to profit from students while teaching them little or nothing. DeVos said she would "review" the rule, a tactic she used frequently during the hearing.
"There is no precedent for a @usedgov secretary with the lack of experience in public education that Betsy DeVos has," Warren tweeted later, as the hearing continued.
Democratic Senator Al Franken of Minnesota revealed the depth of DeVos's inexperience with the finer points of pedagogical matters when he asked her about the difference between proficiency and growth , a key distinction when measuring student achievement through testing and other means. It was a distinction with which DeVos was apparently unfamiliar. Franken said he was "kind of surprised" by that response.
"Well, not that surprised," he added.
DeVos generally avoided details, deploying the sorts of bromides meant to appease centrists uneasy with Trump's cabinet. She said, for example, that she would only take a $1 salary and repeatedly reaffirmed her commitment to equality, distancing herself with the anti-LGBTQ views with which her family has been associated. She also played down accusations that her advocacy has helped turn Michigan into a educational free-for-all where 80 percent of all charter schools are for-profit, with Detroit's schools perhaps the worst-performing in the nation. She said that "accountability is highly important," though last summer she helped fund the successful push against a Michigan bill that would have provided greater oversight for charter schools.
By the end of the hearing, DeVos appeared somewhat battered, even if her confirmation seems more likely than not. Alexander, meanwhile, was exasperated by repeated requests from Democrats for more hearings. "I'm not going to have a second round," he said.
"This is a three-hour hearing," he added a little later, as the Democratic pleas continued.
"We have to bring this to a conclusion," he said as Warren made a final case for more questioning of DeVos.
It was nearly 9 p.m., and Lamar Alexander was desperate for class to end.