A civil rights group has said Education Secretary Betsy DeVos has an "astounding" level of ignorance about the law after she claimed on Tuesday that it is up to schools to decide whether to report undocumented students to immigration enforcement officials.
While testifying before the House Committee on Education and Workforce, Representative Adriano Espaillat (D-NY), who immigrated from the Dominican Republic and was once undocumented, asked DeVos whether she believed a school principal or teacher should be responsible for calling Immigration and Customs Enforcement (ICE) on students that are known to be undocumented.
"Sir, I think that's a school decision," DeVos said. "That's a local community decision. And again, I refer to the fact that we have laws and we also are compassionate and I urge this body to do its job and address or clarify where there is confusion around this."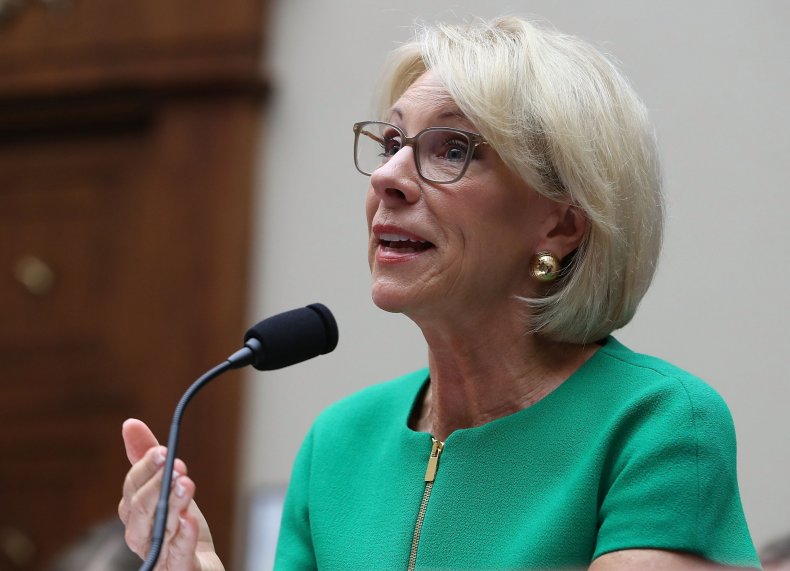 However, civil rights groups say it is the education secretary who is confused, arguing that her comments are in direct conflict with the law.
"Let's be clear: Any school that reports a child to ICE would violate the Constitution," Lorella Praeli, the American Civil Liberties Union's director of immigration policy and campaigns, said in a statement.
"The Supreme Court has made clear that every child in America has a right to a basic education, regardless of immigration status," Praeli said, adding: "Secretary DeVos is once again wrong."
Indeed, in Plyler v. Doe, the Supreme Court ruled that schools are obligated to provide an education to students, regardless of their immigration status.
The case revolved around a revision to Texas education laws in 1975, which allowed the state to withhold funding from local school districts for educating children of "illegal aliens."
The court found that the law violated the Equal Protection Clause of the Fourteenth Amendment, stating that undocumented children are people "in any ordinary sense of the term" and therefore, are afforded Fourteenth Amendment protections. As a result, the law was abolished.
Read More: Betsy Devos Grilled About Not Knowing The Mission Of Her Own Civil Rights Office During House Questioning
After hearing DeVos' testimony, Mexican American Legal Defense and Education Fund (MALDEF) President Thomas Saenz said the education secretary "desperately needs competent legal advice.
"Her testimony… stems either from an astounding ignorance of the law or from an insupportable unwillingness to accurately advise local school districts. Either of these indicates a severe dereliction of duty," Saenz said in a statement.
"The United States Supreme Court determined this issue over 35 years ago. In Plyler v. Doe, a case in which MALDEF represented the plaintiffs, the Court determined in 1982 that the Constitution requires all public schools to provide a free public education, from Kindergarten to 12th grade, to every child, regardless of immigration status," he said.
"Any public school or school district that denies an education to any undocumented child—whether by refusing to enroll, by limiting access to the programs and benefits provided to other students, or by reporting a child to ICE—has violated the United States Constitution."
Saenz called on DeVos' department to "issue an immediate clarification" on the issue.
"Otherwise, she should resign forthwith for abject incompetence," he said, adding that MALDEF "stands ready to hold accountable through legal challenge anyone in public education who attempts to report a student to ICE."