Attorney Says Education Department 'Takes Responsibility' for Violating Court Order That Could Land DeVos in Jail
An attorney for the Department of Education said that the agency would clean up its act after a federal judge floated the idea that Education Secretary Betsy DeVos could face jail time for violating her order to stop collecting some student loans.
During a hearing Monday, U.S. Magistrate Judge Sallie Kim expressed dismay that DeVos continued collecting loans from Corinthian Colleges, Inc. students. Kim acknowledged that she wasn't sure whether DeVos' actions were considered contempt or sanctions, but noted in court that she had the ability to potentially send the education secretary to jail.
In the California courtroom, Charlie Merritt, the department's attorney, told Kim that the agency "takes responsibility" for violating Kim's orders, according to Bloomberg.
"We will bring ourselves into full compliance," Merritt said, adding that the education department would stay "that way going forward."
Newsweek reached out to the U.S. Department of Education, and a spokesperson declined to comment.
The federal government under former President Barack Obama's administration found that the now-defunct Corinthian Colleges, a for-profit higher education institution, misrepresented job placement rates. In 2015, the Education Department notified an estimated 330,000 former students that due to the circumstances surrounding the college's fraudulent claims and closed status, their student loans were forgiven.
However, some students found their loans weren't discharged and filed a class-action lawsuit against DeVos in 2017. The education secretary in court filings claimed that there was no rule guaranteeing relief, but in 2018, Kim ruled that DeVos and the Education Department had to stop collections.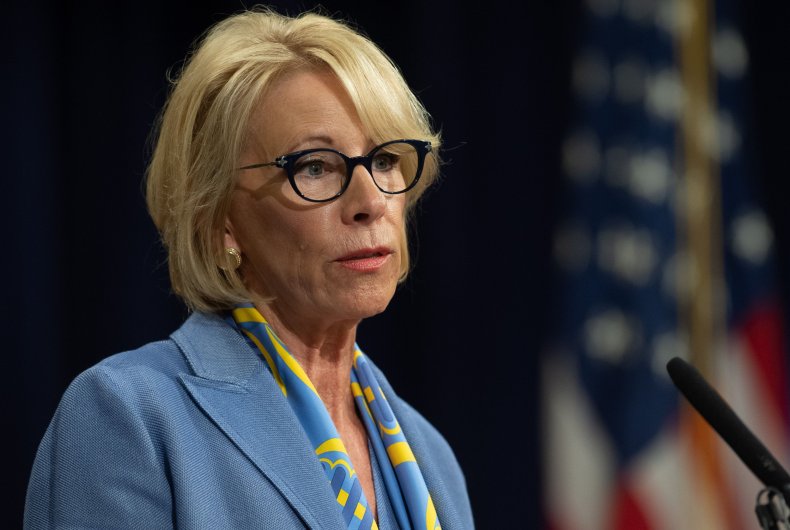 In September, an Education Department court filing to demonstrate compliance with Kim's order instead showed that the agency seized tax refunds and wages from at least 1,808 students and told more than 16,000 borrowers they owed payments, according to Bloomberg.
"The department was surprised to learn the extent of the noncompliance issues once it kind of dug into this issue further," Merritt told the judge, according to CNN.
Kim, according to Politico, said there must be consequences for violating her order, but added that because she wasn't trying to be punitive, so it's uncertain if she'd sentence DeVos to prison time. Her goal, she said, was to make sure the "students are helped."
Along with allowing the class-action lawsuit to move forward "full steam ahead," Kim requested both parties submit arguments to assist her in her ruling on whether DeVos is in contempt.