Congressmen Take Aim at Betsy DeVos Over Censorship at Evangelical Liberty University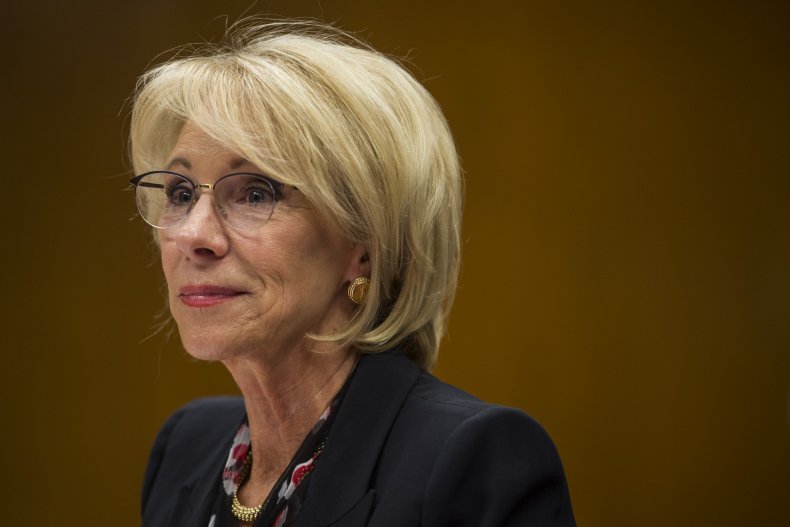 In a letter addressed to Education Secretary Betsy Devos on Monday, Reps. Andy Levin (D-MI) and Jamie Raskin (D-MD) accused the Department of Education of acting to "restrict the free expression of ideas" and violating students' civil rights.
As well as denouncing internal policies at the department, the congressmen pointed to troubling trends at one of the United States' largest private universities.
"Unfortunately, despite Executive Order 13864, which directs the Department to ensure institutions promote free inquiry, you have failed to act in cases of suppression of ideas that involve the administration's political allies, such as Liberty University," the congressmen wrote.
Executive Order 13864, which President Donald Trump signed in March, allows the government to withhold federal funding from institutions that fail to support First Amendment rights.
In their letter to DeVos, Levin and Raskin cited the university's code of conduct—which they alleged limits students' freedoms of expression and association—as well as the university's ban on LGBTQ relationships and restrictions the types of media students may access as exactly the kind of block on "free inquiry" the order should protect.
Liberty University was founded in 1971 by famed Baptist televangelist Jerry Falwell Sr. Today its student body tops 100,000 with a large number of students enrolled in online programs, according to the university's website⁠. In 2015, The Washington Post reported Liberty had the "largest student body of any private nonprofit university in the country," thanks in part to an increase in federal student loan funds.
The letter asserts that the university's current president, Jerry Falwell Jr., is directly involved with censoring students. "In one case, he blocked a student-written column, criticizing then-candidate Trump for boasting of sexually assaulting women, from being published in a student-run newspaper," the congressmen wrote.
In 2017 the Daily Beast interviewed Joel Schmieg, a Liberty University student journalist who said any story considered "controversial" went to Falwell for approval. "I know, at the very least, he might take something from the opinion section and delete a paragraph," Schmieg said. In 2018, former Liberty student Erin Covey told the Religion News Service that "Falwell personally censored her attempt to cover a faith-based event ... that featured speakers who were critical of Trump and Falwell."
"Given that Liberty's violations are public and longstanding, we are left to conclude that the Department's failure to act is deliberate and that it is only interested in enforcing free speech policies against institutions it deems unfriendly," Levin and Raskin wrote in their letter to DeVos.
Jerry Falwell Jr. has been a vocal supporter of Trump since January 2016, well before the then-candidate received the Republican presidential nomination. Levin and Raskin claim this fact has allowed the university to impose rules and censorship that violate students' rights with no threat of repercussions from DeVos' department.
On Tuesday, Falwell issued a statement dismissing the accusations in Levin and Raskin's letter."Specifically regarding Liberty University, it wrongly claims that Liberty University has acted in violation of the First Amendment, Executive Order 13864 and Title IX. In doing so, its authors demonstrate a fundamental lack of understating of the scope and purpose of all three," he wrote.
"First, as a private university, Liberty University simply cannot violate the First Amendment of its students because the First Amendment is a limitation on the government's power to regulate private speech and association," Falwell continued. He defended that the "behavioral limitations Liberty University places on students through its conduct code, such as prohibiting viewing pornography and sex outside of biblical marriage" as "fully consistent with the proper role of a Christian institution of higher education in the US and are what both its students and their parents expect."
In another section of their four-page letter, Levin and Raskin claimed Trump created Executive Order 13864 "as a tool to punish institutions with whom he disagrees," and that he selectively applies the order to target "institutions he regards as political enemies," specifically the University of California Berkeley.
The week before Trump issued the executive order, he suggested suing the university and "promised an executive order requiring universities and colleges to assure free speech if they want to continue receiving federal money," according to the San Francisco Chronicle.
While Trump has been outspoken about condemning Berkeley and other universities for not supporting freedom of speech of far-right conservative groups, his administration has remained silent about the ongoing breeches of free speech at Liberty University. With the lack of government support, Liberty students have taken action into their own hands, staging at least two protests related to Falwell's actions this year.
In March, the university newspaper reported that approximately 40 students protested after Falwell's wife stated that "God has made the (gender) decision when the child is born, and they are either a boy or a girl" and Falwell and Donald Trump Jr. reportedly made light of the #metoo movement while talking about guns at a political event. Then, last month, 200 students gathered to protest inappropriate comments attributed to Falwell in a Politico article, according to the Religion News Service. In the article, former Liberty employees discussed Falwell's level of control over the university, likening it to a "dictatorship."
DeVos has yet to comment on the letter.