'Betsy DeVos Need Not Apply': Elizabeth Warren Discusses Qualifications to Be Her Education Secretary
2020 Democratic presidential candidate Elizabeth Warren criticized Betsy DeVos as unqualified while discussing what qualities would be needed in order to lead the Department of Education if she was in the White House.
"One of my education promises is I will not appoint anyone to be Secretary of Education who has not taught in a public school," Warren told voters in Michigan on Tuesday. "Betsy DeVos need not apply."
Warren's remarks prompted a standing ovation from the crowd, which included about 500 people at the nonprofit Focus:HOPE. The organization works to combat racism, poverty and injustice in Detroit.
DeVos has been attacked for her lack of educational experience since joining the Trump administration in 2017. Before being narrowly appointed to lead the Department of Education, in what was one of the most contentious confirmations in history, DeVos had no personal or professional experience in public education or elected office. Neither she or any of her children ever attended public school.
In an email to supporters in May, Warren pledged that if she was elected she would make a former public school teacher her education secretary. Before working as a lawyer and later a senator, Warren taught children with special needs in a public elementary school.
"I'll just be blunt: Betsy DeVos is the worst Secretary of Education we've seen," Warren wrote in her email. "She and her team are up to their eyeballs in conflicts of interest. Instead of championing our students, they protect for-profit colleges that break the law and cheat them."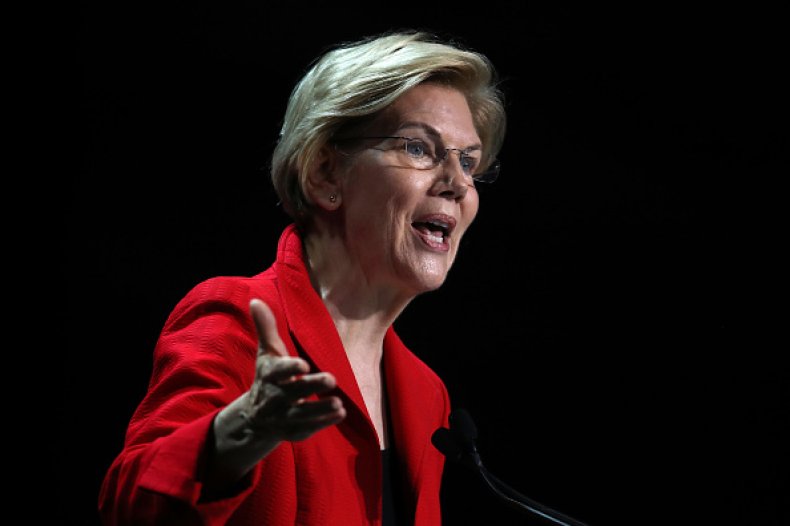 DeVos has been one of the more controversial members of President Trump's cabinet. Her policies rolling back protections for transgender students and campus sexual assault victims have been met with significant pushback. The secretary was also slammed by lawmakers earlier this year for proposing cuts in federal funding for the Special Olympics. Last month, it was discovered that DeVos had used her personal email account to conduct official business.
Meanwhile on the campaign trail, Warren has unveiled multiple policy proposals aimed at public and private education. Like many other Democratic presidential hopefuls, the senator supports making public college tuition-free.
In April, Warren unveiled a plan to forgive up to $50,000 in student loan debt for borrowers who have a household income less than $100,000. The proposal would also allow those with students loans that make between $100,000 and $250,000 eligible to have a smaller amount of their debt forgiven. According to her campaign, the policy would cost $1.25 trillion over the next decade and result in total loan forgiveness for up to 76 percent of households with student debt.
Warren also proposed eliminating both tuition and fees at all two-year and four-year public universities. This would be accomplished through a federal partnership with states to split the cost of tuition.
In a Medium post detailing her education plan, Warren wrote that "the enormous student debt burden weighing down our economy isn't the result of laziness or irresponsibility. It's the result of a government that has consistently put the interests of the wealthy and well-connected over the interests of working families."