Arming Teachers: Betsy DeVos Says 'Schools Have to Be Protected'
The White House on Sunday unveiled a plan for school safety that involves "rigorous firearms training" in response to last month's school shooting in Parkland, Florida. Education Secretary Betsy DeVos will lead a federal Commission on School Safety to examine protecting schools, and she committed to arming teachers.
"Schools have to be protected like every other large gathering. We protect stadiums, we protect theaters, we protect airports," said DeVos Monday on NBC's Today Show.
DeVos said she didn't think it made sense to arm every teacher or have armed teachers in every school, but "only in places where it's appropriate."
Despite President Donald Trump saying in the wake of the shooting that he wanted to raise the age limit of purchasing some firearms to 21, the White House's plan didn't address the policy, and DeVos would not commit to it.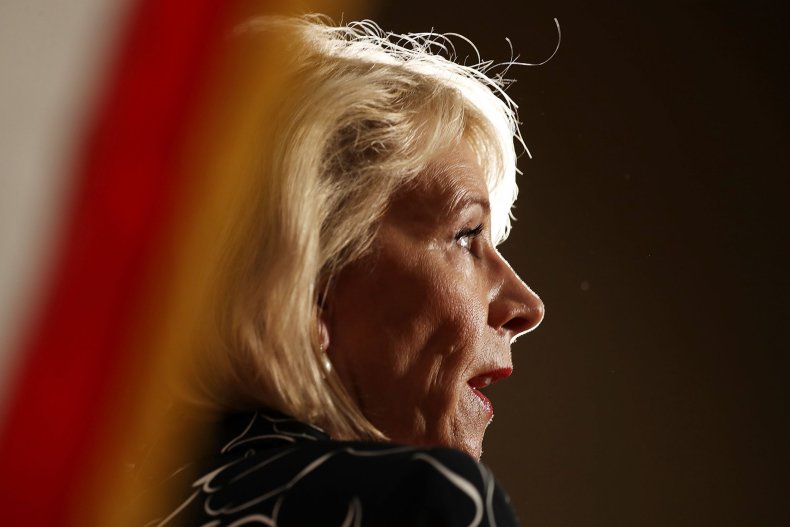 "Everything is on the table," said DeVos. "We have to get much broader than just the gun issue, where camps go into their corners. There are many things that have driven this issue in the first place."
The proposal of arming teachers has been controversial and received criticism from organizations like the National Education Association (NEA).
"Bringing more guns into our schools does nothing to protect our students and educators from gun violence," said NEA President Lily Eskelsen García in a statement last month. "Our students need more books, art and music programs, nurses and school counselors; they do not need more guns in their classrooms."
Texas, Ohio and California already allow their teachers to be armed.
The White House endorsed a bill to improve the criminal background check system for purchasing firearms, and also made several proposals for mental health initiatives.
Nikolas Cruz, the shooter in the Parkland massacre at Marjory Stoneman Douglas High School, raised several red flags before the shooting, including a tip on him to the FBI. The bureau admitted it didn't properly investigate the tip, and Trump called for its tip line procedures to be examined.