Betsy DeVos Says Teachers Should Use 'Adult Time' to Protest Low Wages, Classroom Sizes so 'Students Don't Get Hurt'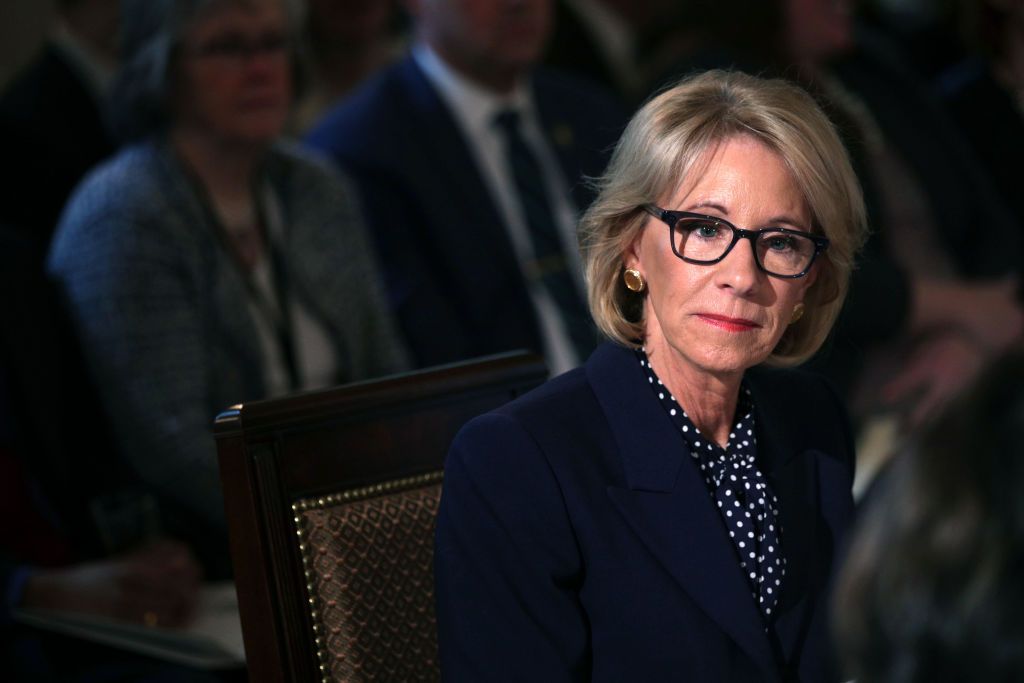 Speaking at a conference in Baltimore on Monday, Secretary of Education Betsy DeVos said teachers should use time outside of work to protest low wages, large class sizes and other issues.
"I think it's important that adults have adult disagreements on adult time, and that they not ultimately hurt kids in the process. I think too often they've doing so by walking out of classrooms and having arguments in the way that they are," DeVos said, according to the Associated Press.
DeVos agreed that "great" teachers should be "well paid" but did not give her support to teachers who have chosen to strike for better working conditions.
Strikes have occurred in West Virginia, Arizona, Oklahoma and California, among other states, during the 2018-2019 school year. Teachers in other states, including North Carolina and Mississippi, have mulled strikes but thus far have not walked out of their classrooms. The graph from Statista below shows the number of teaching strikes in the U.S. over recent years.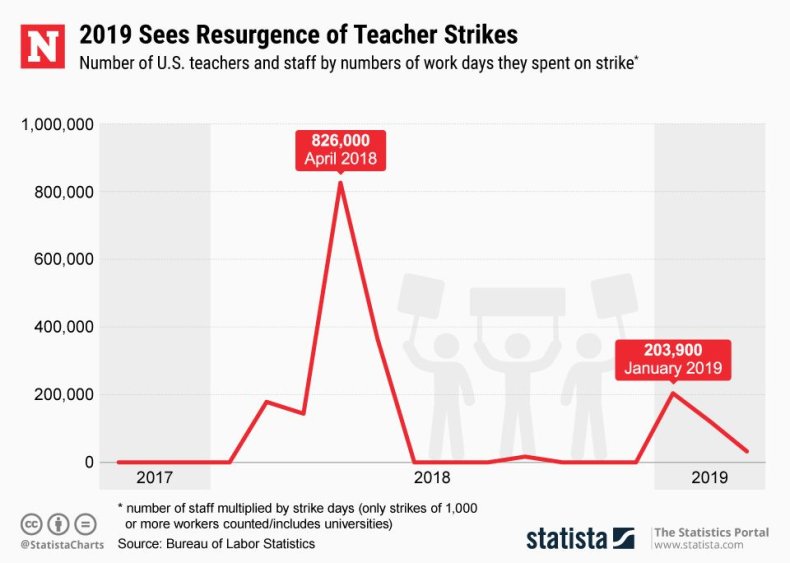 However, teachers in North and South Carolina organized a one-day protest on May 1, forcing dozens of school districts to cancel classes for the day.
Devos' remarks came during her first appearance at the Education Writers Association national seminar, an event held each year for educational journalists. In a short speech given to attendees, the education secretary took aim at the media for their coverage, saying that she felt she was often used as clickbait by media outlets.
"The simple truth is I never imagined I'd be a focus of your coverage. I don't enjoy the publicity that comes with my position. I don't love being up on stage nor any kind of platform. I am an introvert," Devos said according to the AP. She later added that education "is not about Betsy DeVos nor about any other individual. It's about students."
DeVos has been a polarizing figure for many since the appointment to her position by President Donald Trump. She was confirmed to be education secretary by a 51-50 vote, with many expecting that Vice President Mike Pence would be needed to break the Congressional stalemate in her confirmation process.
DeVos has drawn ire for her inexperience with public school systems, as well as comments made during her confirmation hearings about how she would address pressing problems in classrooms across the United States.
Earlier this year, DeVos supported a statement by Trump that would have cut funding for the Special Olympics, though the policy was quickly walked back by the president.
"The Special Olympics will be funded. I just told my people, I want to fund the Special Olympics and I just authorized a funding of the Special Olympics," Trump told reporters on March 28. "I've been to the Special Olympics. I think it's incredible and I just authorized a funding. I heard about it this morning. I have overridden my people. We're funding the Special Olympics."
DeVos later released a statement to praise Trump for "seeing eye-to-eye" with her on the issue, despite previous policy suggestions to eliminate the program.
During her appearance on Monday, DeVos also defended another controversial policy change to the Department of Education under her leadership that removed some rules instated by former-President Barack Obama's administration to protect transgender students, individuals defrauded by for-profit universities and colleges and adjustments to Title IX and sexual assault protections.
On Monday, she called the Obama administration's rules an "overreach," saying that protection was only applicable "on paper," the AP said.
DeVos also said she wasn't sure she would sit for another term if Trump is reelected to the White House in 2020.
"I'm not sure my husband would be OK with that," Devos said.