Betsy DeVos's School Safety Commission Is A Sham If It Refuses To Talk About Guns | Opinion
I remember the smell of gunpowder that surrounded me as shots rang out in my French class in Norris Hall at Virginia Tech. I remember thinking that it couldn't be real, but after realizing I had been shot—four times—I was sorely wrong. Eleven years ago, a gunman killed 32 people and wounded more than a dozen others at my school on a clear spring day. In that moment, an entire community was forever changed by gun violence.
Fast forward to February this year, when I watched the shooting unfold at Marjory Stoneman Douglas High School in Parkland, Florida, and it took me back to my own classroom horror. I've seen the same response in a post-shooting tragedy: Communities in shambles, national outrage, a swarm of press coverage that eventually goes away and a whole lot of talk from our leaders in Washington with very little action.
In the wake of Parkland, the current administration attempted to placate Americans—who are scared they are sending their kids to school only to have them shot and killed—with a school safety commission headed by Education Secretary Betsy DeVos. And while Secretary DeVos's "listening" session tour might seem like a good idea, it's frankly nothing but a sham and a direct attempt to fool Americans while doing nothing to keep us safer.
I for one won't let that happen.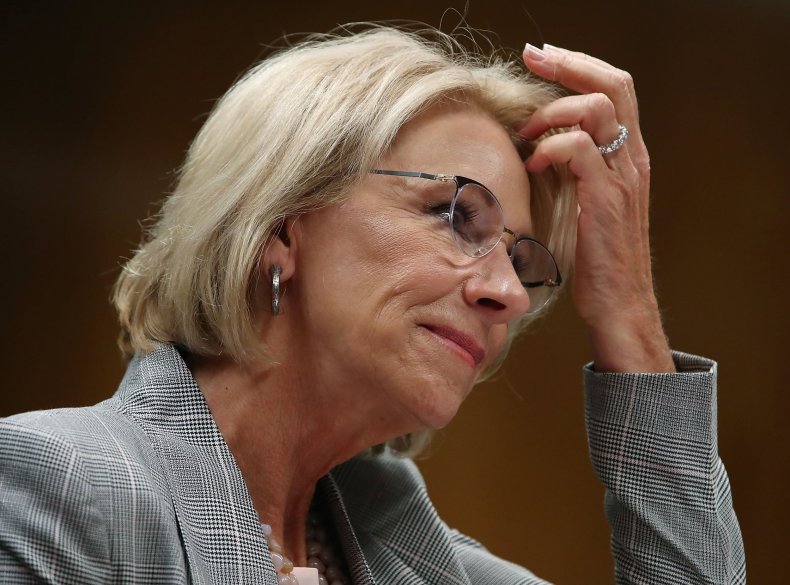 ​The second "listening" session​ happened on Tuesday in Kentucky​ and​ it's hard to believe there​ was actually any interest in "listening." Once again, none of the cabinet secretaries, including Secretary DeVos, former NRA A+ rated Senator and current Attorney General Jeff Sessions, Health and Human Services Secretary Alex Azar and Department of Homeland Security Secretary Kirstjen Nielsen even bothered showing up. In fact, there was a mere one business day's notice given before this "listening" session. The public c​ould attend for a short window if people sign​ed​ up in advance, but really—if the administration is making it this hard to participate, how much do they really want to hear the experiences of people like me?
And in a wild—but perhaps unsurprising—turn of events, DeVos made it clear the commission isn't going to focus on guns. How can you possibly talk about school safety and ending school shootings without discussing guns and the role they play?
Just last week, Secretary DeVos stopped a psychologist mid-sentence as he began to address the role of firearms in schools, conveniently citing a lack of time to continue.
This is not what real listening looks like.
Some "leaders" might try to talk a good game about school safety, but they're really just trying to move on as soon as possible. Why should we be surprised? We've seen the same after other mass shootings that have shaken our nation to its core, but there is something different this time in the wake of the tragedy in Parkland.
The next generation of leaders is standing up to demand change in a way we've never seen before. They are honoring the 96 Americans shot and killed every day and the hundreds more wounded. They're calling for changes to our nation's gun laws and making sure that our leaders know that since our lives are on the line, their jobs are on the line with the upcoming election.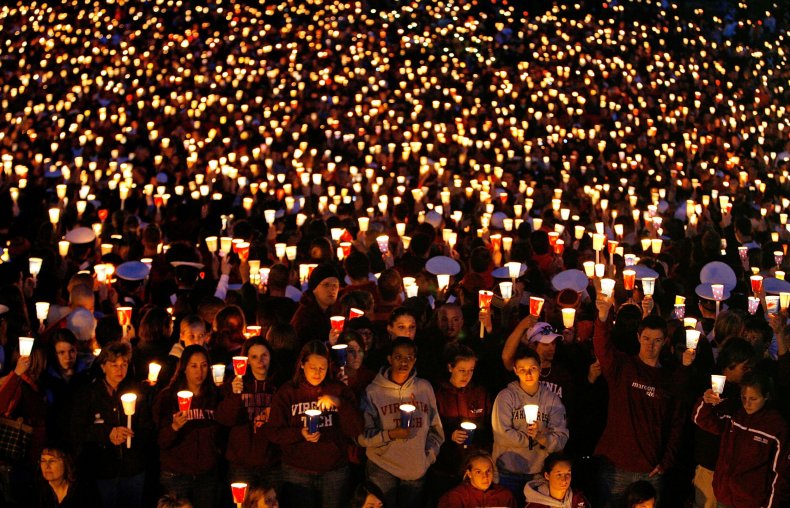 Since the mass shooting at Virginia Tech, the resilience of the Blacksburg community has astounded me. I've seen heartbreak. I've seen moments of defeat. But I've also seen moments of what I once thought was unthinkable—a shifting narrative on gun violence prevention and a winning movement that is passing laws, defeating dangerous legislation and ultimately saving lives. That's because while the administration and members of Congress fail to take action, states are standing up like never before.
Arming teachers, putting guns in schools or blaming it all on mental health and video games isn't what the American public is calling for. It's time to get serious. The "school safety commission" is a waste of time if it fails to listen to Americans or even address the basics of gun violence in America.
Colin Goddard, a member of the Everytown Survivor Network, was shot and wounded in the mass shooting at Virginia Tech on April 16, 2007, in which 32 classmates and faculty were killed.
The views expressed in this article are the author's own.​​​​​