Betsy DeVos, Tasked With Keeping Children Safe, Says She Won't Look at Role of Guns in School Violence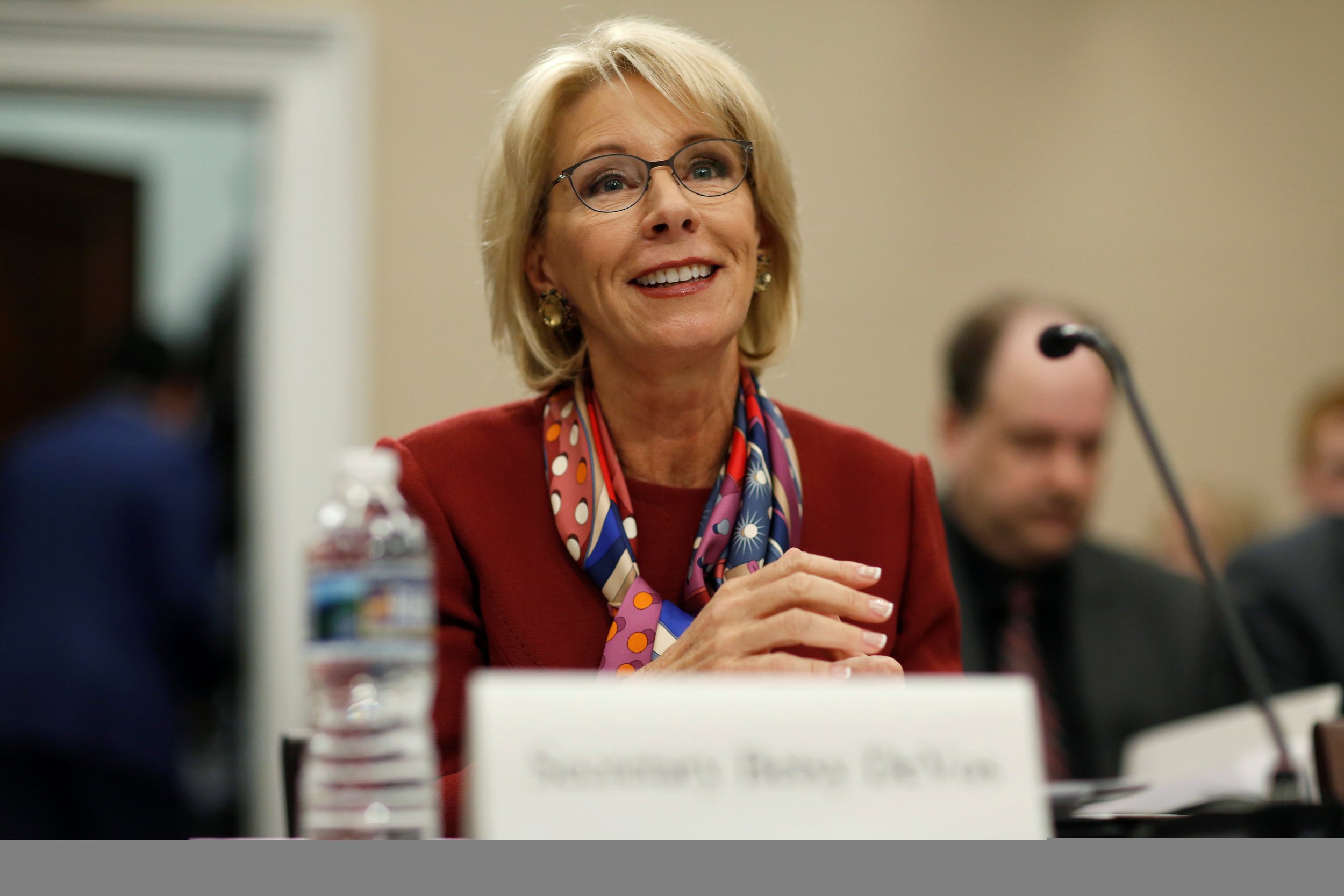 Education Secretary Betsy DeVos told a congressional panel Tuesday that the recently created Federal Commission on School Safety will not look at the role of guns in school violence.
"That is not part of the commission's charge per se," DeVos told the Senate subcommittee overseeing education spending, the Associated Press reported.
Democratic Senator Patrick Leahy was quick to question DeVos' statement, asking her how the commission planned to evaluate gun violence in schools without looking at the role of guns. DeVos responded that the report is not focused on school shootings, it's focused on "how we can ensure our students are safe at school."
Leahy questioned her further on the topic of guns, asking if she believed an 18-year-old high school student should be able to walk into a store and minutes later emerge with an AR-15, which is the semi-automatic weapon of choice for most mass shooters.
"I believe that's very much a matter for debate," DeVos responded."
But DeVos' statement contradicted a White House fact sheet published in March that outlined the goals and objectives of the safety commission, of which she is chair.
According to the fact sheet, the commission will study things like age restrictions for firearm purchases, campus security practices, and even a plan to integrate federal resources to prevent active shooter incidents at school campuses.
In a statement, DeVos' spokeswoman Liz Hill sought to clarify the education secretary's comment, stating that the commission would study everything asked to by the president but that, "It's important to note that the commission cannot create or amend current gun laws—that is the Congress' job."
In 2018, there have been over 20 school shootings reported in the U.S., though some gun-reform advocacy groups like Everytown Research places the number much higher by including incidents where a gun was fired but no one was injured. Most recently, a shooting at a middle school in Indiana left several students injured, including one girl who was shot seven times in the face, neck and upper chest. A week earlier, 10 people were killed in a shooting at a high school in Santa Fe, Texas.
Following the shooting at Santa Fe High School, DeVos tweeted that "The work of the Federal Commission on School Safety remains urgent" and "our nation must come together to keep our students safe."
DeVos told the committee that the commission has outlined and will be focused on twenty provisions related to school safety.
The federal safety commission was created by President Donald Trump after the shooting at Marjory Stoneman Douglas High School in Parkland, Florida, in February in which 17 people, 14 of them students, were killed.