Betsy DeVos's Armed Security Detail Is Costing Taxpayers Nearly $20 Million
Education Secretary Betsy DeVos's security detail, one of the most extensive in the Trump administration, will cost U.S. taxpayers nearly $20 million through the fall of 2019.
DeVos began to receive nonstop security from the U.S. Marshals Service immediately after her Senate confirmation in February 2017. No other Cabinet member has been provided an armed detail like the one assigned to the education secretary, at a cost of $19.8 million, according to figures provided by the Marshals Service to NBC News.
The security team was assigned by then-Attorney General Jeff Sessions, who was forced out of his Cabinet position the day after the midterm elections. The Marshals Service was ordered to protect DeVos after protesters heckled the Michigan billionaire and physically blocked her from entering a public middle school in Washington, D.C.
The Department of Justice said in a statement that DeVos's security detail had been assembled after "threats" were made against the education secretary. "The U.S. Marshals Service was identified to assist in this area based on its expertise and long experience providing executive protection," the department said.
DeVos's security squad cost about $5.3 million in 2017, $6.8 million in 2018 and is projected to cost $7.74 million in 2019. The cost is eventually reimbursed by the Education Department. The average amount of money spent per day on the Marshals Service is about $34,000.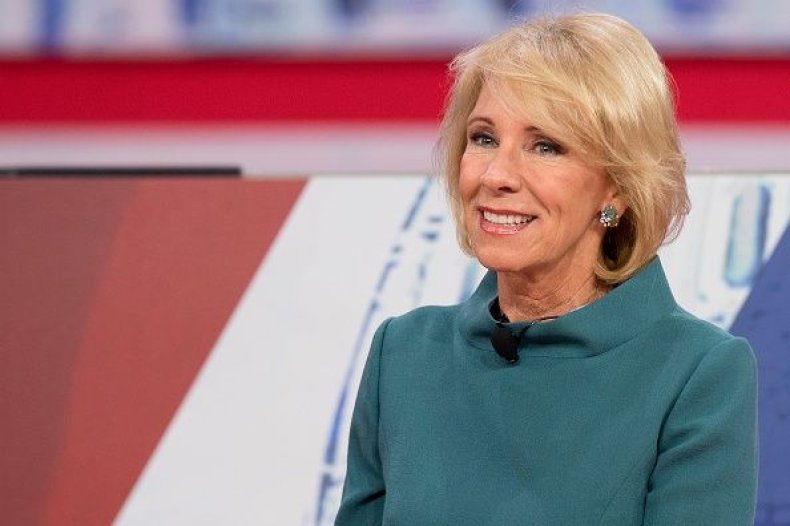 A spokeswoman for the Education Department told NBC News that DeVos had not requested the security detail herself, but did say that the threats made against the education secretary "are significant. Otherwise, the trained professionals who made the call to escalate her detail wouldn't have done so."
Rumors were circulating shortly after the midterm elections that DeVos was going to be stepping down from her position in January. Democrats' winning back the House of Representatives means that DeVos and her more controversial policies were likely to come under more scrutiny, as Democrats will take over the House Committee on Education and Workforce. Virginia Representative Bobby Scott is likely to make a push to become chair of the committee.
DeVos is likely to be questioned by Democratic lawmakers on her rule changes on sexual assault, which, in an overhaul of Obama-era guidelines, give more rights to those accused of sexual assault, including allowing them to cross-examine alleged victims.
But DeVos's office squashed any gossip of her departure, telling the Detroit Free Press that "the rumors are just that…rumors. The secretary has no plans of stepping down."